Basketball was life at my house growing up. My dad coached, we all played and eventually I coached and officiated. These days, my niece is carrying on the obsession, er … tradition. So I understand the passion that would make someone want a basketball bedroom.
I'm still on the hunt for bedding in this theme as there's a woeful lack of it. But check out what I've found so far. It'll get you off to a great start. There are also blankets and pillows I've found that could be added to a room with a different design on the bed to add in a touch of the theme. (Think one would go with my niece's pink and black zebra comforter?)
Pair up some of these styles with items in your school colors or with ones from your favorite pro or college team.
Basketball Bedding
The options are limited here – really limited. In fact, the two sets here – both duvets, both with orange – are all I've been able to find to date. Sigh. So I hope you like orange! I'm hoping to track down more neutral designs or even some fabric you could use to make your own set.

Nod Basketball Twin Quilt
Organic Nod Basketball Twin Sheet Set
Both at CrateandBarrel.com

Basketball Duvet Cover
At PotteryBarnKids.com

Basketball Sheet Set
At PotteryBarnKids.com

B-Ball 3-Piece Reversible Twin Comforter
at Bed Bath & Beyond

Basketball Duvet Covers
At Amazon.com
Perfect if blue is your team color

DENY Designs Nick Nelson Op Art Basketball Duvet Cover

Bacati Muslin 4 Piece Toddler Bedding Set, Basketball/Orange/Grey
At Amazon.com

Basketball in the Street Theme Bedding Set
Available at Amazon.com

Keep Calm Pillowcase
NBA Bedding
Just items here that include the entire league or at least one conference. List would just be way too long otherwise!

NBA© Quilt, Eastern Conference
At PBTeen

NBA© Quilt, Western Conference
At PBTeen
Make Your Own Basketball Bedding
Give the severe lack of choices for this theme, this is definitely a time to consider going custom. Plus, it makes it easier for you to work in school colors or do a design that works better for girls. Fortunately, lots of fabric options, including pink. I found these at fabric.com; they're just $9-$10 a yard. (And they offer free shipping on orders over $35 and give you a 37″ yard. Nice.)

Sports Collection Basketball & Hoops Black
Balls, swishing nets and coach's whiteboard
Basketball Blankets and Throws

Basketball Super Soft Plush Blanket
At Amazon.com

Basketball Fleece Throw
At Amazon.com
Basketball Pillow Designs

Bed Bath & Beyond E by Design! Motion Square Throw Pillow
At BedBathBeyond.com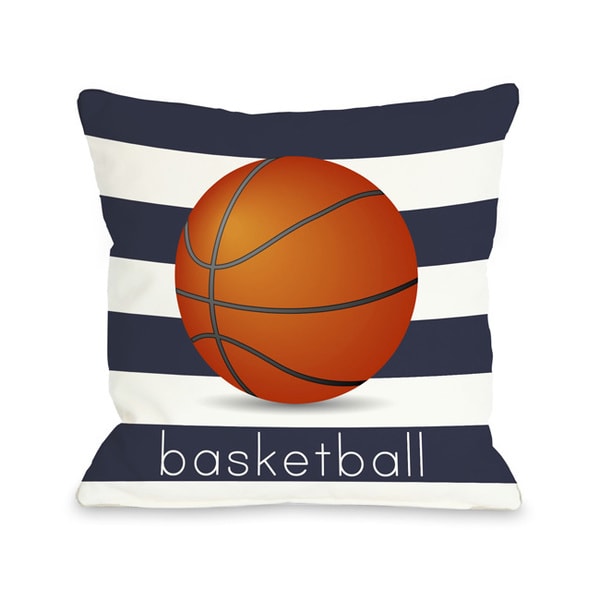 Basketball Throw Pillow
At Overstock.com

iscream Swish Basketball Microbead Pillow
At Amazon.com

ChalkTalkSPORTS Basketball Throw Pillow
At Amazon.com
Available in two sizes and seven colors

Basketball Fabric Decorative Pillow
Great for a retro style