Hut, hut, hut!! It's a pigskin bedroom
Score big with some cool football bedding! Whether you want greens to evoke the field or images of pigskins or players, there are choices for you here.
Color scheme for a football bedroom is really pretty simple – green for the field, brown for the ball and then throw in whatever your team colors are. Go vintage or modern or straight NFL – it's all good!
I've stuck with designs that are more generically related to the game here, like the vintage image sheets in the picture here. Great ideas for someone who loves the sport without having to get specific for a pro or college or even high school team. It's easy enough to add those in later.
Football Bedding
I find it a bit odd just how few designs there are here that are generically related to the sport. You can easily find footballs a plenty in bedding with baseballs, basketballs and more; but not many with just the single game.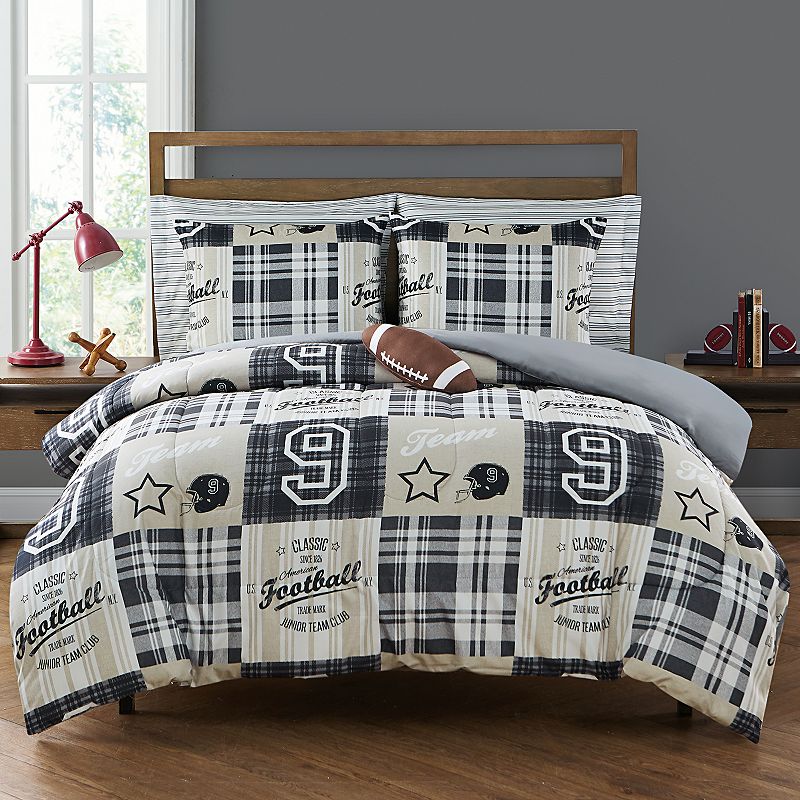 Sports Plaid Bedding Set
At Kohls.com

Nod Football Twin Quilt
At CrateandBarrel.com

Football Duvet Cover
At PotteryBarnKids.com

Football comforter set
At Kohls.com

Dream Big Football Player Twin Full Comforter Set
At Kohls.com
NFL Bedding Choices
I'm not going to include sets or designs here for individual teams, because – well – that would take up the entire internet. So I have some here that are for the NFL as a whole, usually with all the team names or logos on them. Good compromise for football fans who cheer for different teams.

NFL® Brights Quilt
At PBTeen.com

NFL Bright Logo Duvet Cover
At PBTeen.com

NFL Sheet Set
At PBTeen.com
Football Sheets and Pillowcases
The individual pillowcases are a great addition to a room that might already have a theme set. Or just as a gift for your player to take on road trips. (Gotta have a pillow for sleeping on the bus.)

Football Sheet Set
At PotteryBarnKids.com

Organic Nod Football Twin Sheet Set
At CrateandBarrel.com

Pillowfort Football Sheet Set
At Target.com

Pillowfort Footballs Sheet Set
At Target.com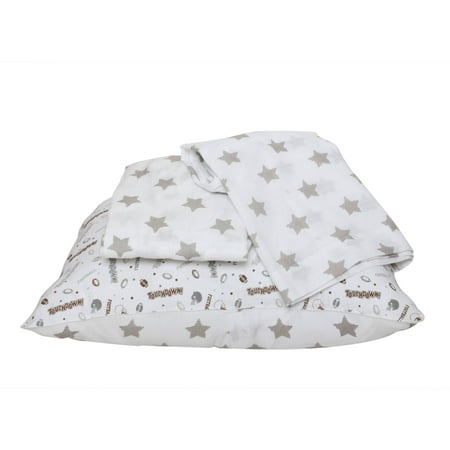 Bacati – Sports 100% Cotton breathable Muslin 3-Piece Toddler Bedding Sheet Set, Football Brown/Grey
At Walmart.com

Standard Pillowcase – Football
At Amazon.com

Standard Pillowcase – Football
At Amazon.com