Hit the ice with cool style
Live for hockey? You obviously can handle the cold better than I can! But, you can stay warm and snuggly in your bed with some cool hockey bedding sets.
There are a few options for blankets and tons of cool pillowcases featuring players and gear. Perfect for pillows to take to sleepovers and team trips. In general, though, unless you're looking to support a specific NHL team, this isn't a theme with a lot of choices. My general suggestion would be to go with patterned covers in a color you like – plaid or stripes, for example – then decorate the room mostly through decor rather than a comforter. You'll get where you want to go a lot faster than you will waiting around for more items to show up here!
I do really love the pillowcases, though, like the one shown here. So many choices and all the white makes them perfect for autographs from the team each year.
Hockey Bedding Sets
I know. The only generically designed one I could find and I can barely find it anymore. If you're after an NHL team, you might do OK, but for just a general fan, it's a bit scarce out there.

Ambesonne Hockey Duvet Cover Set
At Amazon.com
Twin-king sizes

Ambesonne Hockey Player Duvet Cover Set
At Amazon.com
Twin-king sizes

Roostery Hockey Duvet Cover
At Amazon.com
Twin-king sizes

Le Vele Hockey Duvet Cover Set
At Walmart.com

All Star Hockey Toddler Bedding Set
At Amazon.com
NHL Bedding
I've picked out ones that involve all the teams, not any particular team. You can get those, but that's just way too much to list!

NHL® Patch Duvet Cover
At PBTeen.com
Choose from gray or navy in whichever team is your favorite

2018 NHL® Duvet Cover
At PBTeen.com

NHL® Patchwork Quilt
At PBTeen.com

NHL® Sheet Set
At PBTeen.com

Sports League All Team NHL Pillow Cover
At PBTeen.com
Make Your Own Bedding
I know designing your own isn't always an option for everyone. (I guess they aren't teaching sewing in home ec anymore?) But, if you have the skills or know someone who does, you can create your own hockey bedding easily with a few hockey-themed fabrics. These are all generically hockey, and some come in different colors within the same pattern.
Sports Collection Hockey
Chill Out Hockey
Sports Collection Hockey Equipment
Sports Life 2 Hockey Pucks 
Hockey Sheets & Pillowcases

Hockey Players Flannel Sheet Set
At Amazon.com

eS Kids Hockey Print Flannel Sheet Set
At Amazon.com

Eat. Sleep. Hockey. Pillowcase
At Amazon.com
Choose from navy, red or pink

Rink Pillowcase
At Amazon.com

Personalized Player Words Hockey Pillowcase
At Amazon.com
Choose from black, blue, green or red

Hockey Personalized Pillowcase
At Zulilly.com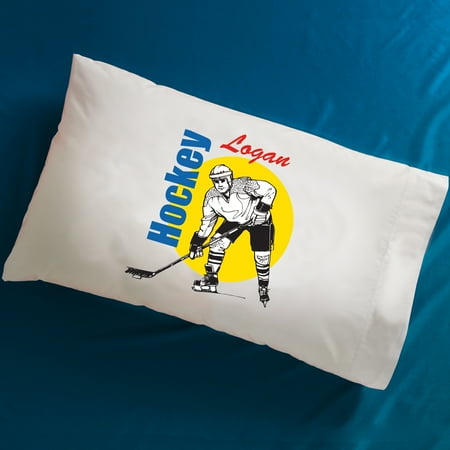 Personalized Sports Pillowcase-Hockey
At Walmart.com
Hockey Blanket & Pillow Designs
A couple of designs that show off the ice rink with the lines, a retro player look and some gear. Given that this is a cold sport, you'd think there'd be a few more options!!!

My Goal is To Deny Yours Sherpa Fleece Blanket
At Amazon.com
Choose from white, black, gray or red

Personalized Red and White Ice Hockey Jersey pillow cover
At Amazon.com

Ice Hockey Fleece Throw
At Amazon.com

Hockey Player Baby Blanket
At Amazon.com
Choose from three skin tone colors (although it only seems to impact the tiny bit at the neck)

Castro Hockey Puck Throw Pillow
from: Wayfair

Cedeno Hockey Stick Blueprint Throw Pillow
from: Wayfair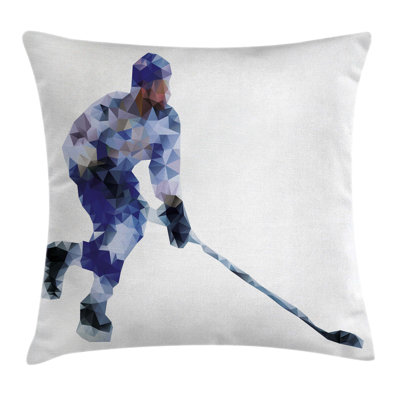 Modern Hockey Player Triangles Pillow Cover
from: Wayfair

Kutita Hockey Design Cushion Cover
At Amazon.com

Hockey Baby Blanket (Personalized)
At Amazon.com

Throw Pillow Cover Hockey
At Amazon.com