I waited a long time for the new Monsters movie to get here, in part because it means we'd be getting new items for the bedroom. (Always thought it was odd that there hadn't been anything out there considering how popular the first one was. Not to mention just how generally cool monsters are.)
But all that's water under the bridge as we now have options for the room. Mostly based on designs of the new Monsters University addition to the franchise, so very preppy school-based items. Lots of plaids and big letters. And of course, turquoise blue from Sulley and lime green from Mike.
If you aren't keen on the new bedding options, you can hold out for a while to see what other designs might come down the pike. Or pick something else in the proper colors and stick with decor to do the theme. I've got ideas and suggestions to get you started on developing your own bedding plan. Then just get some Monster-specific decor to finish off the theme!
All of these items are getting scarcer as we get away from the new movie release. Given there isn't a third movie on the horizon, I'm not sure when we'll be seeing more.
Let's Start with Monsters University Bedding and Sheet Designs
So far, we've got a mix of comforters and sheets in big and toddler bed sizes to choose from, along with an absolutely adorable crib set. Although, the crib set is more based on the franchise than the new movie specifically.
We're looking at blue, blue and more blue so far here. Which makes sense since the Monster University colors are blue and white. It makes for a good neutral to pair with the turquoise and green. Eventually, I expect we'll start to see the colors branch out a bit.
Putting the toddler set first because, well, it's my favorite!

Scarer in Training Toddler Bedding Set
At Walmart.com
Mike and Sulley show the proper way to execute a scare on this comforter
Fitted sheet is blue on blue silhouettes of the monsters

Monsters University 4-Piece Reversible Twin Bedding Set
At Walmart.com

Monsters University Bedding Comforter Set
At Walmart.com
Large design of Sulley and Mike looking like they've made it to friends
School crests kind of watermarked on the dark background
Pennants and patches also add to the design

Monsters University Bedding Sheet Set
At Walmart.com
School plaid here, with Mike and Sulley practicing their technique on the flat sheet
Fitted sheet is dark blue with pennants and crests emblazoned on it
Pillowcase is reversible with Mike on one side, Sulley on the other, both in full on scare mode

Disney's Monsters University Stare Sheet Set, Twin

Monsters Inc University Junior Bed Size Duvet Cover With Pillowcase Set

Monsters University Microfiber Comforter
At Amazon.com

Disney Pixar Monsters University Sheet Set
At Amazon.com

Monsters Inc University Single Duvet Cover With Pillowcase Rotary Design

Disney Monsters at Play Crib Bedding Collection
At BedBathBeyond.com

Disney Baby Monsters Inc 3 Piece Crib Bedding Set
At Amazon.com
"Scary" Blankets & Pillows
If you'd like a different look than the bedding sets up above, a blanket might be a a good choice. And definitely if you're trying to use solids or a pattern in the right colors but not the theme. Oh – and can you dig the Mike pillow? Complete with retainer!
I have to admit, I generally find the pillow pets of favorite characters to be weird and creepy. And the Mike and Sulley versions are really no exception in my book. Love the Sulley head pillow. Can't decide if he's trying to scare or is scared. Or maybe just weirded out himself by the other pillows?

The Northwest Company Monsters University, Greek Geeks Micro Raschel Blanket

Monsters at Play Coral Blanket
At Amazon.com

Disney Pixar Monsters University Pillow
at Walmart.com
Design of this one is just too awesome. I love that they included his retainer!

Monsters University Sulley Pillowbuddy
at Walmart.com

Monsters University Mike Pillowbuddy
at Walmart.com
Monsters University Decor
Scare up some great designs for your room
Let's go Scarers! I'm so excited about the new Monsters movie and all the Monsters University decor we got as a result.
Which means, you can actually do a bedroom themed with Monsters University or Monsters Inc items now! Hooray! The university pieces tend to use a lot of pennants and show Mike in ball cap and retainer, like the decal set in the picture here. Not to mention the school crest and that big "M" with the eye in it. The Inc styles mostly differ by not having the school specific stuff, but you could pretty much use either in setting this room theme.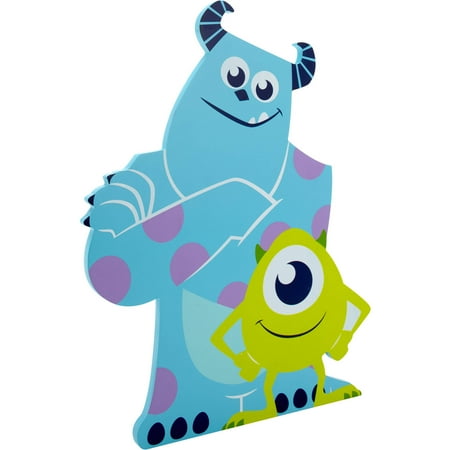 Disney Monsters Wall Decor
At Walmart.com

Disney Silver Buffalo Pixar Monsters University Wood Wall Art
At Amazon.com
Love the titles on the books

Character World Disney Monsters Inc University Shaped Rug
At Amazon.com

Disney Pixar Monsters University Night Light

Monsters University Night Light Assorted Styles
Three designs to choose from

Disney Pixar Monsters University Magnetic Wall Art
Use as a memo board. It says it comes with coordinating magnets, which I _think_ are the pennant and school logos.

Monsters University Movie Poster

Monsters University – Disney / Pixar Movie Poster – The Whole Gang
Monsters University Wall Decals
We've got sets from each of the movies here. The first bunch are from the new one, with lots of pennants and school crests included in the design. Not to mention a lot of new monsters as part of the deal.
The ones from the original movie are easy to distinguish, mostly because we see Boo in there. And Mike and Sulley just look older.

Monsters University Wall Decals
At RoomMates

Monsters, Inc. Mike Giant Wall Decal
At RoomMates

Monsters, Inc. Wall Decals
At RoomMates

Monsters Inc.
At Fathead.com
This one just cracks me up. Can you see them running hell-bent out of your wall like that?

Disney Baby – Monsters, Inc. Wall Decals
At Amazon.com

Monsters University Movie Sulley Mike Disney Pixar Wall Decal
At Amazon.com

DISNEY / PIXAR Monsters University Door Decal
At Amazon.com