Go, Team, Go! – Crib bedding for a sports nursery
You want your baby to be a sports fan like you, so get them started early with sports baby bedding! Create a sports-themed nursery complete with footballs, soccer balls, basketballs, baseballs and more!
I've gathered crib sets that mix different sports, as well as sports-oriented phrases like score, play, team and others. You'll find the color mix to be typically male – lots of blue, brown and green – as well as the designs generally.
Classic Sports Baby Bedding
There's a reason these are the best selling crib sets
Nothing unusual or odd with these, which is why they're so popular. Classic color schemes, mix of patterns in with the design and an emphasis on the big three sports.

Sweet Jojo Designs All Star Sports Baby Bedding Set
At BedBathBeyond.com

Levtex Baby Little Sport Crib Bedding Set
At BedBathBeyond.com

NoJo Play Ball Crib Bedding Set
At BuyBuyBaby.com

Geenny Classic Sports Crib Bedding Set
At Kmart.com

Sports Fashion Baby Bedding
At Amazon.com

Brandream Sports Baby Bedding Set
At Amazon.com

BabyFad Sports Champion Grey Crib Bedding Set
At Amazon.com
This one includes hockey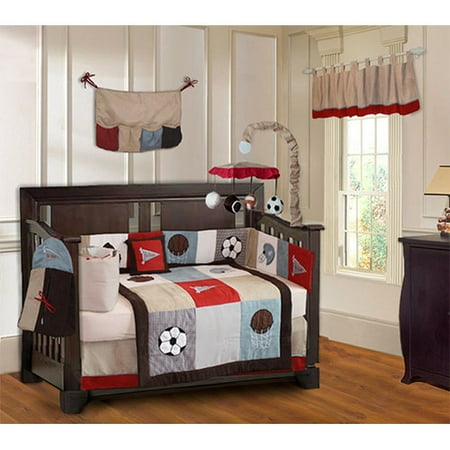 Babyfad Go Team Sports Crib Bedding Set
At Walmart.com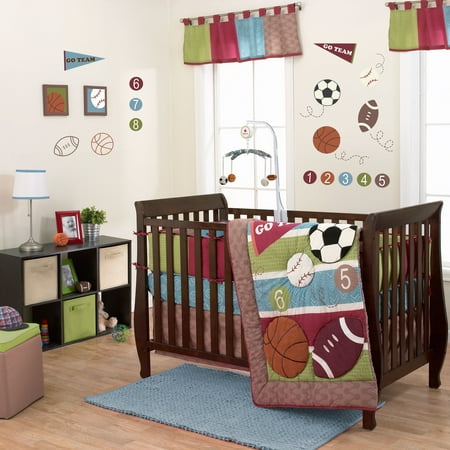 Belle Crib Bedding Set – Sports Theme
At Walmart.com
Modern-Styled Sports Baby Bedding Sets
Unique colors and designs for a fresh look
There was a trend for a little while to do very modern looking designs for crib sets, and I really did love them. But I guess people tend to prefer more classic styles with a theme that works well with a vintage style.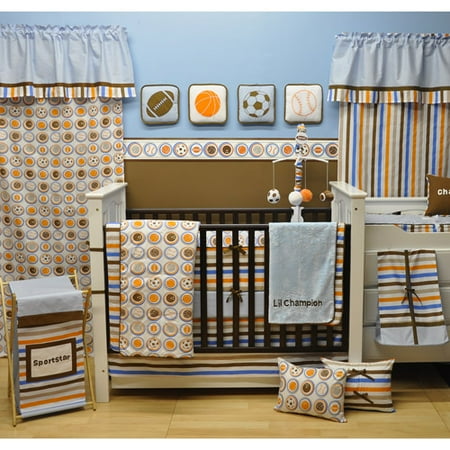 Mod Sports Blue/Orange/Chocolate Crib Bedding Collection
At Walmart.com
Animal Sports Baby Bedding Sets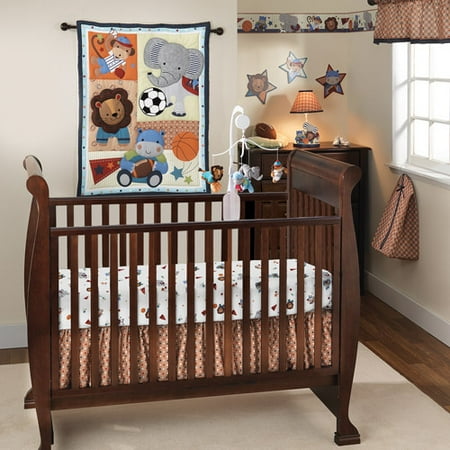 Bedtime Originals by Lambs & Ivy – Teammates 3-Piece Crib Bedding Set
At Walmart.com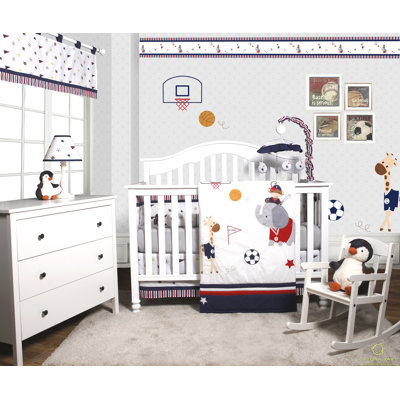 Porter Animal Sports Festival 6 Piece Baby Boy Nursery Crib Bedding Set
from: Wayfair

Bedtime Originals Baby League Sports Animals 3 Piece Crib Bedding Set
At Amazon.com

Animal Themed Sports Crib Bedding Set
At Amazon.com

Lambs & Ivy Bow Wow Buddies Crib Bedding Set
At Amazon.com