Every time I turn around, there's more Minnie Mouse furniture coming out! She and Daisy have been showing up on all kinds of upholstered seating as well as cute storage solutions. The newest line features butterflies and pink stripes paired with tons of purples. Check it all out!
Minnie Mouse Furniture Bundles
Fast and easy way to get all the pieces you need in one go.

Disney Minnie Mouse 8-Piece Furniture Set
At Amazon
Plastic Toddler Bed, Table and Chair Set, Multi Bin Toy Organizer, 2-Pack Storage Cube and Pop Up Hamper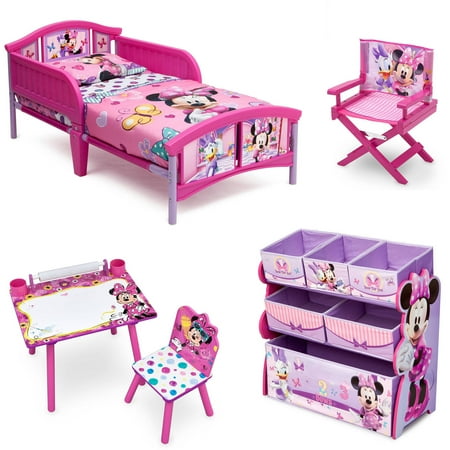 Disney Minnie Mouse Room-in-a-Box with Bonus Chair
At Walmart.com

Disney Minnie Mouse Twin Bedroom Collection
At Amazon
Set includes: Twin Bed, Wall Mirror, Combo Dresser, and Nightstand Twin bed features upholstered headboard Dresser and Nightstand feature Minnie Mouse knobs

Disney Minnie Mouse 3-Piece Toddler Bedroom Bundle
At Amazon
Minnie Mouse Seating
Lots of cute representations of Minnie here. Most of the items you'll find are pink and black, although there are occasionally some other colors mixed in. What I don't find much of is red, though.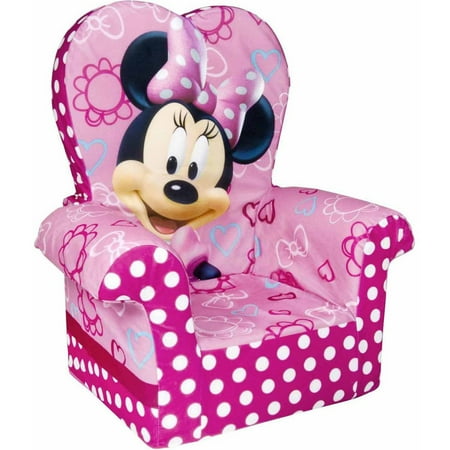 Marshmallow High Back Chair, Minnie Mouse's Bow-Tique
At Walmart.com

Minnie Mouse Upholstered Chair
At Target.com

Disney Tsum 19″ Minnie Mouse Round Bean Bag
At Amazon.com

iloom Aco Minnie Mouse Kid's Chair
At Amazon.com

Disney Minnie Figural Upholstered Chair
At Amazon.com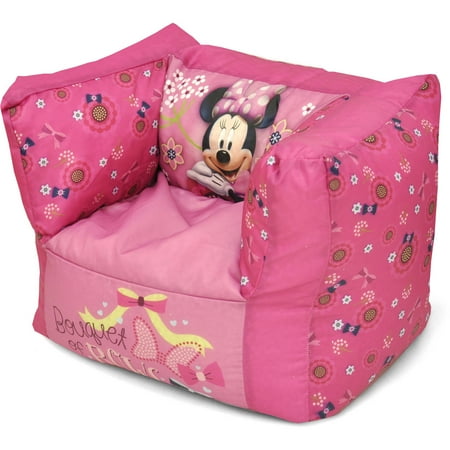 Minnie Mouse Square Bean Bag Chair
At Walmart.com

Delta Children Minnie Club Chair
At Amazon.com
Inflatable with a removable cover

Disney Minnie Mouse Deluxe Table & Chair Set with Storage
At Amazon

Disney Minnie Mouse Bean Bag Chair
At Walmart.com

Disney Minnie Mouse Upholstered Chair
At Walmart.com
Minnie gets some love from her puppy.
Seat emblem says "butterfly bows, away they go"
80 pound capacity

Minnie Mouse "Cuddly Cuties" Skirted Rocker
At Walmart.com
This is a line that's on its way out. This is the only piece I can find anymore.

Disney Chair with Desk, Minnie
At Walmart.com
Daisy makes an appearance here on the side
Storage bin under the seat for keeping your supplies

Minnie Mouse Cosy Chair
Small toddler chair. Looks like it might be foam under the fabric.

Marshmallow Furniture Minnies Bow-Tique Flip Open Sofa
Image of her and Daisy when folded out
Slipcover is removable and washable.

Disney Minnie Mouse Sofa Chair
At Walmart.com
Meant for very young toddlers
Weight capacity of 81 pounds

Minnie Mouse Activity Table and Chairs Set
At Walmart.com
Table top says "1, 2, 3, bows"

Delta Children's Minnie Mouse Upholstered Chair
At AmazonUK

Delta Minnie Mouse Table and Chair
At AmazonUK
Minnie and her little bird friend against a background of cherries and strawberries

Disney Minnie Mouse "Bows" Printed Pouf Ottoman
At Amazon
14″x14″x12″

Delta Disney Minnie Mouse 3-Piece Deluxe Table and Chair Set
At BuyBuyBaby.com
Minnie Mouse Beds
Cosy places to sleep, snuggled up with Minnie in a few different styles.

Delta Children's Products Minnie Mouse Canopy Toddler Bed

Disney Minnie Mouse Twin Bed
At Amazon

Disney Minnie Mouse Wood Toddler Bed
At Amazon

Disney Minnie Mouse Toddler Bed
At Amazon

Disney Minnie Mouse 3D-Footboard Twin Bed
At Amazon

Disney Minnie Mouse Interactive Wood Toddler Bed
At Amazon
before bed checklist and movable clock at the footboard

Disney Minnie Mouse Wood Twin Bed – Delta Children
At Target.com

Disney Minnie Mouse Bed Tent with Pushlight
At Amazon

Delta Children's Products Minnie Mouse 3D Toddler Bed

Minnie Mouse HelloHome StarTime Toddler Bed, Pink
Available at AmazonUK
Mirror in the footboard, storage pockets on the side, shelf near the head

Delta Enterprise Toddler Bed

Disney Minnie Mouse Headboard Cover
At Walmart.com
Minnie Mouse Storage Furniture

Disney Minnie Mouse Collapsible Storage Trunk
Coordinates with the bed tent

Disney Minnie Mouse Figural Storage Bin
At Amazon

Minnie Mouse Deluxe Toy Box
At Walmart.com

Minnie Mouse 6-Bin Storage
Available at AmazonUK

Delta Minnie Mouse Convertible Toy Box/ Desk
At AmazonUK

Delta Minnie Mouse Collapsible Fabric Toy Box
At AmazonUK

Disney Minnie Toy Organizer
At jossandmain.com