Bird Wall Decals
Birds are a great motif for a child's room – signaling freedom, adventure, music and just plain whimsy at times.
When adding a wall decal to a kid's bedroom, you have a lot of choices. The decals with flocks of birds are great for filling a lot of space and evoking freedom and adventure. However, that's a lot of little decals to have to individually place. The cage decals are less adventurous, but often lend themselves to calm themes. Take care when applying all the tiny lines of the cage, however. You can also choose from birds sitting in trees, on branches and on wires, all of which work great against a sky backdrop.
A lot of these decals would work well in a theme that uses birds, but also in any kind of outdoor theme. Something like a backyard or sky with planes or even the circus. Any time you have a sky in the design, you can add one of these stickers to it.
Bird Wall Decals
I love how cute some of these cartoony designs are, perfectly great for a kid's space or nursery. The colors are bright and lovely, and there are many sizes to choose from so you can get one that works where you need it. A lot of these are perfectly dramatic, so they do great anywhere you might hang a piece of artwork.

Wall Stickers Vinyl Decal Birds Flying Off Feather Romantic Love Spirit Soul Amour Decor (z1379i)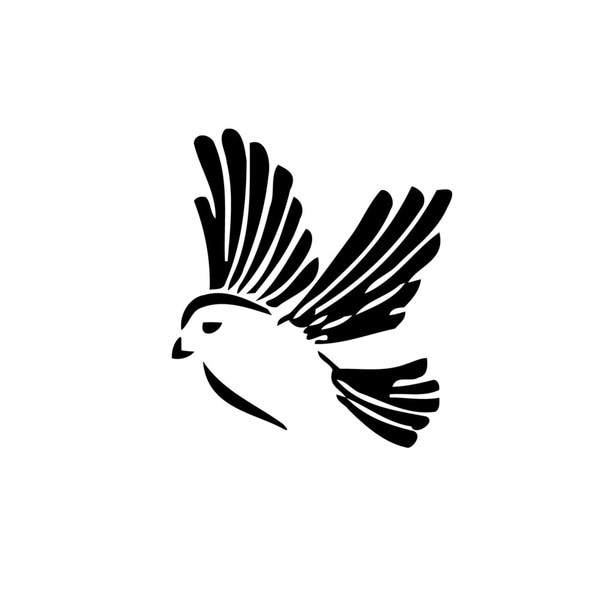 Small Flying Bird Mural Vinyl Wall Art
at Overstock

Bird Stickers in Lovely Flower Pattern – Set of 6 Bird Decals
Birds and Branches Decals
Birds who live free would naturally be found sitting on a branch, right? So it makes sense there would be so many of these designs to pick from. Note the colors of the the birds, but also the flowers on the branch. OK – so a couple of these are actually on wires rather than branches, but it's the same effect. A design you might have seen before on iCarly's wall in her redecorated bedroom, and it got quite popular in the past few years.

MyWonderfulWalls Birds and Branch Decal Wall Sticker
At Amazon.com
Available right or left facing

CherryCreek Decals Cherry Blossom & Birds Decorative Nursery/Room Wall Sticker Decals

Birds On A Wire Decal

Branch With Blue Birds Wall Decal

Design with Vinyl Design 250 Removable Wall Decal – Birds On Three Wires, 50-Inch By 22-Inch, Black

Rockabye Bird Branch Peel and Stick Giant Decals
at Wayfair
Flying Flock Decals
OK, I'm not sure how I feel about these. They're definitely a little reminiscent of The Birds, I think. So many of them! Still, you could do them in the swarms like they show them in the pictures or just sprinkle them around the room like you might see them in nature. (Well, I live in Texas. We have quite the swarms of grackles around here and there is no spreading around. They definitely swarm.)

Flock of Birds wall decal sticker
Bird Cage Wall Decals
These are designs with not just birds, but also cages, some even hanging from branches. Some come in their own colorful fashion, like the first set here. Others you can pick your colors, but you only get one.

Bird in Cage Vinyl Wall Decal

Birdcage Series with Birds – Wall Vinyl Decal

3 Bird Cages with 10 birds Wall Decals

Birdcage Love Heart Kids Nursery Room Wall Sticker Wall Art Decals
at LightInTheBox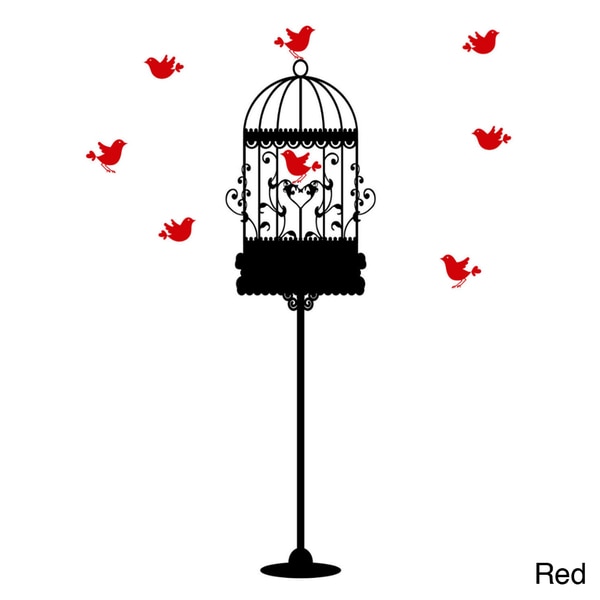 Birdcage Stand with Colored Birds Vinyl Wall Art Decal
at Overstock

Birdcage with Birds Wall Vinyl Decal
Bird Wallpaper and Borders

York Wallcoverings Tres Chic Birdcage Wallpaper, White/Black/Chartreuse