No strike outs in this baseball bedroom!
No outs here in your kids bedroom with these cool and brightly colored baseball bedding sets, perfect for any boy's dream baseball bedroom. Whether you want a general baseball theme or want to highlight a favorite team, there are great options for you here.
Choose from designs that highlight the field or players and just the baseball itself. I've stuck with designs that revolve around the game rather than any one team, although there are a few that feature the entire MLB.
Because baseball is a sport with so much nostalgia, there are several options here that opt for a vintage look with the design or colors. Nice to have so much variety!
Baseball Bedding Sets

Nod Baseball Twin Quilt
At CrateandBarrel.com

Baseball Duvet Cover
At PotteryBarnKids.com

Textiles Plus Baseball Patchwork Comforter Set

MLB Duvet Cover
At PBTeen.com

Baseball Reversible Comforter Set
At Kohls.com
Baseball Sheet Sets

Organic Nod Baseball Twin Sheet Set
At CrateandBarrel.com

Baseball Sheet Set
At PotteryBarnKids.com

Baseball Sheet Set • Pottery Barn Kids

MLB Sheet Set
At PBTeen.com
Baseball Pillows and Blankets
I find it interesting that it's the ball taking center stage on all the baseball pillows and blankets I found. Occasionally a bat or player makes the scene – never a glove or hat – but it's pretty much a baseball you'll see. Which is interesting for mixing the designs below with the rest of a baseball-themed room. Keep the mix balanced among the elements unless you just really want to emphasize one over the other.

Personalized Baseball Fan Pillow
At GiftsForYouNow

Baseball Theme Throw Pillows
At CrateandBarrel.com

Sports League All Team MLB Pillow Cover
At PBTeen.com

Baseball Luxury Pillow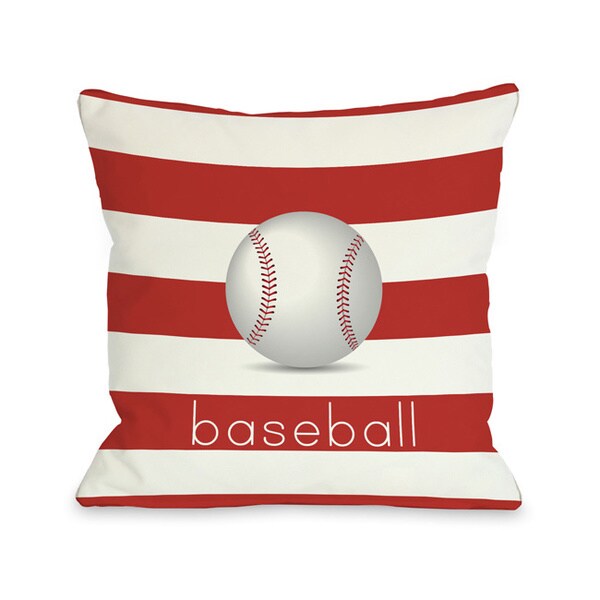 Baseball Throw Pillow
At Overstock.com

Baseballs – 69 x 48 Blanket/Throw

Baseball Silhouette – 69 x 48 Blanket/Throw

Baseball Field – 69 x 48 Blanket/Throw

Custom Name and Baseball Bat Stroller Blanket
At aBaby
Similar to one at PoshTots, but acrylic instead of cashmere

Baseballs on Yellow Fleece Throw Blanket

Baseballs on Green Fleece Throw Blanket

Lil Slugger Baseball Bear Snuggler 18″ by Bearington