You can build this theme!
Build a great bedroom for your little boy. Start with a construction bedding set featuring dump trucks, cranes, bulldozers and cement trucks. (You probably want to skip the dirt, though.)
It's a great theme for any boys bedroom, especially if they love trucks. You'll find lots of blue paired with warm colors like orange and yellow and red, but occasionally green and browns. The styles tend toward pretty simple block images like in the Olive Kids comforter in the picture here, making them perfect for younger kids. If you're trying to do this theme for an older child or teen, you might consider non-themed bedding paired with decor items, some of which come in very elegant styles.
So let's get this construction zone started.
Construction Bedding
Front and center for this theme come the cranes and bulldozers and dump trucks. You can go with wildly colored designs that give you a spectrum to work with or limited palettes that focus on yellow and orange. You'll notice a lot of plaid being tossed in as well. I'm not sure if it's just a typical boy type pattern or if they're trying to pair up the concept with plaid work shirts. Still, also a great alternative if none of these sets are quite what you're looking for.

Organic Builders Duvet Cover
from: Crate & Barrel
Simple white, yellow and black colors make this pretty versatile
100% organic cotton
Twin and full/queen sizes

Margie Under Construction 3 Piece Comforter Set
from: Wayfair

Construction Bedding – Builders Quilt
from: Crate & Barrel
Lots of great colors to work with here, but still a calm color scheme

Construction Zone Percale Comforter
At TheCompanyStore.com

Mi Zone Kids Truck Zone Comforter Set
At jcpenney.com
Bright happy colors with blue as the base

Under Construction Reversible Comforter Set – Waverly Kids
At Target.com

Organic Truck Duvet Cover
At Pottery Barn Kids
Navy with little white dump trucks

MakeTop Excavator Construction Vehicles Bedding Set
At Amazon.com

Kidz Mix Construction Zone Bed In A Bag
At Amazon.com

Everything Kids Under Construction 4 Piece Toddler Bedding Set
At Wayfair.com

Bright Trucks Duvet Set
At Amazon.com
A good change of pace with green as the main color

MakeTop Construction Vehicles Bedding Set
At Amazon.com
Set comes with or without the comforter; that means the part that goes inside the duvet cover.

MakeTop Embroidered Construction Vehicles Bedding Set
At Amazon.com
Set comes with or without the comforter; that means the part that goes inside the duvet cover.

Tonka Trucks Toddler Bedding Set
Includes comforter and sheet set

Everything Kids Toddler Bedding Set, Under Construction

Under Construction, Single Bedding
At Children's Rooms UK
Construction Sheet Sets and Pillowcases

Construction Sheeting Set
At PotteryBarnKids.com
Orange, yellow and gray construction vehicles

Organic Builders Twin Sheet Set

Organic Builders Toddler Sheet Set
from: Crate & Barrel

Construction Zone Percale Sheeting
At TheCompanyStore.com

Rugged Bear Construction Trucks All Cotton Sheet Set
At Amazon.com
Twin and full sizes

Construction Trucks Sheet Set
At Amazon.com

Tonka Twin Sheet Set
At Amazon.com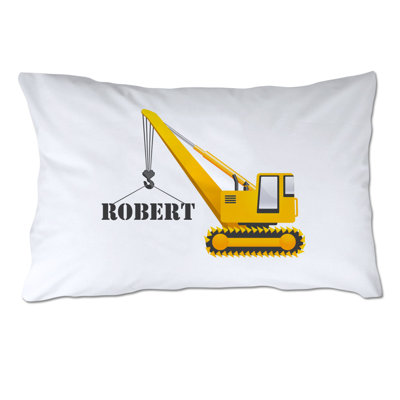 Personalized Construction Crane Pillow Case
from: Wayfair

Room Magic Twin Sheets/Pillowcase Set, Boys Like Trucks

Pem America Construction Sheet Set

The Cover Up Collection Child's Standard Pillowcase Set of 2 – Tools Design
More the tools you'd use on a site than trucks and big equipment
Construction Blankets and Pillows
Dump trucks, front loaders and cranes galore on this collection of construction blankets and pillows. Also, a lot of yellow, brown and blue – typical colors found for this particular bedroom theme.
One of my favorites is the new line from Tonka with bright colors and shaped cuddle pillows. You can pair them with the coordinating bedding or use them on their own to set the theme.

Bulldozer Throw Pillow
from: CrateandBarrel.com

Scraper Throw Pillow
from: CrateandBarrel.com

Trucks applique throw pillow
At Kohls.com
18″ square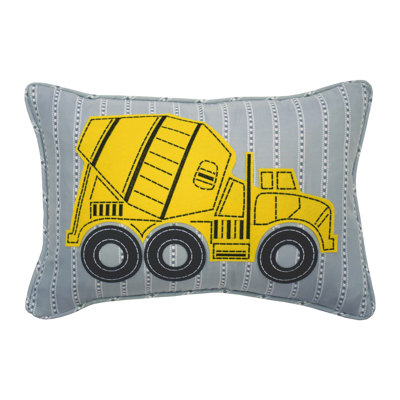 Under Construction Oblong Embroidered Lumbar Pillow
from: Wayfair

Trucks at Work Pillow
Available at Amazon.com

Construction Truck Decorative Pillow Case
Available at Amazon.com
20″x20″, cover only
All available at Amazon.com
18″ square road work sign pillows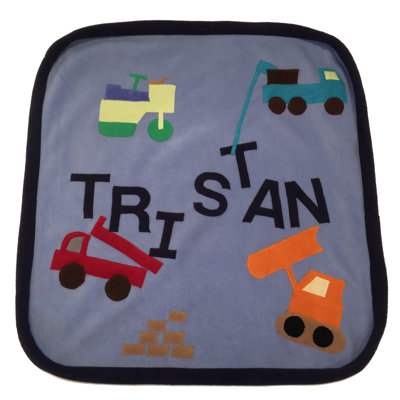 Construction Personalized Fleece Blanket
from: Wayfair

Construction Baby Blanket
At aBaby.com
Embroidered with smiling work vehicles

Construction Truck Plush Throw
Available at Amazon.com

Construction Site Back Rest Cover
At TheCompanyStore.com