Time to start a bedroom fire with fire truck bedding
If your little boy is hot stuff, what better theme for his bedroom than fire trucks? Ladders, hydrants, fire engines and firefighters grace these bedding sets sure to please your child.
Primarily in red, white and blue color schemes, firetruck bedding gives you a bright palette that can carry over to other themes when your son grows out of this one. Most of these sets are very engine oriented, with a few flames and other elements thrown in. There are a couple that toss in some gray or green colors, but for the most part, you'll be working with red and yellow.
I'm a huge fan of the designs The Land of Nod comes up with. They just deliver elegant looks while still being totally child appropriate.
Keep in mind the elements used in the bedding you choose when deciding on the rest of the decor. A firehouse can never have too many hoses or ladders, but there's only room for so many trucks!
Fire Truck Bedding Sets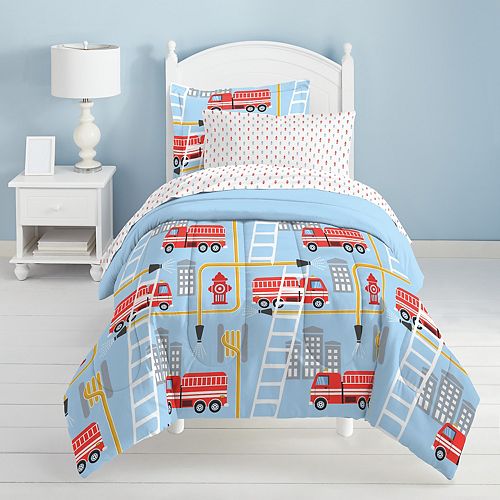 Dream Factory Fire Truck Bed Set
At Kohls.com
I like the light blue with touches of yellow here.
Sheet set has tiny fire hydrants

Kidz Mix Kids 3-Alarm Complete Bed in a Bag Bedding Set
At Walmart.com

Pem America, Fireman Collection Quilt Set
Firemen, hoses and hydrants along with trucks
Twin and Queen sizes

To the Rescue Reversible Duvet Set
from: BirchLane.com

Reversible All Season Comforter Set – Fire Trucks
At Amazon.com

Auvoau Fire Truck Vehicles Bedding Set
At Amazon.com
Twin-queen sizes

Firetrucks Comforter Set
At Amazon.com
Reverses to a red and white stripe

Frankie's Fire Truck Bedding Set by Sweet Jojo Designs

Firefighter Comforter – Twin Size with Matching Std Sham

Fire Trucks Duvet Cover Set- Twin

Kas Kids Hero's Appliqued 100% Cotton Bed Linen 2000cm X 200cm & 2 X Pc Double Size
At AmazonUK
Cute design as they put out the fire in the middle of nothing

Firetrucks Quilt/Throw – Twin
Fire Truck Sheet Sets and Pillowcases
These are all populated with fireman related designs, but you could also consider just solid red sheets to pair with any of the bedding sets above. Or just use the sheets to bring the theme in without getting new bedding.

Red Truck "Fireman" Sheet Set
At Amazon.com

Habitat Kids Organic Cotton Fire Truck Sheet Set
At Amazon.com

Kute Kids Super Soft Sheet Set – Fire Trucks
At Amazon.com

Authentic Kids Vintage Fire Truck Sheet Set
At Amazon.com
Old-style trucks and ladders

Rugged Bear Sheet Set – Red Fire Trucks Engines on White
At Amazon.com
I like the style of the art here, and nice touches of yellow.

Fire Truck Cotton Sheet Set
At Amazon.com
Pen and ink drawings here that will work with any color bedding
Twin and full sizes

Charles Street Kids Collection Sheet Set – Ryan Fire Truck
At Amazon.com
Fire stations, hydrants and the chief's car included

Standard Pillowcase – Fire Truck
Fire Truck Toddler Bedding Sets

Lots of blue and red colors here, just like in the bedding for bigger kids. However there is a set available from Carter's that I love because it's black and red, which coordinates better with most decor for this theme. Given the age most kids are obsessed with fire trucks is in the toddler range, I do find it surprising that there are so few options for toddler beds. You could go with a crib set, as the fitted sheet and quilt will work on a toddler size bed, or consider solid red or black as the base to build the rest of the room around.

KidKraft Fire Truck Toddler Bedding
At aBaby.com

Frankie's Fire Truck Toddler Bedding 5 pc set by Sweet Jojo Designs

Carter's 4 Piece Toddler Bed Set, Fire Truck
Includes sheets, which are white with red and black trucks

Sesame Street Fire Department 4 Piece Set
A very specific version of a fireman theme
Fire Truck Pillows & Blankets

Crack out the hoses and the dalmatians and the ladders! These fire truck pillows and blankets make a great addition to a fire station-themed room or just as an added touch for a kid obsessed with those big red fire engines. You'll find images of trucks along with shields, dogs and more on all the items I've collected here.

Fire Truck Throw Pillow

Dalmatian Dog Decorative Throw Pillow

Cozy Line Home Fashion Decorative Fire Truck Cotton Pillow
At Wayfair.com

EmojiPals Bright Fire Flame Pillow
At Walmart.com

Simply Home Fire Fighter Fireman Theme Blanket
At Amazon.com