It's an easy score for this theme
Soccer has made great strides in the US; you'd be hard-pressed these days to find a child who hadn't played on a team at some point in their lives. So it stands to reason there would be some die-hard fans out there who would want to have a soccer bedroom.
Start with some cool soccer bedding, maybe one of the choices below. The general color scheme for a room would be black and white, naturally, generally with green added for grass. But from there, toss in your team's colors, a few soccer balls and you're good to go!
I've stuck with general soccer designs rather than any specific teams, which probably works best for kids in the US since they most likely love the sport without have a team to cheer for.
Soccer Bedding
A couple of pink styles, some vintage looks and just plain cute as well. Happy to see so many choices here, which makes it so much easier to get the color and look you want.

Nod Soccer Twin Quilt

My World Field Bedding
Quilt and sham
Perfect choice to start with, then add team colors and posters to

Organic Vintage Soccer Duvet Cover
At Pottery Barn Kids

Soccer Fever Teen Bedding Comforter Set

Soccer Ultra Soft Microfiber Comforter Bedding Set, Gray Multi

SOCCER RED WHITE TWIN BED QUILT COVER DUVET SET

SOCCER LOCKER COMFORTER SET TWIN BLUE MULTI

SOCCER BLUE TWIN BED QUILT COVER DUVET SET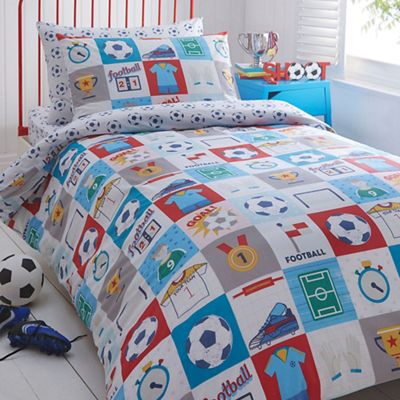 Soccer Duvet Cover Set
At Debenhams
Grid of various game elements
Does actually say "football"
From the UK, so make sure you double-check sizing and what pieces you get

Football Friends -Toddler Bedding Set
At Children's Rooms UK
From the UK, so make sure you double-check sizing and what pieces you get
Soccer Sheet Sets

Organic Nod Soccer Twin Sheet Set

Organic Vintage Soccer Sheet Set
At Pottery Barn Kids

Soccer Sheet Set
At Amazon
Soccer Pillowcases
Lots and lots of green here. Hope that's what your player likes! Nice way to add a small (and inexpensive) touch of the game to the room. Oh, and perfect for dragging along on road trips!
 Keep Calm Soccer Dog I'd Rather Be Playing Soccer One Love Soccer
 Endless Soccer iPlay Soccer Soccer Net Assets Soccer 24/7
Girl Soccer Bedding
I know – pink. Now, you don't have to go with this bedding to make it a girl's soccer bedroom. A lot of regular old soccer bedding comes in colors that are perfectly fine, like green or red. You could then go with decor items that show a girl playing instead of a boy to make it girl specific. Especially if your girl isn't that into pink or wants stuff in her team colors.

Sweet Jojo Designs Soccer Comforter Set 
At BedBathBeyond.com

Society6 Girl Playing Soccer Comforter
At Amazon.com
That's a little better!

Love Soccer Square Throw Pillow
At BuyBuyBaby.com

Pink Personalized Soccer Pillowcase
At Zulilly.com

Pink Soccer Decorative Pillow Cover
At Amazon.com

Soccer Girl Square Throw Pillow Case
At Amazon.com
Soccer Blankets and Pillows
I think there are some great choices for the bed at the top of this page, but if you just want to add to an existing theme, this might be the place to find what you're looking for. Something like the personalized pillow makes for a great gift as well as room addition.

Super Soccer Ball Microbead Pillow
At Amazon

Vintage Mid-Size Deluxe Tapestry Throw Blanket
Made in the USA

Soccer Ball Custom Warming Fleece Blanket

Soccer Vintage Tapestry Toss Pillow USA Made

Soccer Machine Washable Throw

Soccer Green Field Blanket