Stars and planets and rockets and aliens and robots cover these space bedding sets
The stars are out every night when you have an outer space bedroom theme. Bedspreads with rocket ships or covered with stars and planets – it's up to you. My personal favorites are the space bedding sets that show the solar system with the planets in orbit. Oh, and the ones that glow in the dark!
There tend to be two choices when it comes to these bedding sets – blue and black. Which makes sense. We're talking about a theme geared toward boys, and deep space is pretty danged dark. There are occasionally some lighter colors – the new set from DwellStudio comes to mind – and sets that are less about looking like space and more about rockets and planets. Yellow (no surprise) and red are the most common accent colors, although a lot does depend on the design.
Add in some pillows with rockets or counting down to blast off and you've got a great space bedroom started.
Outer Space Bedding Sets
Planets and rockets galore
My youngest sister is planning to be a rocket scientist. If these guys came in purple, she'd be all set! But, alas, they don't. Still, a lot of cool designs here with heavy emphasis on stars and planets.

Cosmos Bedding
At CrateandBarrel.com

Outer Space Quilt
At PotteryBarnKids.com

Galaxy Duvet Cover
At PotteryBarnKids.com

Glenna Quilt
from: BirchLane.com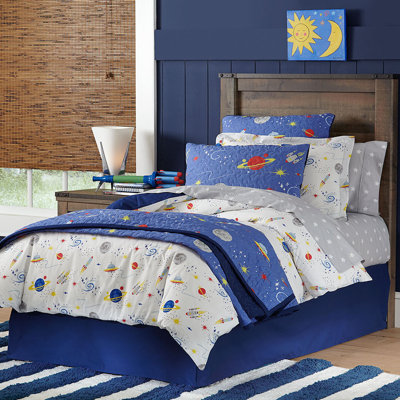 Glenna Comforter Set
from: BirchLane.com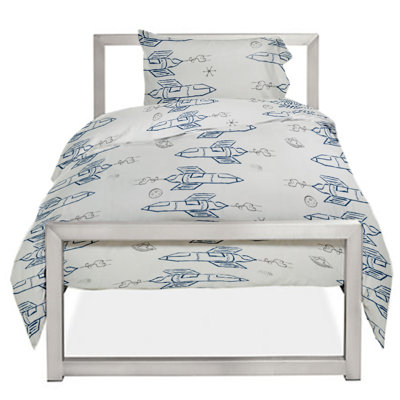 Drumnasmear Small Rocketships Duvet Set
from: BirchLane.com

Space Travel Percale Comforter
At TheCompanyStore.com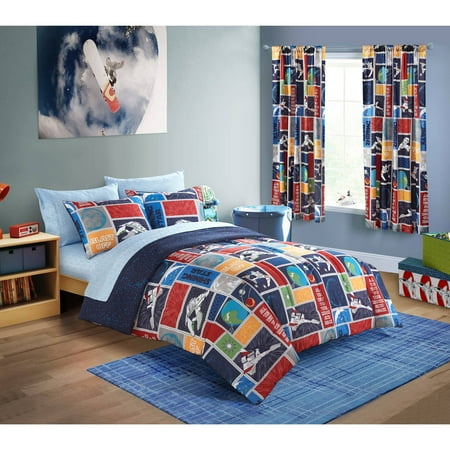 Mainstays Kids Outerspace Stars Bed-In-A-Bag Bedding Set
At Walmart.com

VCNY Home Blast Off Comforter Set
At Kohls.com

Baxton Studio Caelestis Reversible Comforter Set
At BedBathBeyond.com

Rocket Duvet & Pillowcase Set
At UncommonGoods.com

Twin Rocket Duvet Cover Set
At Amazon.com
Countdown to blast off!

MOVE OVER Galaxy Bedding
At Amazon.com

Mi Zone Kids Space Ranger Comforter Set
At jcpenney.com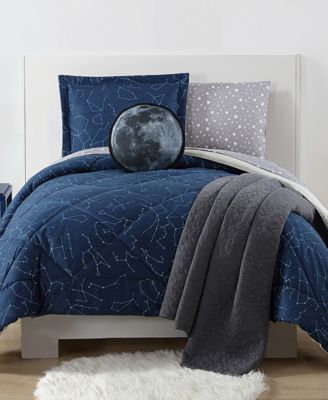 Laura Hart Night Sky Printed Bedding Collection
at Macys.com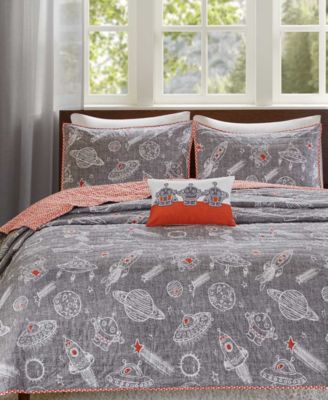 INK+IVY Orbit Reversible Coverlet Set
at Macys.com

Blue & White Cosmic Bedding Set (4pc) – South Shore®
At Target.com
Includes the comforter, pillowcase and two throw pillows – astronaut and star

Space Adventure Reversible Comforter Set – Waverly Kids
At Target.com

Solar System Star Comforter
At CrateandBarrel.com
Nice as a basic bedding option to add other colors to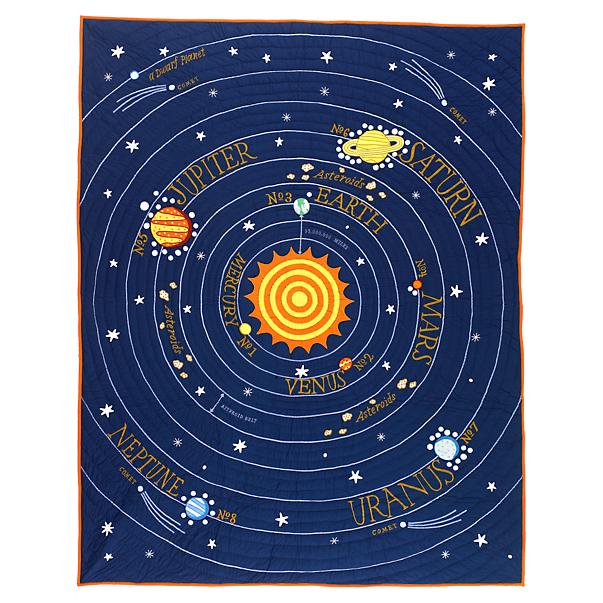 Solar System Quilt
At CrateandBarrel.com
Shown with the star sheets, but they have some fabulous Orion's constellation ones too
The sun is the center of this quilt featuring all the planets with their names.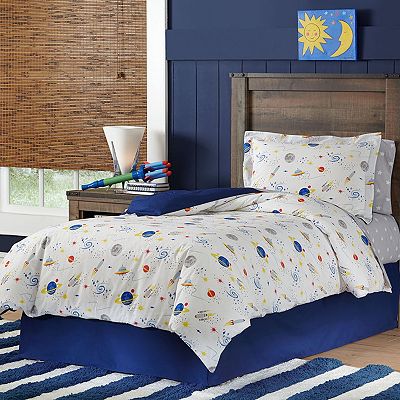 Space Cotton Percale Comforter Set
At Kohls.com

Veratex Glow in The Dark Galaxy Invaders Comforter Set, Black

Outer Space, Single Bedding
At Children's Rooms UK

My Room Outer Space Bed Set
At Kohls.com
Online exclusive
Twin and full sizes
Planet, spaceship and meteor graphics

Space Rocket Ultra Soft Microfiber Twin Comforter Bedding Set, Gray Multi

Boy's Astronaut Bedding Set (Personalized)

Space Themed Bedding Set

Room Magic Full Comforter/Bedskirt/Sham Set, Star Rocket
Space Crib Bedding

Deep Space Crib Bedding
At CrateandBarrel.com

Sweet Jojo Designs Space Galaxy 11pc Crib Bedding Set
At Target.com

Trend Lab Crib Bedding Set – Galaxy
At Target.com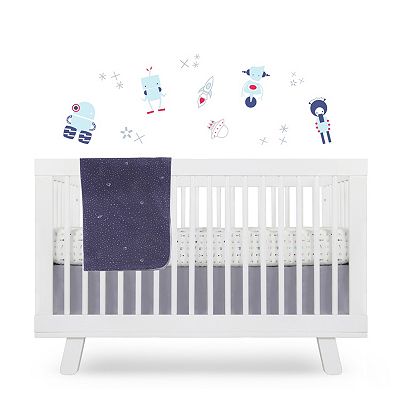 Babyletto Galaxy 4-pc. Crib Bedding Set
At Kohls.com
Tiny little space ships in a field of stars
Outer Space Sheet Sets

Kids Sheet Set: Stars Constellations Sheet Set – Twin Orions Sheet Set
(includes 1 fitted sheet, 1 flat sheet and 1 case)
from: CrateandBarrel.com
features a printed starry sky, complete with constellations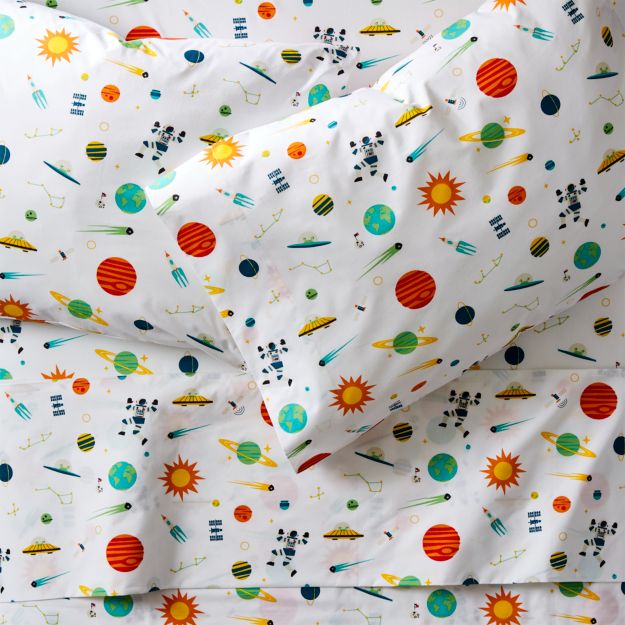 Organic Cosmos Sheet Set
At CrateandBarrel.com
also in yellow and toddler sizes

Little Prints Kids Sheet Set (Blue Rocket)
At CrateandBarrel.com
also in yellow and toddler sizes

Deep Space Toddler Sheet Set
At CrateandBarrel.com

Space Travel Percale Sheeting
At TheCompanyStore.com

Little Prints Toddler Sheets (Blue Rocket) – Blue Rocket Little Prints Toddler Sheet Set
from: CrateandBarrel.com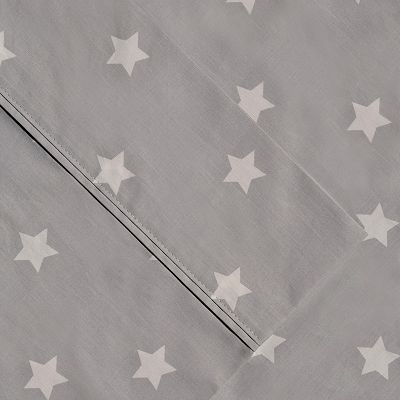 Space Cotton Percale Sheet Set
At Kohls.com

Morgan Kids Microfiber Twin Sheet Set Alien Takeover

Twin Rocket/Planes Bedding Amadora Double Brushed Ultra Microfiber Luxury Bed Sheet Set

Boys' Sleepy-Time Pillowcase – Rocket
At Personal Creations
Outer Space Blankets and Pillows
Counting down to blast off with some outer space blankets and pillows. Great designs here featuring rocket ships and planets. (One of the pillows is even shaped like a planet!)
As you might expect, there's a lot of blue and red here, although they vary from very dark to very bright. Oh, and orange is another great fun color for this theme and shows up quite a few times.

Astronaut Throw Pillow
from: CrateandBarrel.com

Blast Off Throw Pillow
At CrateandBarrel.com

Saturn Cushion
At Project Nursery

Rocket Cushion
At Project Nursery

Olive Kids Out of This World Floor Pillow Shell

Wildkin Olive Kids Out of this World Plush Pillow • Olive Kids
At Wayfair.com

Decorative Woven Couch / Throw Pillow from DiaNoche Designs by Nicola Joyner Njoy Art Home Décor and Bathroom Ideas Love You to the Moon Rocket

Rocket Ship Luxury Pillow – Milly Green

Hugg-a-Mars

Decorative Woven Couch / Throw Pillow from DiaNoche Designs by Nicola Joyner Njoy Art Home Décor and Bathroom Ideas Solar System

Rocket Rascals Cuddle Blanket

Solar System Blanket from DiaNoche Designs