Animal Print Bedding
Just about every animal represented in these sets
No matter what your favorite animal, nothing is quite so cool as a room done in animal print bedding. And there's quite the gamut of wild animals to choose from when picking your bedding theme – giraffe, leopard, zebra, tiger, cheetah.
There are a few bedding options that combine all the different animal prints, creating a safari style that might interest you. Or combining small prints like cheetah and leopard with larger scale prints like zebra and giraffe.
The cool thing with these bedding sets is the variety of pattern and texture you can create by bringing together several different animal prints at once. Well, and the fact that you don't have to choose just one!
Because they combine brown animals (giraffe, cheetah) with black animals (zebra, leopard), these types of bedding sets can go either way. The main focus is on bringing together the different prints over realistic color combinations. There are a few that stick with the correct colors, making them a nice jumble of neutrals that you can spin off around the room however you like.
Brown Animal Print Bedding

Clever Carriage Home 100% Cotton Safari Club 3-piece Quilt Set
At HSN.com

One Grace Place Jazzie Jungle Full Comforter
At BedBathBeyond.com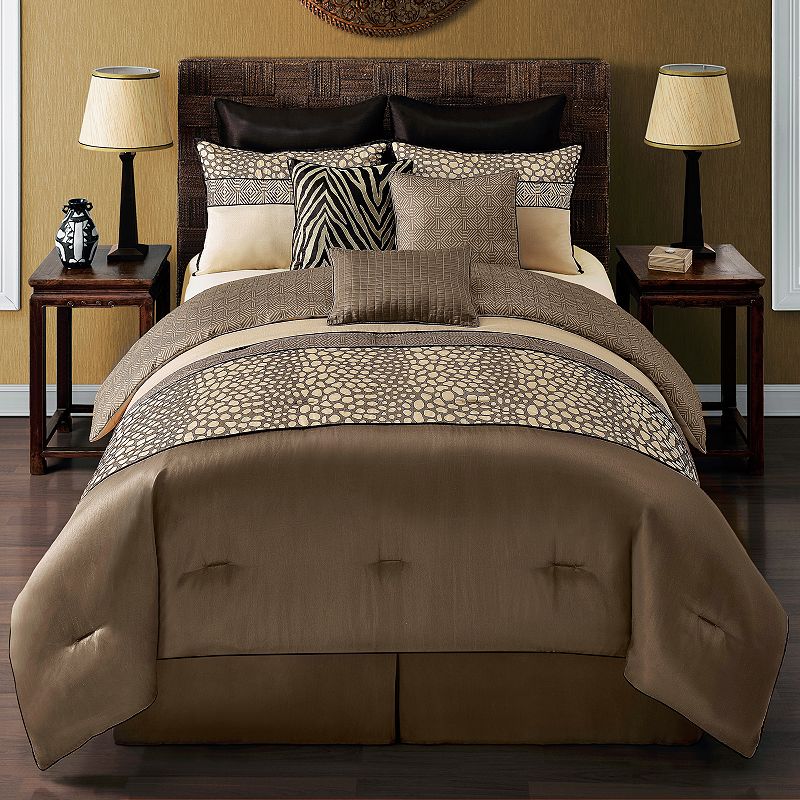 Metropolis Mali 9-pc. Reversible Comforter Set
At Kohls.com

Safari Bed In A Bag Animal Print Zebra, Giraffe Comforter Set
At Amazon.com
Black Animal Print Bedding

Amazon 7-Piece Bedding Comforter Set
at Walmart.com

Dovedote Safarina Zebra Animal Print Comforter Set
At Amazon.com
Also comes in brown, pink or blue
Brown and Black Animal Print Bedding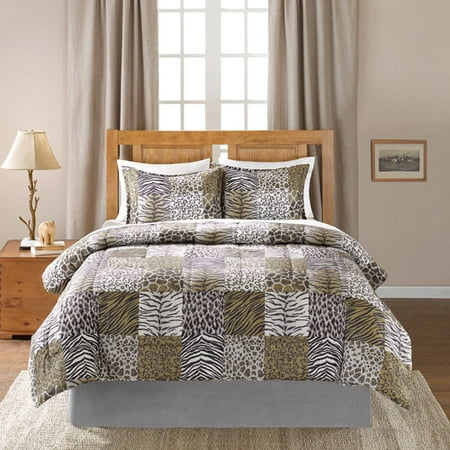 Mainstays Animal Printed Bedding Comforter Mini Set
At Walmart.com
Some of these try to keep the animal colors like the original, so we end up with a mix of black and browns.

P&A Marketing Out of Africa Bed in a Bag

Multi Animal Print Black, Brown, Tan Microfur Comforter Set
At Amazon.com

Animal Print Safari Patchwork Microfur Bed In A Bag
At Amazon.com