It's Barbie bedding for your Barbie girl!!
Almost every girl falls in love with Barbie at some point. She certainly occupied a huge chunk of my childhood. If the same's true for your little girl, give her a Barbie dreamland with bedding and accessories for her room.
I am constantly surprised by how difficult it is to find Barbie bedding, actually. We're talking an iconic doll who's been around forever and is loved by millions. Not to mention, tons of art available from the books and movies that could be used to design bedding. Still, not that many choices. Amazing.
The sheet set picture here came out a couple of years ago – it's called Fashion Barbie – and was one of my favorite modern renditions. I've just run into a collection of pillowcases with images from the various movies printed on one side. Given how much my niece loves those, I'm thinking this will be a great gift for her next birthday.
You'll find the best round-up out there on this page and I'm constantly on the hunt for more and to keep this page as updated as possible.
Barbie Bedding Sets
I know. Not much here. In fact, a couple of these are like Barbie branded and don't even include her in the design. Still, lots of pink, a little purple and plenty of girl style. If you don't like what you see here, consider getting a pink bedding set, then just decorating around it with Barbie designs on posters and so forth.
I have recently found a black and white set that I think, frankly, is a non-licensed knock-off. But very cool! It's a duvet cover, so double-check the sizing before you order.

Mattel® Barbie Comforter
At Target.com

Barbie Ballerina Kid's Bedspread Set
At Amazon.com

Barbie Rock'n Royal, Bedding Duvet Cover Set
At Amazon.com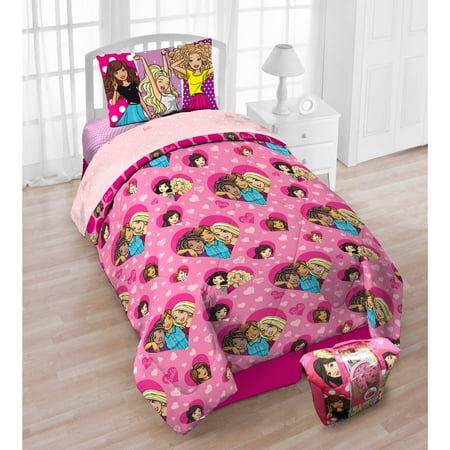 Mattel Barbie 'B Anything' 4-Piece Twin Bedding Set
At Walmart.com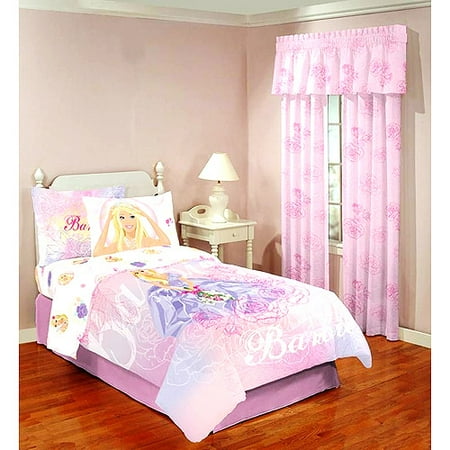 Barbie Comforter
At Walmart.com

Girls Best Friend Barbie Bedding Set
At Amazon.com

Barbie Bedding Set
At Amazon.com
Comforter says "Go for the glam"
Pillowcase says "Time to shine"

Barbie Shine Bedding Set
At Amazon.com

Duvet Cover Set – Barbie
At Amazon.co.uk

Barbie Shine Duvet Cover Set
At Amazon.com

Barbie Dreams Duvet/Quilt Cover Set
At Amazon.com

Barbie Sparkle Duvet/Quilt Cover Set
At Amazon.com

Barbie Shoes Duvet Cover Set
At LightInTheBox
Full size
Includes duvet cover, shams and flat sheet
Barbie Sheet Sets
Well – sheets are getting hard to come by. Several of the sets above come with sheets as well (read the fine print on the seller's site to make sure), but they don't seem to be sold separately that often any more. Fortunately, you just need a good set of pink sheets to make it work!

Mattel® Barbie Sheet Set
At Target.com
Make Your Own Barbie Bedding
Given how scarce Barbie bedding is, how about getting ambitious and making your own? Or at least a throw pillow or two to add to other designs. Unfortunately, the fabric options are about as difficult to find as the bedding! I tracked down these Barbie fabrics at fabric.com. Very retro flair to both of them, but they'd make nice accent pieces. (And the website offers free shipping on orders over $35 and gives you a 37″ yard. Nice.)
Barbie Blankets and Pillows
Normally, I'd say grab a blanket to use as your bed cover if you can't find Barbie bedding you like. But there is almost as great a dearth of Barbie blankets and pillows as there is bedding. Sheesh. Still, a few very cool options here to choose from. Just very few.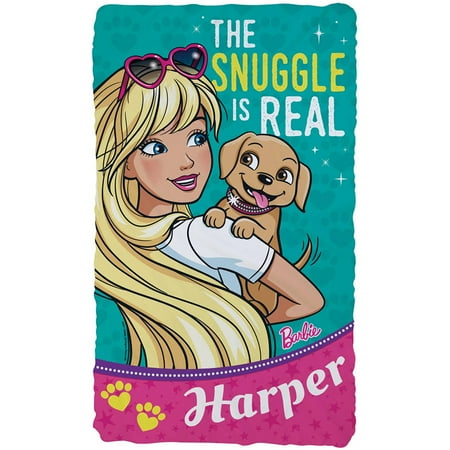 Personalized Barbie Snuggle Is Real Fuzzy Blanket
At Walmart.com

Mattel Barbie Throw Blanket
At Target.com
Says "little princess with big dreams"

Barbie Bed Blanket
At Target.com

Barbie Sweet Dream Royal Plush Raschel Blanket Throw
She has her teddy bear!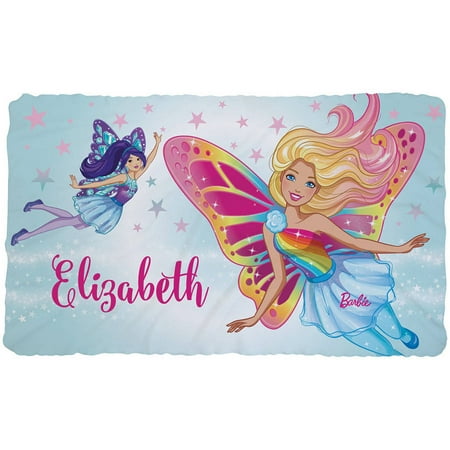 Personalized Barbie Dreamtime Fuzzy Blanket
At Walmart.com

Kids Barbie Polar Fleece Blanket
At Amazon.co.uk
Says "dream with style"

Coral Fleece Blanket – Barbie
At Amazon.com

Barbie Character Face Shaped Pillow
At Amazon.com

Throw Pillow Cover Love Barbie Pink Heart Vintage
At Amazon.com
The next few designs I've been able to track down all come from Zazzle, which is nice because you can pick from several different images and put them on either the square or rectangular pillow depending on which they fit on best. And the images are all the newer, hipper, younger Barbie look that follows the cartoony trend of the movies.

Barbie Sitting Throw Pillow

Barbie With Pets Pillows

Barbie Name & Accessories Pillows