Perfect for a sweet-tooth bedroom
Whether chocolate or strawberry, with sprinkles or frosting, everyone likes cupcakes! And it's really a cute idea for a little girl's bedroom and easy to do with cupcake bedding.
There are a few options in cupcake bedding to get you started – mostly in shades of pink and brown, but a few accent colors like the blue in the pillow shown here. I've even tracked down some fabric options for you that expand the color choices a bit, mostly by bringing in some red, green and yellow.
Cupcake Bedding Sets
Very dominated by pink here, although there are a few sets that buck the trend or use pink as the accent color.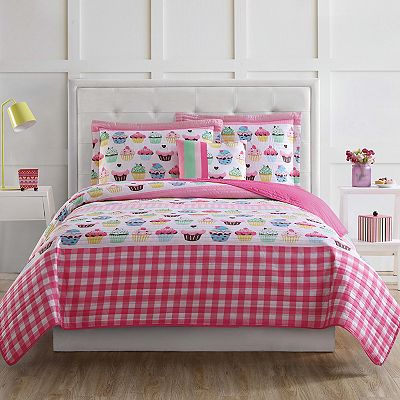 Laura Hart Kids Print Quilt Set, Cupcakes
At Kohls.com
Combines the cupcakes with a happy pink and white gingham

Cupcake Percale Duvet Cover
At TheCompanyStore.com

Cupcake Reversible Comforter
Reverses to solid hot pink

Mainstays Kids Sweet Shop Comforter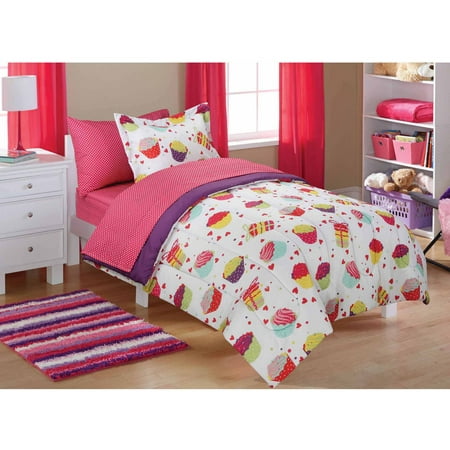 Mainstays Kids Cupcake Coordinated Bed in a Bag
At Walmart.com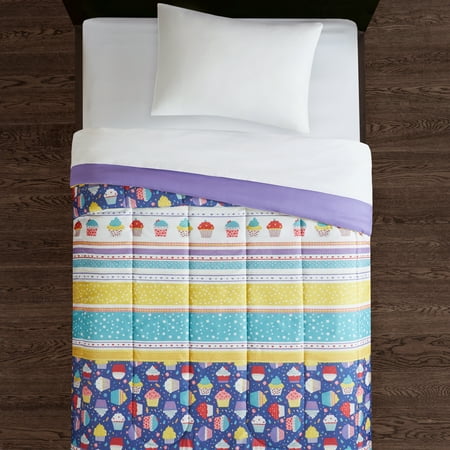 Mainstays Kids Cupcake Treats Reversible Microfiber Comforter
At Walmart.com
Two different cupcake prints mixed with others
I really like the wide range of colors here and that it's not pink-dominated

Lush Decor Cupcake Ice Cream Quilt Set
At Amazon.com
Lots of muted colors here
Reverses to pale pink with brown dots

Cupcake Dreams Comforter Set
At Amazon.com

Cupcakes and Polka Dots Comforter Set
At Amazon.com
Cupcakes sit on doilies with a polka dot background

Cupcakes and Hearts Bedding Set
At Amazon.com

Pink Cupcake Theme Quilt Set
At Amazon.com
More pink gingham for contrast

Cupcake Cotton Bedding Set
At Amazon.com
Oversized cupcakes with the words "Sweet Cupcake"
I like the mix of purple in this set
Cupcake Sheet Sets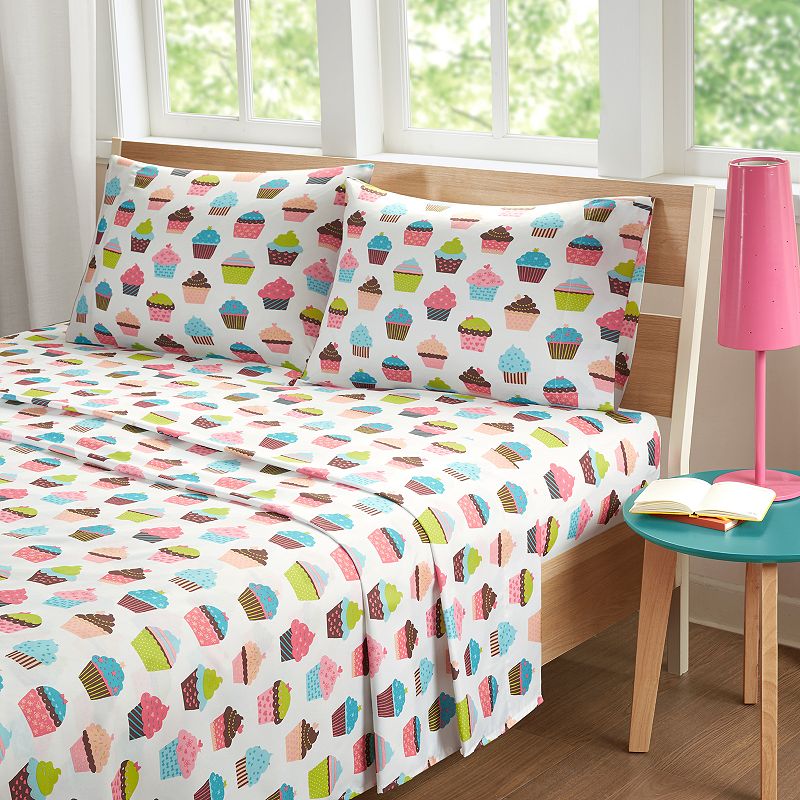 Mi Zone Cupcake Dreams Microfiber Sheet Set
At Kohls.com

Cupcake Percale Sheeting
At TheCompanyStore.com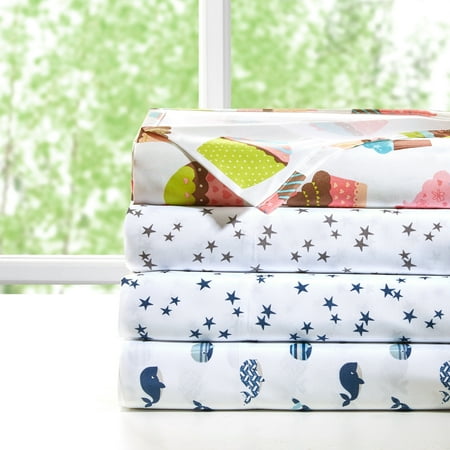 Comfort Classics Printed Ultra Soft Microfiber Cupcake Sheet Set
At Walmart.com
Top one in the picture

Cute Cartoon Ice Cream Cup Cake Printed Sheet Set
At Amazon.com

Cupcake Sheet Set
At Amazon.com

Jak & Jemma Home Sheet Set Cupcakes
At Amazon.com
Make Your Own Cupcake Bedding
Cupcake bedding options are pretty limited for such a great theme idea. So how about making your own? While there aren't a lot of ready made options out there, there are quite a few fabric options. I found all these at fabric.com; they're just $7.98 a yard. (And they offer free shipping on orders over $35 and give you a 37″ yard. Nice.)
The color options on these are great – from calm tea party colors to bright confetti colors. And several of the designs come in different colorways, so you could choose it in pink instead of blue.

Loralie Designs Cupcake Beauties Pink


Sweet Tooth Cupcakes

Michael Miller Cupcake Party


Michael Miller Sweet Treats

Confections Cupcakes Vintage


Michael Miller It's A Girl Thing Quaint Cupcakes Gray