Go exploring with Dora bedding!
Join Dora and Boots on their latest exploration – your girl's bedroom! All the Dora The Explorer bedding sets, sheets, pillows and blankets I could find to help you create a Dora dreamland for your little girl.
Pick up a Dora the Explorer comforter and pair it with the matching sheets. Or start with solids on the bed and add some Dora pillows and a blanket. Lots of great ways to create a Dora bedroom for your little girl.
Newer items coming out definitely are moving to the Dora & Friends designs. A lot more purple and Dora in her new, older look with a set of girlfriends instead of Boots.
Dora the Explorer Bedding

Dora and Friends Hola Amigos Comforter and Sheet Set
At Amazon.com

Nickelodeon Dora The Explorer "Picnic" Comforter
At Amazon.com

Dora The Explorer Pets Toddler Bed Set
At Amazon.com

Nickelodeon Dora Run Skip Jump Microfiber Comforter, Twin/Full

Dora Explorer Puppy Twin-Full Comforter – Love Perrito Bedding Twin-Full Bed

Dora Satin Toddler Bedding Set

Dora The Explorer Princess Single Duvet Set Panel Print
At AmazonUK
Dora The Explorer Sheet Sets

Dora Exploring Together Twin Sheet Set

Dora the Explorer Playful Garden Full Sheet Set
At Amazon.com

Dora the Explorer Adventure Pillowcase
from: TV's Toy Box
Dora the Explorer Blankets
Lots and lots of pink here, occasionally some purple. And a mix of other colors across these Dora the Explorer blankets as she changes outfits with the seasons. You'll see some based on different bedding designs and others that are just fun to stand on their own.

Dora & Friends Adventura Fleece Throw Blanket
At Amazon.com

Dora Butterfly Dance Fleece Blanket

Nickelodeon Dora The Explorer Ultra Soft Blanket

Dora Free Spirit Microraschel Blanket

Dora The Explorer Plush Throw

Dora the Explorer 'Stars' Fleece Throw
Dora The Explorer Pillows
Scope out the cute little touches you can add to your girl's room with these Dora the Explorer pillows! Choose from cuddle pillows shaped like Dora or decorative ones in square and round shapes.

Nick Jr. Dora the Explorer 25″ Cuddle Pillow

Dora The Explorer Pets Cuddle Pillow
At Amazon.com

Dora and Friends Group Hug Throw Pillow
from: TV's Toy Box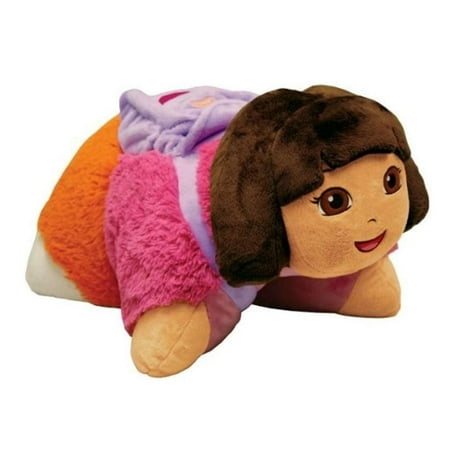 Pillow Pets My Dora The Explorer
At Walmart.com

Nickelodeon Dora The Explorer "Picnic" 2-Pack Decorative Pillows