Leopard Bedding Sets That Hit The Spot
Spotted and sexy animal print designs
Feeling a little spotty lately? Maybe you're just in the mood for some leopard print bedding. After all, you don't get much more spot covered than a leopard!
Animal prints in general are always hot in the bedroom, but leopard print has been charging out to the front of late. I think it's the dotted nature of the pattern, which allows it to combine with stripes and other linear patterns easily. (Whereas zebra is already striped so it combines well with polka dots.)
In nature, leopards come in a variety of colors, but still all neutral. You can find some hot pink leopard bedding, but you'll never find a hot pink leopard. Very poor camouflage! (Well, OK, unless there's a six-year-old girl out there with a leopard for a pet. I'm pretty sure he'd show up pink at some point in his life!)
You'll notice that some of the items below say "cheetah" instead of leopard, but we're going to work from reality rather than marketing, OK? Cheetahs have simple black round or oval spots, while leopards have a more complex pattern of black and brown spots called rosettes. So if a piece of bedding or a pillow or blanket shows up with the two-toned spots of a leopard, I've included it here no matter what they've called it. We aren't going to assume Glenna Jean and other designers know their biology.
Leopard Print Bedding Sets
There are just a super wide range of options when it comes to leopard print. The colors vary depending on what kind of leopard we're talking about and because it's a small-scale print, it works well mixed in with non-animal patterns and solids.

Kimba Leopard Comforter Set
$90.99-$110.99 at Wayfair
Full-king sizes
Combines warm brown solids with the leopard print

Victoria Classics Leopard Satin 4-Piece Comforter Set

Formula Brushstroke Cheetah Reversible Bed in a Bag Bedding Set
$39.88-$49.88 at Walmart
(called cheetah, but those are leopard spots)

Sherry Kline Jungle Passage Cheetah 8 Piece Comforter Set
$177.95 at Walmart.com
(called cheetah, but those are leopard spots)

Granite Leopard Bedding Set (Personalized)
Colorful Leopard Bedding
All the shades of the rainbow
Got your shades ready? Because these leopard sets come in some super bright colors! Lots of pinks and purples, which make sense since animal prints tend to be a girly thing. But some blues and multi-colored options as well.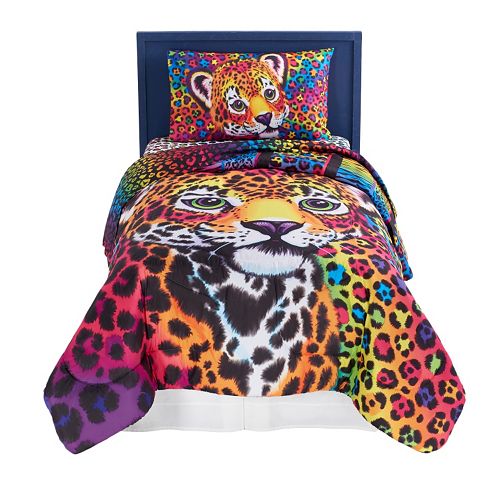 Lisa Frank Wild Side 4-Piece Bed Set
At Kohls.com

Regal Comfort Reversible Coloful Leopard Comforter
Says reversible, but looks the same on both sides to me
Comforter only

Lush Decor Leopard 5-Piece Comforter Set

Lush Decor Kenya 5-Piece Comforter Set

Modern Leopard Duvet Cover Bedding Sets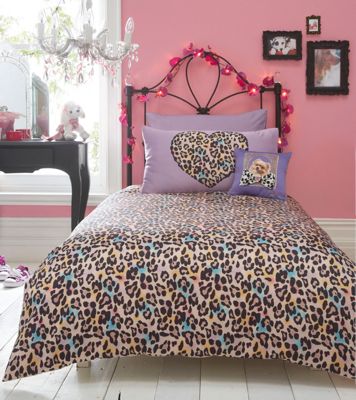 Designer Natural Leopard Bedding Set
£30.00 – £40.00 at Debenhams

Ashley Leopard Multi Colored Comforter Set

Street Revival Rainbow Leopard Comforter Set, Multi

Trina Turk 2-Piece Lynx Leopard Comforter Set, Orange
Leopard Print Sheet Sets
I put the colorful sets with those bedding options, so what we have here is just as colorful a range, just from light to dark within browns. Because leopard print is also considered pretty sexy, you see a lot of satin and charmeuse fabrics as well here.

Pink Cookie Animal Love Sheet Set
Purple, aqua and lime fill the leopard spots
Available in twin and full sizes

Clara Clark ® Signature 820 Collection Bed Sheet Set, Leopard Animal Print

Street Revival Rainbow Leopard Sheet Set, Multi