If your little girl is in to Tinkerbell and the Disney Fairies (like my niece!), it's likely she'd love some Tinker Bell bedding to do up her room. It's an easy way to set the theme for the room with one big piece.
Start building your room theme with a comforter set, blankets, pillows and sheets, making the bed the centerpiece of the room. You'll find a wide range of colors are being used these days – from pinks and purples to a lot of aqua. That's mostly because of the addition of Tinker Bell's sister Periwinkle to the mix. Linens with all the Disney Fairies tends to show more flexibility with colors thanks to the mix they bring, but when it's just our favorite pixie, you can pretty much count on pink or purple.
Tinker Bell Bedding Designs
The newest bedding designs tend to revolve around Tink and her sister Periwinkle, whom she just discovered in the latest movie. I love Periwinkle's colors, although I don't think the aqua goes with Tink's bright green so well!
The motifs surrounding the designs tend toward tons of flowers and butterflies. Might be my imagination, but the butterflies seem to becoming more common and prominent these days. Definitely trying to associate them with the fairies in general, which makes sense.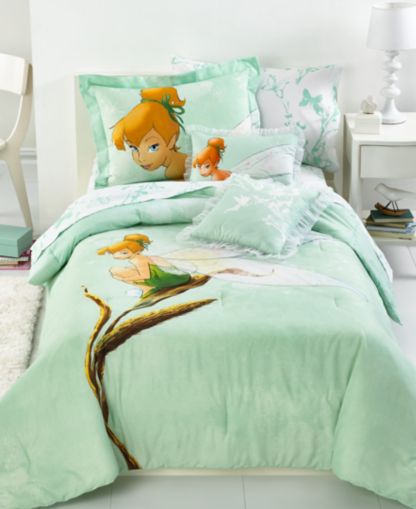 Mint Green Watercolor Comforter Set
So loving this one! From the soft green to the more elegant drawing, just beautiful.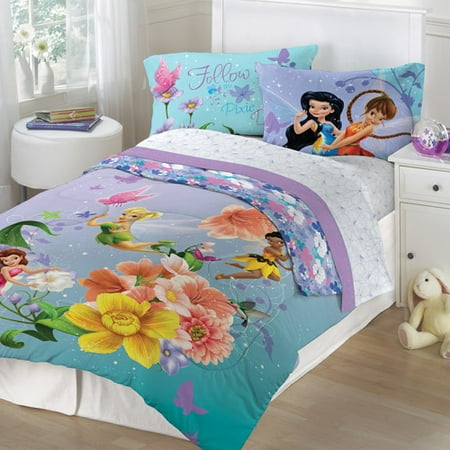 Disney Tinkerbell Fairies Fantasy Floral Twin/Full Reversible Comforter
At Walmart.com

Disney Fairies Swirl Twirl Butterfly Twin Bed Comforter

Disney Fairies Twin Quilt

Disney Tinker Bell Cherish Duvet Cover Bedding Set
At Amazon.com
Has the words "Friends", "Rainbows" and "Everyday Dreams" among others on the top
Reverses to small cameos of Think

Disney Fairies Teal Single Duvet Cover Set
At Amazon.com

Disney Tinkerbell Flirty & Thoughtful Twin/Full Reversible Comforter
At Amazon.com
Reverses to solid black

Disney Fairies Duo Pink Duvet Cover Set 
At Amazon.com
Tinker Bell Sheet Sets
Some of these here coordinate with comforter sets from the top of the page. Others are stand-alones or went with older bedding that isn't available anymore. Still cute, though!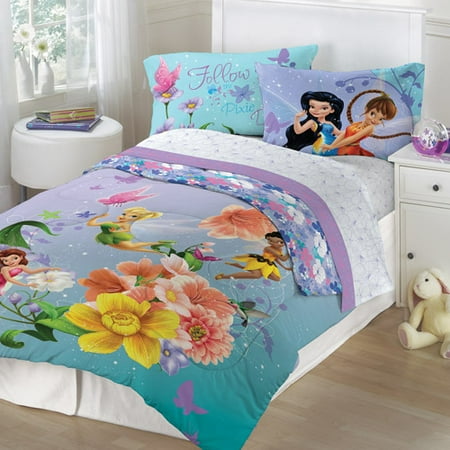 Disney Tinkerbell Fairies Fantasy Floral Sheet Set
At Walmart.com

Disney Fairies TinkerBell Whimsy Tink Twin Sheet Set

Disney Tinkerbell Powder Purple Sheet Set
At Amazon.com
Tinker Bell Pillowcases

Disney Fairies Pillowcase Set
At Amazon.com
Features Tinkerbell and Periwinkle on one side, a flower cupcake on the other

Disney Fairies Floral Frolic Pillowcase
At Amazon.com
Reversible and just one standard case

Disney Tinkerbell Traditions Pillowcase
At Amazon.com
More traditional drawing of Tinker Bell
Reverse side says "Tink"