Lots and lots and lots of pink to be found here on ballerina crib bedding, although you sometimes get accents of purple and turquoise and green depending on how the ballet dancers are dressed. All are great colors to consider adding to the decor for more variety.

NoJo Ballerina Bows 4 piece Crib Bedding Set
At Amazon.com
Nice gray for contrast

Lambs & Ivy Swan Lake 4-Piece Crib Bedding Set
At BedBathBeyond.com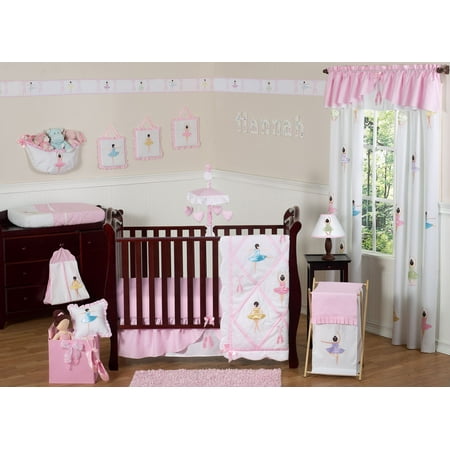 Crib Bedding Set for the Ballerina Collection by Sweet Jojo Designs
At Walmart.com

Sumersault Ballerina Friends 4-Piece Crib Bedding Set
at Walmart.com
Ballet-Inspired Crib Sets
The first set here – what can I say? Talk about a true fantasy design! I'm not sure I've ever seen that much tulle in one place in my life! (Outside of the fabric store, that is.) Both of these sets, though, work great in a ballerina-themed nursery, even though they don't have any actual dancers on them. The tulle and ruffles are reminiscent of tutus, making them perfect pairings with decor and art featuring dancers.

Little Ballerina Bassinet Set
at aBaby.com

Handmade Tulle Crib Skirt
At Amazon.com