Keep the roaring down! Baby's sleeping!
Dinosaurs are such a cute idea for a nursery theme, don't ya think? When I first started doing this site, I could hardly find them. Given the fact that almost every little boy (and quite a few girls) go through a phase of obsession with them, it seems natural as a choice for mom to make for their first room.
These dinosaur crib bedding sets are definitely mighty with absolutely adorable renditions of the T-rex, brontosaurus, triceratops and stegosaurus as the most typical inclusions. (One even tosses in a pterodactyl and volcano for good measure.)
If you're in to bright colors like me, things have gotten better on that from. Before, pretty much everything came in brown and green. And brown again. Some might include some muted blues or a splash of orange, but for the most part, that was all you'd find.
Dinosaur Crib Bedding Sets
Some really cute options here, including a quite a bit of blue. There are still a few muted options, but in general, the trend is toward brighter colors.

Sweet Jojo Designs Modern Dinosaur Crib Bedding Set
At Amazon.com
Nine piece set

Dinosaur Land 11 pc. Crib Bedding Set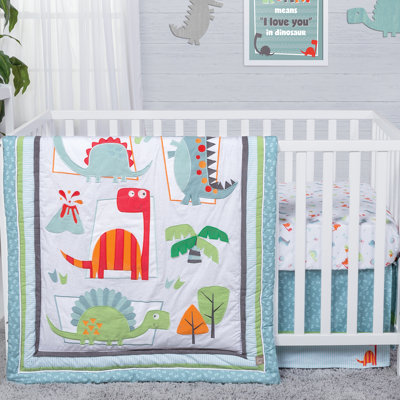 Dinosaur Roar 3 Piece Crib Bedding Set
from: Wayfair

Olive Kids Dinosaur Land 3-Piece Crib Bedding Set
At BuyBuyBaby.com

GEENNY Baby Boy Dinosaurs Nursery Crib Bedding Set
At Amazon.com
I like the addition of the peach color here.

NoJo Dreamer Little Dinosaurs Nursery Crib Bedding Set
At Amazon.com
The coloring here reminds me of the old DwellStudio set

Baby Dinosaurs Bedding
At Amazon.com
A bit of a preppy look here

MD Dinosaur Nursery Crib Bedding Set
At Amazon.com

Blue and White Dinosaur Design Crib Bedding Set
At Amazon.com

Grey and Green Dinosaur Design Crib Bedding Set
At Amazon.com

Abreeze Dinosaur Crib Bedding Set
At Amazon.com

Bedtime Originals Roar Dinosaur 3 Piece Crib Bedding Set
At Amazon.com

SOHO Dinosaur Crib Nursery Bedding Set
At Amazon.com
Dinosaur Crib Sheets

Giant Dinos Percale Crib Sheet
At TheCompanyStore.com

Little Unicorn Fitted Crib Sheet – Dino Friends
At Target.com

carter's Dino Toss Fitted Crib Sheets
At BuyBuyBaby.com

Glenna Jean Dino Fitted Crib Sheet
At BuyBuyBaby.com

Dinosaur Pattern Crib Sheet
At Amazon.com

Bedtime Originals Roar Dinosaur Fitted Crib Sheet
At Amazon.com

Carousel Designs Navy Dinosaurs Crib Sheet
At Amazon.com
Choose from 56 colors, including pink, purple and mint

Carousel Designs Watercolor Dinosaurs Crib Sheet
At Amazon.com
Choose from grays, pinks and the one shown here

Captain Silly Pants Dino Crib Sheets
At Amazon.com