If you're wanting a frog nursery theme, frog crib bedding sets are a great way to get a jump on decorating. (Jump? Get it?) Anyway … you can find sets of all sizes and styles here, all featuring cute frogs that will make your nursery just as adorable as your baby.
Frogs are actually a pretty popular theme for nurseries (although I do find it difficult to find bedding for older kids with frogs), so there tend to be a lot of sets available. I've divided them up by colors and a little by theme to make it easier to find the one you like.
Brown and Green Frog Crib Bedding Sets
A pretty traditional color scheme for this theme, and a nice one since it's actually fairly gender neutral.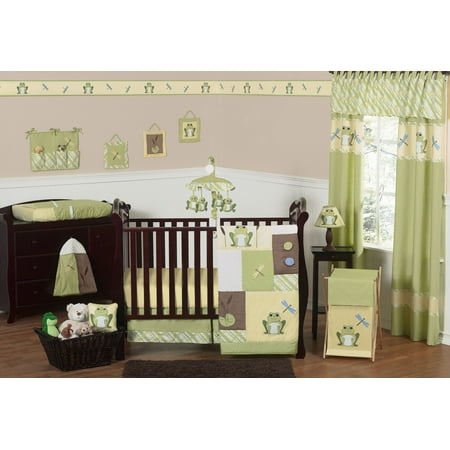 Crib Bedding Set for the Leap Frog Collection by Sweet Jojo Designs
At Walmart.com

At BeddingInn.com

10pc Frog Nursery Crib Bedding Set Brown & Green – Pollywog Pond
Bold design here with stripes and circles mixed in with the frogs

Boutique Brand New GEENNY Leap Froggy Froggie 13PCS CRIB BEDDING SET

NoJo Froggy Friends Four Piece Crib Set, Brown/Green
Addition of a turtle friend in this set

Sweet Potato Frog Song Crib Bedding Set
At Amazon.com

Frog Fantasy 4 Piece Crib Bedding Set
at aBaby
Blue and Green Frog Crib Bedding
Blue is a natural pairing for this theme since we tend to think of frogs as being in a pond. The addition of blue likely makes you think of these are being more for boys than girls, but, honestly, no reason it can't work for either.

Leap Frog 12 Piece Crib Bedding Set
from: Wayfair

SoHo Froggies Party Baby Crib Nursery Bedding Set
13 pcs included Diaper Bag with Changing Pad & Bottle Case
Styled a bit after the Bean Hopper set (which I can't find anymore)
Love the polka dotted lily pad flowers
Pink Frog Crib Bedding

SoHoTwin froggie Tales Baby Crib Nursery Bedding Set 13 pcs included Diaper Bag with Changing Pad & Bottle Case
Frog Crib Sheets

Sweet Potato Frog Song Fitted Sheet
At Amazon.com

SheetWorld Fitted Crib/Toddler Sheet – Frogs n Pods
At Amazon.com
Frog Blankets

Kickee Pants Little Boys Print Toddler Blanket
At Amazon.com

Angel Dear Blankie, Green Frog
Big Kid Frog Bedding

Ribbit Percale Duvet Cover
At TheCompanyStore.com