Time to set sail in a nautical nursery theme
Hop on board, matey, and let's take a look at some fabulous nautical crib bedding sets for your little boy's nursery. We've got sailboats and whales and lighthouses galore – all the things that remind us of being out on the sea.
Lots of blue as the prevailing color scheme here, so if that's what you're after, you're in the right place. But you'll find a few options that bring in greens and browns, even a couple in red and pink!
Navy & White Nautical Crib Bedding
Crisp and clean coloring here with just navy and white.

Brandream Anchor Pattern Nursery Crib Bedding Set
At Amazon.com

Anchor Nautical 4 Piece Baby Crib Bedding Set in Navy Blue by The Peanut Shell
At Amazon.com

Liz and Roo Nautical Sailboats Bumperless Crib Bedding 4-Piece Set
At Amazon.com

GEENNY OptimaBaby Nautical Explorer Sailor 6 Piece Baby Nursery Crib Bedding Set
At Amazon.com

Explorer Nautical 13 Piece Crib Bedding Set
from: Wayfair

Sweet Jojo Designs Anchors Away 11pc Crib Bedding Set
At Target.com
Nautical Crib Bedding Sets
The typical blue gets joined by reds, greens, browns and lots of other colors in these sets. Some are pretty colorful, others still the calm of the sea in blue and green.

Nautical Baby Bedding
At Amazon.com

Lambs & Ivy Sail Away 5-Piece Crib Bedding Set
At Amazon.com

Glenna Jean Lil Sailboat 4-Piece Crib Bedding Set
At BedBathBeyond.com

Nautica Kids Zachary 6-Piece Crib Bedding Set
At BedBathBeyond.com

Lambs & Ivy Regatta Nautical 3 Piece Crib Bedding Set
At Amazon.com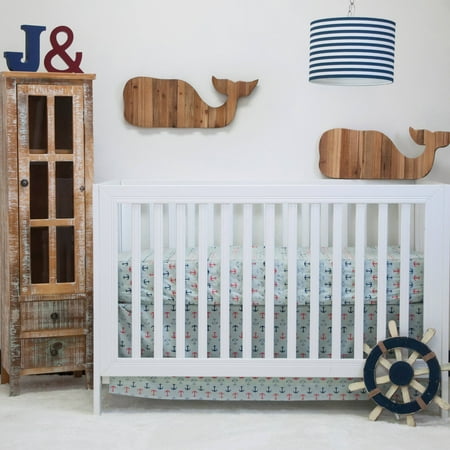 Pam Grace Nautical Basics Crib Bedding Set
At Walmart.com

Tender Kisses Nautical Crib Bedding Set
At Kmart.com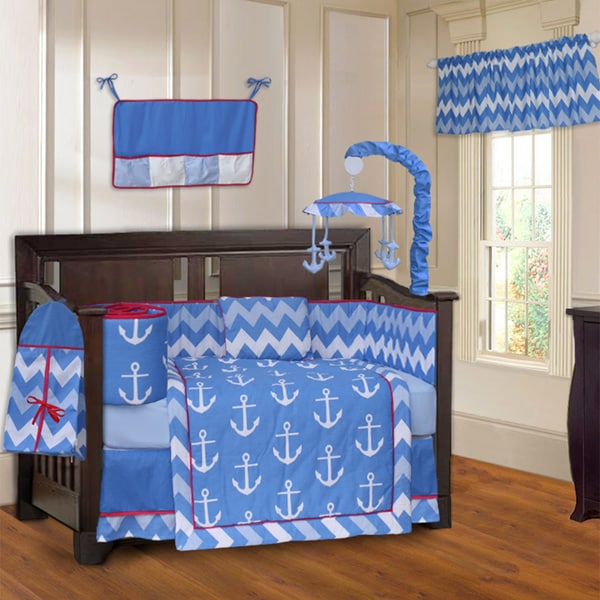 BabyFad Anchor Zigzag 10-piece Crib Bedding Set
At Overstock.com

Little Sailor Crib Set by Bacati
At Target.com

High Seas 3 Piece Baby Crib Bedding Set by Just Born

Laura Ashley Baby 4 Piece Crib Set Pirate Adventure

Come Sail Away Nautical Sail Boat Baby Bedding Set

Nautical Nights Boys Sailboat Baby Bedding – 9pc Crib Set

Sailboats Organic Cotton Jersey Crib Sheet
At Project Nursery