Polka dot mania hits the spot
Big dots, little dots. Blue dots, pink dots. So many ways to do polka dots in a nursery theme. They make the perfect design for a crib bedding set because they work with just about any thing else you'd want to decorate the nursery with.
Check out the sets I've found below in all shades of blue, pink, purple, green and brown. There's certain to be a polka dot crib bedding set that works with your decorating plans.
Blue and Green Polka Dot Crib Bedding Sets

Hoohobbers 4-Piece Crib Bedding, Dots Blue

Sweet Jojo Designs Contemporary Blue and Brown Modern Polka Dot Boy or Girl Unisex Gender Neutral Baby Bedding 9pc Crib Set
At Amazon.com

Room 365″ Baby Crib Bedding Set 3 Piece ~ Dot Fun, Polka Dots
At Amazon.com
Pink and Purple Polka Dot Crib Bedding Sets

Polka Dot Baby Quilt
from: CrateandBarrel.com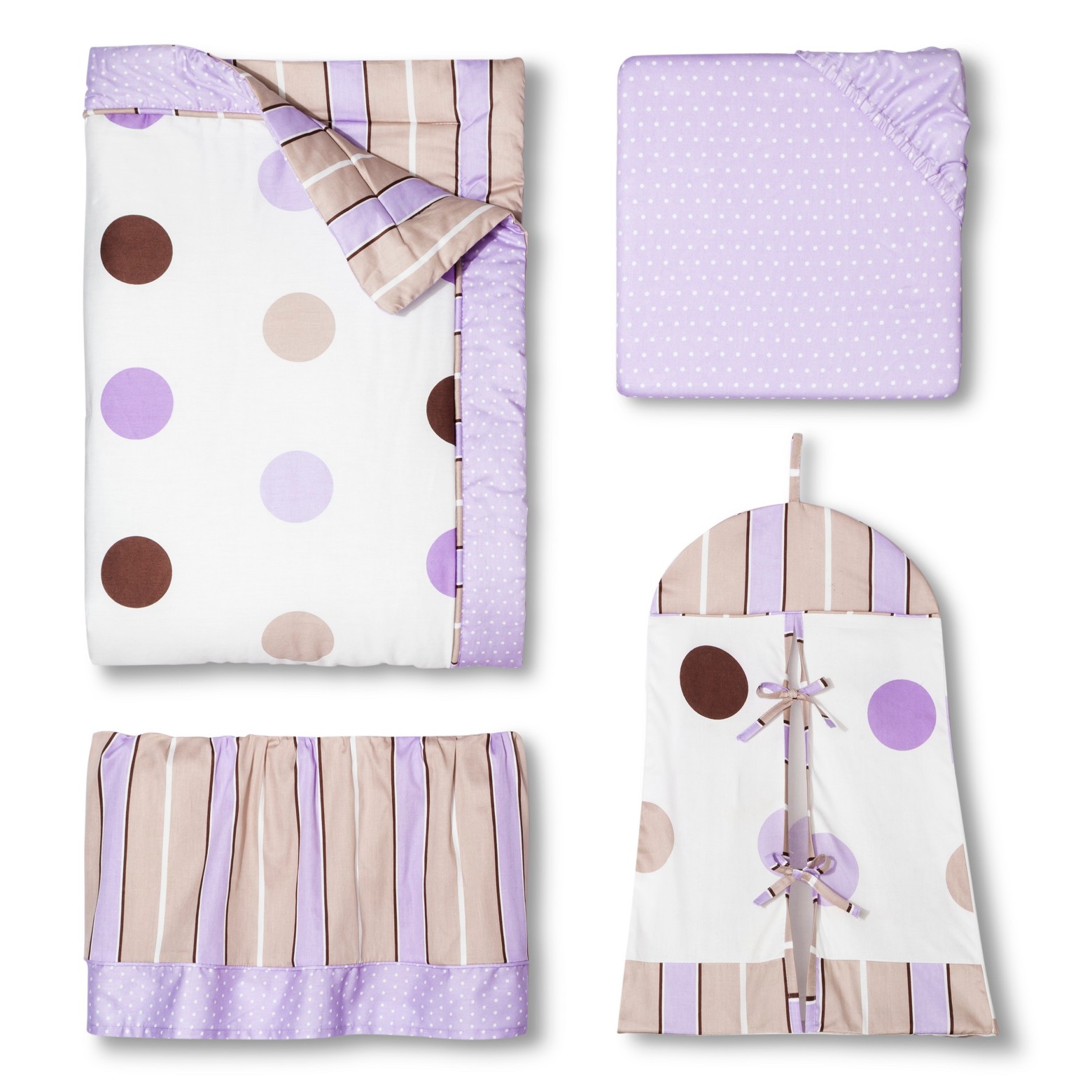 Sweet Jojo Designs 11pc Mod Dots Crib Set – Purple
At Target.com

Sweet Jojo Designs 11-Piece Contemporary Pink and Brown Modern Polka Dot Baby Girl Bedding Crib Set 
At Amazon.com

Modern Pink, Black and White Hot Dot Designer Baby Girl Bedding 4 Piece Crib Set
At Amazon.com

Lavender Zig Zag and Dots 4-in-1 100% Cotton Baby Crib Bedding By Bacati
At Amazon.com
Multi-Colored Polka Dot Crib Bedding

Little Bedding by NoJo 3 Piece Crib Set, Tickled Pink
At Amazon.com

Cotton Tale Designs Bedding Set, Raspberry Dot
At Amazon.com

Sweet Jojo Designs Deco Dot Modern Baby Girls Bedding 9 pc Crib Set
At Amazon.com