Build a cute nursery pond
Welcome your new baby to their own nursery pond! It's easy to get it started with a cute turtle baby bedding set.
There used to be a lot of these in lots of different colors, but they've started disappearing. On the plus side, there are more turtle bedding options for bigger kids.
Turtle Baby Bedding

SISI Baby Bedding – Turtle Parade 13 PCS Crib Bedding
At Amazon.com

CoCaLo Turtle Reef Crib Comforter
At Amazon.com

Carousel Designs Sea Turtles Crib Sheet
At Amazon.com

Carousel Designs Painted Turtle Crib Sheet
At Amazon.com
Turtle Bedding

Bed Bath & Beyond Imperial Coast Quilt
At BedBathBeyond.com
A few more creatures, but primarily turtles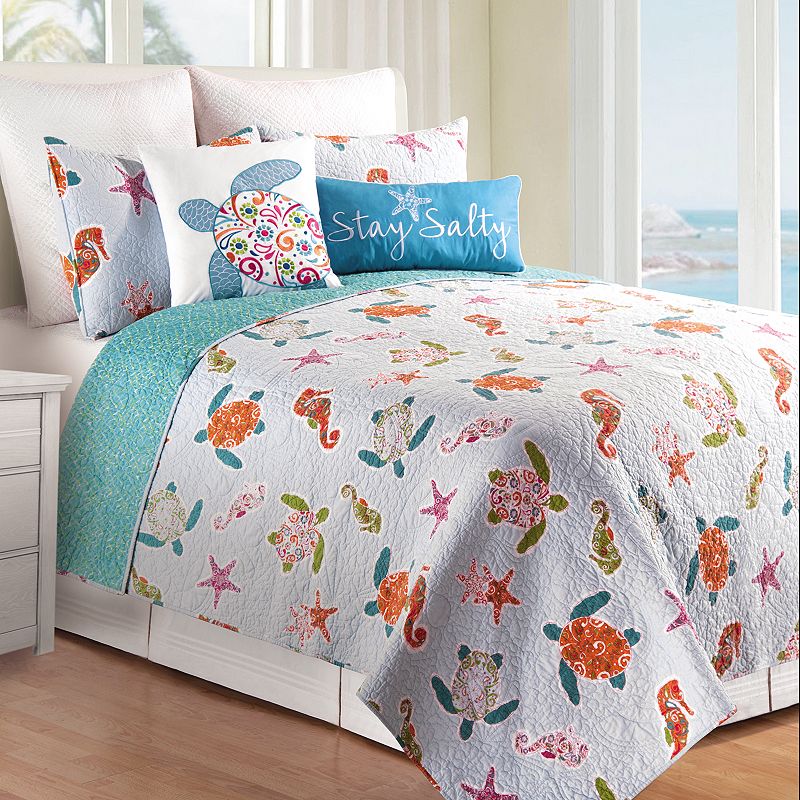 C & F Home St. Kitts Quilt Set
At Kohls.com
Similar to the above

Naaya by Moonlight Turtle Quilt
At jossandmain.com

Turtle Sheeting Set
At PotteryBarnKids.com
Turtle Blankets and Pillows
Lots of cute options here, especially because the blankets seem very targeted to babies. The pillows provide a little more choice in terms of elegant design, though. And surprisingly not as much green to be found here as you might expect.

One Bella Casa Turtle Bursts Bright – Blue 18×18 Pillow
At Walmart.com

Baby Vision BabyVision Luvable Friends Turtles Printed Fleece Blanket
At BedBathBeyond.com

Amity Home Turtle Wool Felt Throw Pillow
At BuyBuyBaby.com

Sea Turtle Pillow Cover
At PBTeen.com

Pillow Pet Pee Wee, Tardy Turtle
At Walmart.com
Larger sizes as well

Canvas Pillow, Purple Turtle
18″ square

Canvas Pillow, Blue Turtle
18″ square

DENY Designs Gabriela Larios Colorful Turtles Throw Pillow, 20-Inch by 20-Inch