Guitar bedding for a rock and roll theme
A rock and roll bedroom is music to our ears (and eyes?). Start it off right with a guitar bedding set. One of my favorites is the dark red comforter in the picture here.
Go dark and rowdy or pink and poppy – your call. This is one of those themes where the designs are just really fabulous and fun – not too grown up, but definitely not little kid either. Something you and your teen can agree on for sure.
For reasons that escape me, a lot of the choices here trend toward gray and red, but there have been quite a few new options that take advantage of the trends around aqua and lime green. When you get down into pillows, there are tons of shaped styles that come in bright colors, perfect to pair with more muted items on the bed.
Guitar Bedding Sets
Where it's only rock and roll allowed
Way too many black and red options here, so I was excited to see Target's new line that incorporates lime green, turquoise and gray. If you aren't after those brighter colors, the rock anthem set is a nice alternative in black.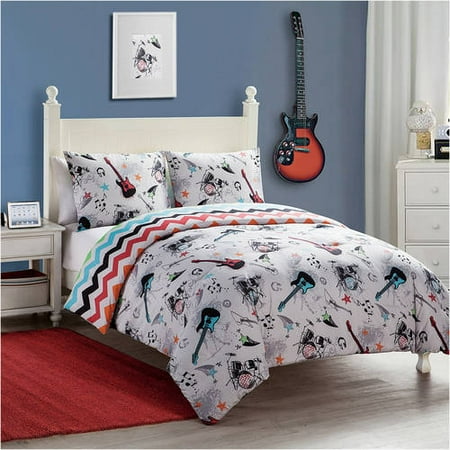 VCNY Home Big Believers Rock Star Music Multi-Colored Chevron Reversible Kids Bedding Comforter Set
At Walmart.com

Rockstar Comforter Set
At Target.com

Guitar Duvet Cover Set

Rock Comforter Set
Reverses to a cool block icon design

Red Guitar and Musical Bedding Set
At Amazon.com

Acoustic Guitar on Colorful Painted Aged Wooden Planks Bedding Set
At Amazon.com

Guitar Comforter Set
At Amazon.com

Ambesonne Rock Music Duvet Cover Set
At Amazon.com

Ambesonne Popstar Party Duvet Cover Set
At Amazon.com
Guitar Crib Bedding Sets
Get them dreaming early of musical careers

Baby Guitars Crib Bedding Set

Music Crib Bedding Set
At Amazon.com
Guitar Sheets and Pillowcases

Rock Music Instrument Guitar Pattern Sheet Set
At Amazon.com

Rock And Roll Music Sheet Set
At Amazon.com

Accoustic Guitar Sheet Set
At Amazon.com

Candy Rock Sheet Set
At Amazon.com

Bed Bath & Beyond "Loves to Rock" Cotton Pillowcase
At BedBathBeyond.com
Guitar Pillows and Blankets
Lots here in actual guitar shapes, which is way cool. And an easy way to just toss in a few to combine with different bed options.

Rock Guitar Decorative Toss Pillow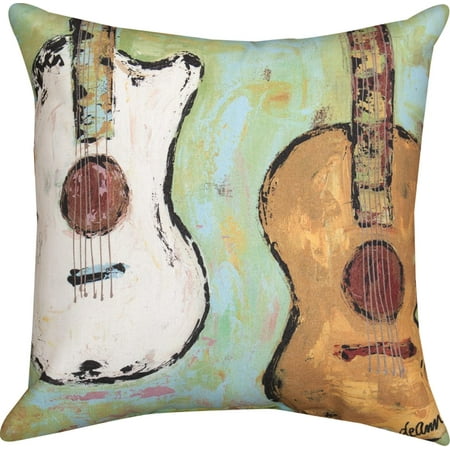 Decorative Guitar Throw Pillow
at Walmart.com

Be Inspired Pillow Covers, Fill With Music
At PBTeen.com

Guitars Pillow – Large

Cody Direct Rock Party Guitar Pillow

Acoustic Guitar Pillow
At Amazon.com

Ambesonne Guitar Throw Pillow Cushion Cover
At Amazon.com

Ambesonne Guitar Throw Pillow Cushion Cover
At Amazon.com

Decorbox Cotton Linen Throw Pillow Cover Electric Guitar

Rock Your Room Rock N' Roll Microplush Throw
At Target.com