It's mischievous and fun in monkey bedding!
Swing on in here to find monkey bedding for your kids bedroom. It's a great theme for decorating their room – fun, rambunctious, a little wild. I'm actually surprised how few bedding sets there are for older kids. There are tons of monkey crib bedding options!
Still, there are plenty to choose from. Cartoony and hip monkeys from Bobby Jack and Paul Frank or more sedate sets in pinks and browns. Or go with solid bedding and just include a ton of pillows to set the theme. Lots of choices here!
The obvious color choices are going to revolve around brown, a fairly standard shade for chimps and the like. They end up on a field of blue like the sheets in the picture here and pink in other cases. But all truly cute!
Monkey Bedding
I'm a wee bit surprised we don't have more brown and green choices, but maybe that's too obvious so designers avoid it. Still, I'd rather have the bright and happy colors a lot of these come in any day.
Tons of pink options, as well as some blues.

Banana Duvet & Pillowcase Set
At UncommonGoods.com

Mizone Kids Monkey Business Comforter Set in Pink
At BedBathBeyond.com

Sweet Jojo Designs Monkey Time Bedding Set
At BedBathBeyond.com

Society6 Jungle Monkey Comforter
At Amazon.com

Cartoon Animals Bedding Set
At Amazon.com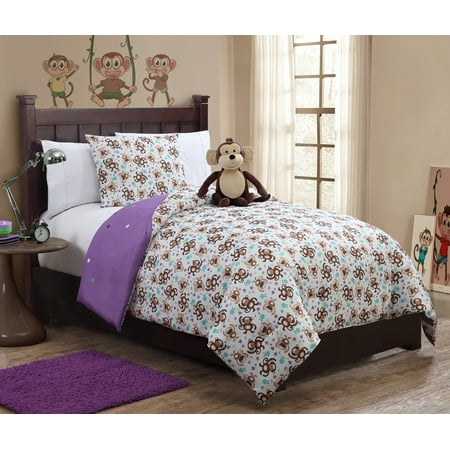 Monkey Comforter Set, Purple
At Walmart.com

Fabian Monkey Bed in a Bag Comforter Set
Paisleys, peace signs and hearts with monkeys mixed in

Season Collection Cheeky Monkey Single Duvet Set
Monkey Sheet Sets and Pillowcases
There are a few more sedate choices here, perfect to pair up with other colors. Definitely more brown on brown choices at least.

Happy Monkey Sheet Set
At Amazon.com

Funky Monkey Sheet Set
At Amazon.com

Felt Monkeys by Scrummy Sheet Set
At Amazon.com

Silly Munky: Munky Dance Sheet Set 
At Amazon.com

Monkey Zoo Friends Personalized Pillowcase
At Zulillly.com

Personalized Monkey Pillow Case
from: Wayfair

Personalized Monkey Pillow
at GiftsForYouNow
Monkey Blankets and Pillows
Get a little snuggly with some monkey blankets and pillows! We've got cartoony ones from Bobby Jack and a few more elegant options. But for the most part, these guys are just fun.

Sock Monkey Blanket
At UncommonGoods.com

Prep Whimsy That's Bananas Pillow
At PBTeen.com

Levtex Baby Kenya "Silly Monkey" Blanket
At BuyBuyBaby.com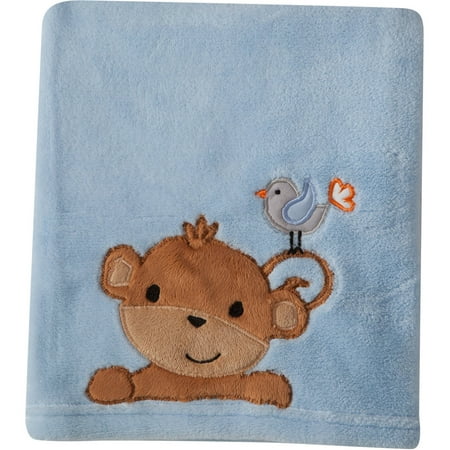 Bedtime Originals Mod Monkey Collection Blanket
At Walmart.com

Naughty Monkey] Soft Coral Fleece Throw Blanket (59 by 79 inches)
from: Blancho Bedding