Fish swimming by, colorful coral – a beautiful undersea scene that you can bring home to your child's bedroom with ocean bedding. It's a great bedroom theme for either gender with lots of animal options and tons of color.
Blue is the typical color you'll find here, although it does range from bright royal to soft aqua. If you're looking for bedding for a girl in this theme, I'd definitely stick with the aqua colors, preferably in a set that includes a lot of other hues as well that can be used around the room. I was obsessed with sharks when I was around 10, so this is definitely a doable look for a girl's bedroom.
Check out the options below featuring fish of all kinds, dolphins, sharks, whales, crabs and let's not forget the occasional octopus!
Ocean Bedding Sets
You'll find most of your options run in blue – whether royal or turquoise. There are almost always a few other colors tossed into the mix, with orange and green being the most common. I've tried to stick with generically ocean designs – sets with lots of sea life and not just one type.

Lush Décor SeaLife Quilt Set
At Target.com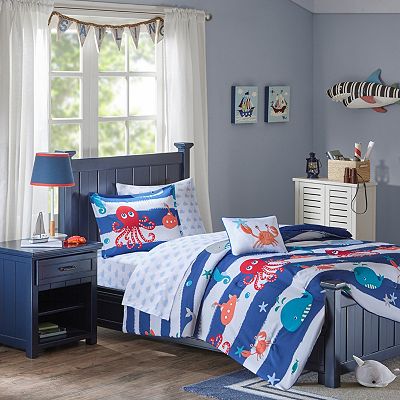 Mi Zone Kids Under The Sea Comforter Set
At Kohls.com

Whale Watch Quilt Set
At TheCompanyStore.com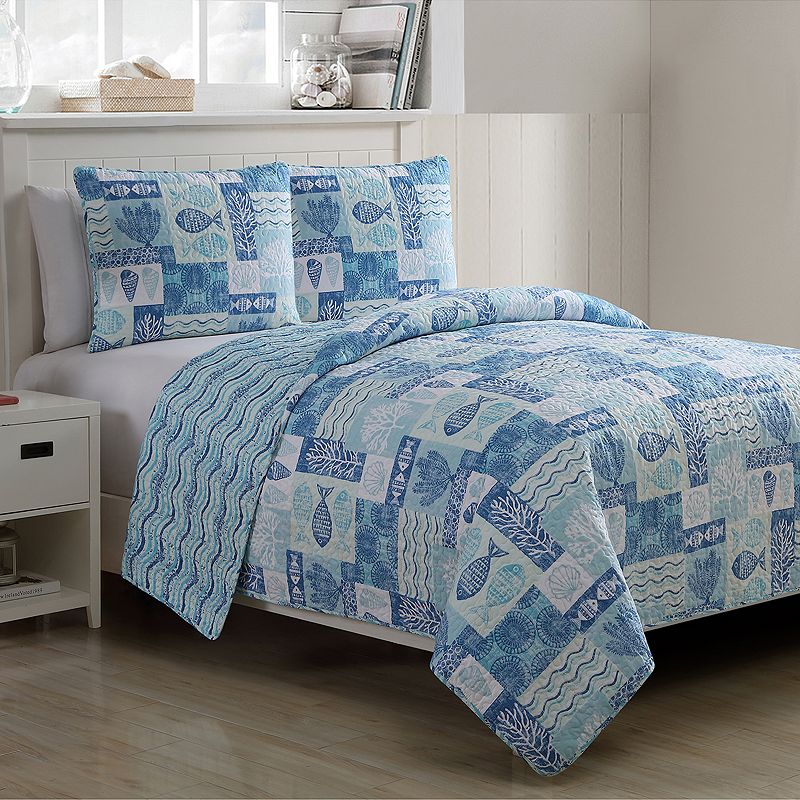 Vcny 3-piece Patchwork Sealife Quilt Set
At Kohls.com

Room Magic Comforter Set, Tropical Seas

Bed Bath & Beyond Imperial Coast Twin Quilt
At BedBathBeyond.com

Urban Habitat Kids Moby Comforter Set
At BuyBuyBaby.com

Laura Hart Kids Deep Blue Sea Comforter Set
At BuyBuyBaby.com

Under the Sea Toddler Bedding
At CrateandBarrel.com
Non-Blue Ocean Bedding
Sets and items that don't use blue as the primary color. Gives you the freedom to paint the walls blue!

DENY Designs Aimee St Hill Techno Fish Duvet Cover, Twin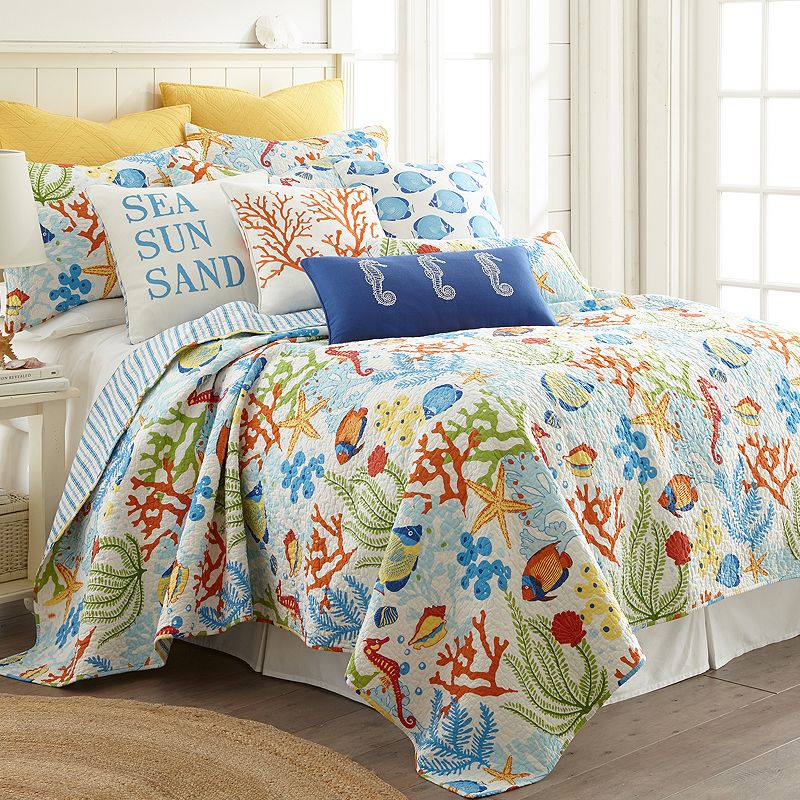 Levtex Seagate Quilt Set
At Kohls.com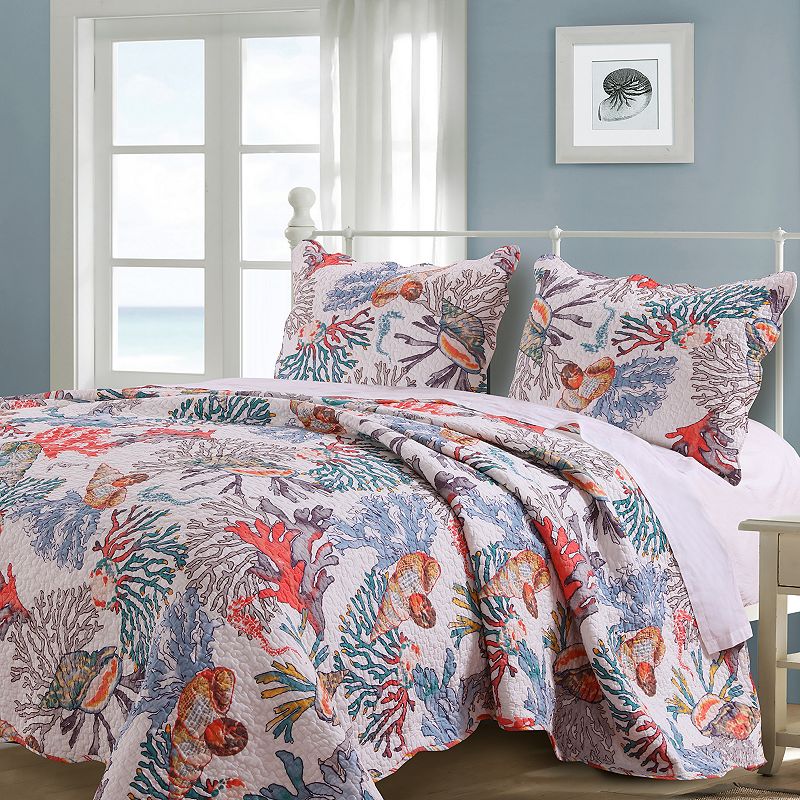 Atlantis Quilt Set
At Kohls.com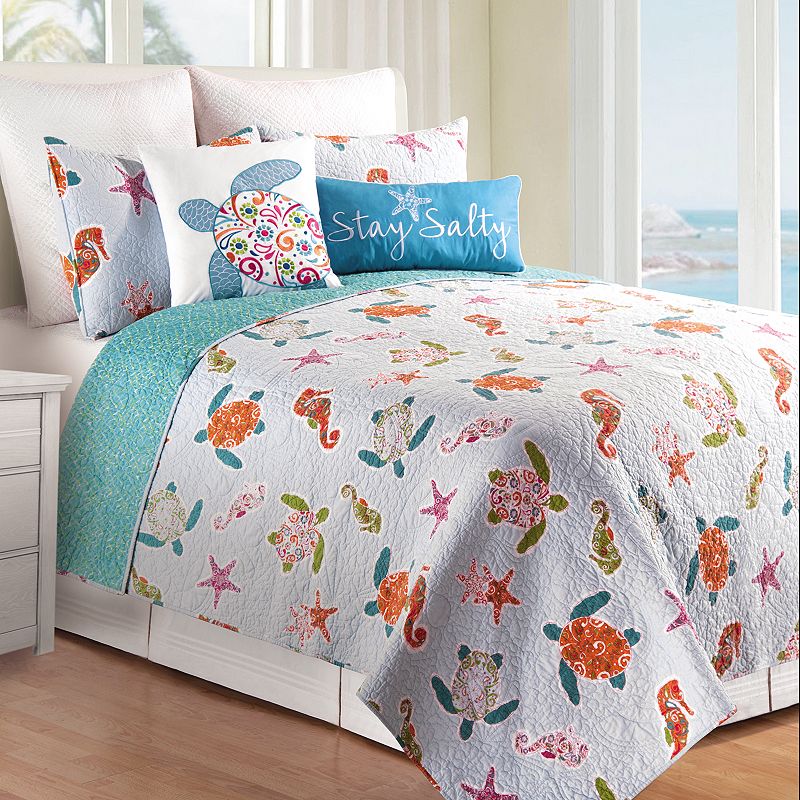 C & F Home St. Kitts Quilt Set
At Kohls.com
Ocean Sheet Sets
This is the one place where I made exceptions for using a single animal or motif, although even then I wanted to see things that would blend well with others.

Poppy & Fritz Sea Icons Sheet Set
At Walmart.com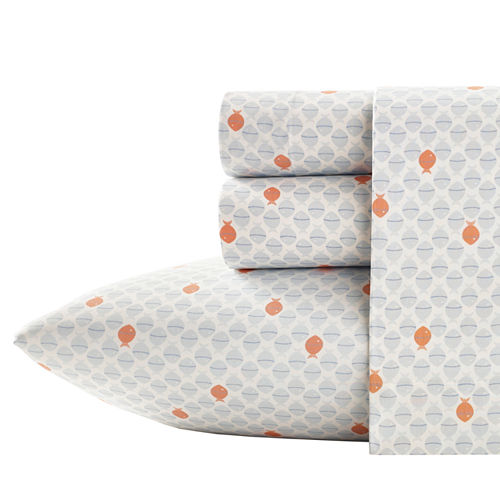 Poppy & Fritz Fish Easy Care Sheet Set
At JCPenney.com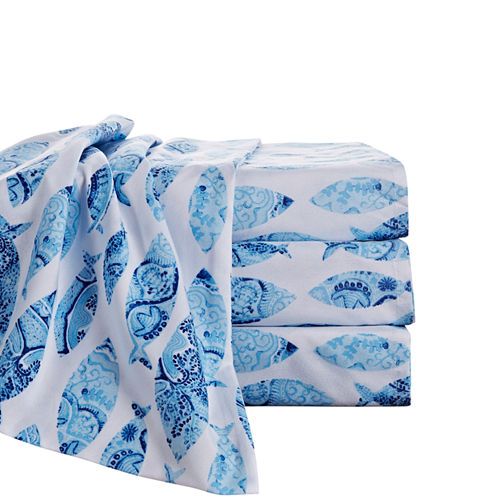 By the Seashore Fish Blue Microfiber Sheet Set
At JCPenney.com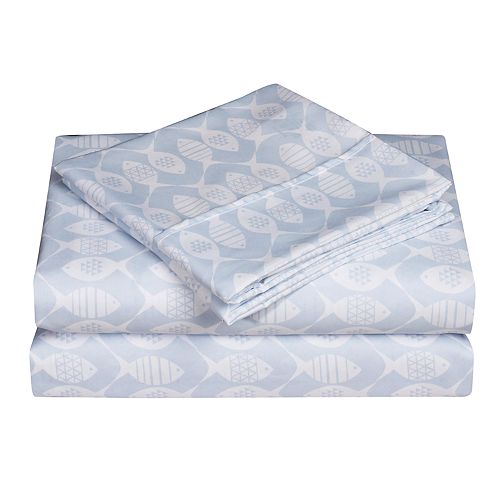 Caribbean Joe Microfiber Sheet Set, Fish
At Kohls.com

Shark Fins Sheet Set
At Amazon.com

Blue Luxury Sea Animals Themed Sheet Set
At Amazon.com

Blue Seahorse Sheet Set
At Zulilly.com

Organic Under the Sea Toddler Sheet Set
At CrateandBarrel.com
Ocean Blankets and Pillows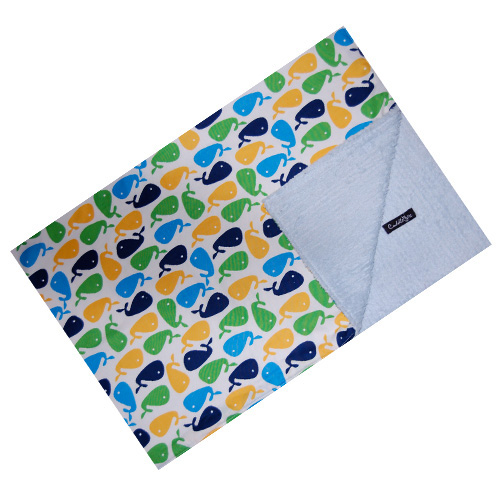 Cuddlbee Whale Blanket
at UnbeatableSale.com

U LIFE Ocean Sea Life Fish Soft Fleece Throw 
At Amazon.com
I really like the color scheme here.

Ocean Animals Selfie Fleece Throw
At Amazon.com

Cooper Girl Underwater Blanket 
At Amazon.com

Marine Life Pattern Sea Animals Blanket
At Amazon.com

Coral Wave Aqua Pillow
At Bellacor.com

Rainbow Fish Pearl Pillow
At Bellacor.com

Baby Fish Cushion
At Project Nursery

C&F Home Tan Crab Throw Pillow
At Kohls.com

C&F Home Starfish Throw Pillow
At Kohls.com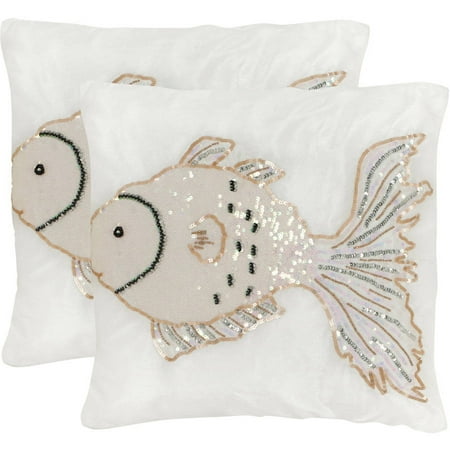 Safavieh Kissy Fish 18″ x 18″ Pearlscent Pillow
At Walmart.com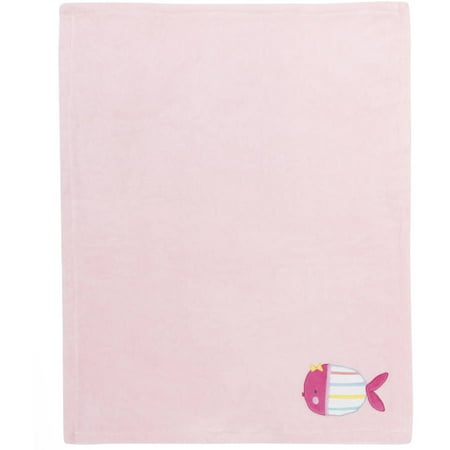 Bedtime Originals Sugar Reef Pink Fish Blanket
At Walmart.com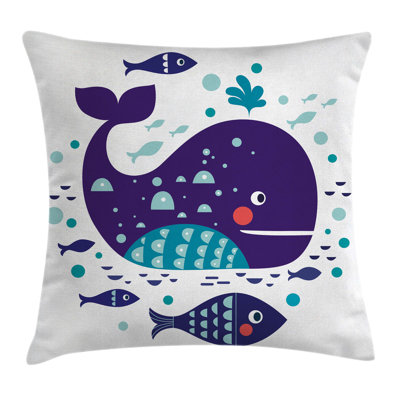 Whale Ocean Cartoon Big Fish Pillow Cover Size: 20″ x 20″
from: Wayfair

Go Fish Cotton Throw Pillow
from: Wayfair

Pied Piper Creative Sea of Fish Square Throw Pillow
At BedBathBeyond.com