Skull Bedding From Cute to Fearsome
Send a serious message …
When you think skull bedding, you might think hard-ass, creepy, bikers, tattoos. But ya know, some of these bedding sets border on down-right cute. There's a range for all types, from winged tattoos style to cute pink designs.
And they aren't just in black and white anymore; there are sets with pink, blue, green and red to choose from.
For younger kids, you might want to stick with the more cartoony designs. They're cute and typically in more kid-friendly colors like pink and blue. Teens might like the more dramatic skulls that look a bit more like tattoos or Ghost Rider – the Ed Hardy set for example.
The styles I've chosen for this page come with crossbones, by themselves and occasionally with bows. The focus is definitely on designs that aren't pirate-y kinds, though.
Pink Skull Bedding
A great girly combination
I know, it seems like a weird combination in some ways. After all, skulls are supposed to be tough and scary and edgy. So pairing them with pink might seem odd, but it's a hot trend. Even with tough girls. Don't believe me? There are as many bedding sets with pink as almost all the others combined!

Veratex Pink Comforter Set
Black images on pink paired with leopard and zebra prints

Kess InHouse Nick Atkinson Skull Duvet Cover

Pink Cookie Skull Sheet Set
Black Skull Bedding
Now, these are like you expect to see them
Skulls are definitely supposed to be dark, right? These sets provide that effect, sometimes paired with a bit of red. But mostly a combination of black and white.

Sin in Linen White Skull and Crossbones and Nautical Stars on Black Duvet Cover
CHECK PRICE
Twin-king sizes
Tiny repeating stars and skulls on the cover

Veratex Floral Skull Reversible Comforter Set
At Kohls.com
Twin and full sizes
Definitely fits in the creepy skull category

Skurvy Skull Crossbones Comforter – Paul Frank
The skull and crossbones are appliqued on the front
Check out the coordinating sheets and pillow below
White Skull Bedding
Or cream. We're flexible.
These sets are mostly white or cream with typically black as the design of the skulls. These are mostly sheet sets, which makes sense since they're white.

Street Revival Winged Skull Queen Sheet Set, Multi

David and Goliath "Skulls" Microfiber Sheet Set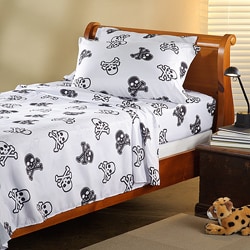 Expressions Microfiber Skull Sheet Set
$23.99 at Overstock

Paul Frank Skurvy Sheet Set
Such a cute version of skulls in the Paul Frank style
Other Colors of Skull Bedding
Here's where we find the reds, blues and greens
Black and white are perfect color choices for skull designs, but sometimes you just need to go with a little bit of color. And not in a drippy blood kind of way. Instead, we have blue flowers, red eye patches and even a brown bedding set.

Street Beat, Single Bedding
£12.95 at Children's Rooms UK

Ed Hardy Duvet Set
Very typical of Ed Hardy's style with the flowing red hair (on a skull!) and blue flowers

Ed Hardy Eagle King Duvet Set, Gold Embroidery on Brown
More typical Ed Hardy design with eagles and snakes along with the skull

Duvet Cover Blue Skull with Bow
CHECK PRICE

Skulls and Crossbones Sheet Set

Sin in Linen Embroidered Red Duvet Cover
Day of the dead styled design embroidered on center
Also available in twin and king sizes

Skull Comforter COMPLETE Bed in a Bag