Winnie the Pooh bear, Winnie the Pooh bear …
Everyone's favorite bear drops in to make an appearance with this great Winnie the Pooh bedding. Everything you need to create a bedroom worthy of the 100-acre wood with Pooh and the rest of the gang.
While crib bedding for this theme is pretty easy to find, bedding for toddlers and older kids (and even grown-up kids!) no so much. The adorable Cheerful set came out a few years ago, but there hasn't been a new one since. And I can't even find that one anymore!
Winnie the Pooh Bedding
Had to go across the pond to get the first couple of sets here. So keep in mind they are duvet covers and European, which means keep an eye on the sizing to make sure you're getting what you want. Single isn't the same as twin.

Disney Pooh's Hunny Spot Single Bed Set
At Amazon.co.uk

Winnie the Pooh Balloon Bedding Set
At Amazon.co.uk

Pooh My Heart Pink Bed Linen Set
At Amazon.co.uk

Winnie the Pooh Sounds Like a Mystery Full Comforter
Images very CGI cartoon in style

Character World Disney Winnie the Pooh Forest Junior Panel Duvet Set
At AmazonUK
Winnie the Pooh Sheet Sets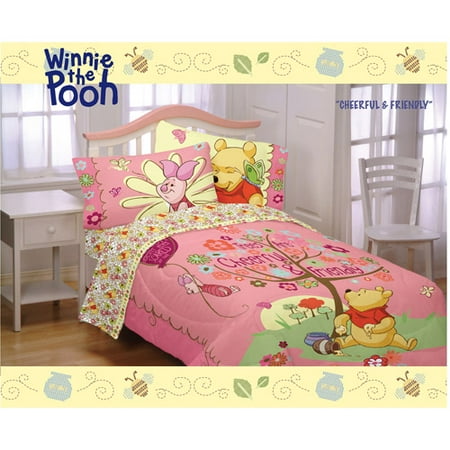 Winnie the Pooh Microfiber Bedding Sheet Set
At Walmart.com
Winnie the Pooh Pillows and Blankets
There's less of a mix here in terms of the Disney cartoon vs. the original book drawings, but still some good looking items in a range of colors sure to please.
The blankets are kind of all over the place, from soft colors in baby blankets to bright colors in large bed blankets. If you want the blanket to match the decor, keep an eye out for the colors first, then the design. If it doesn't matter, go with what looks the most fun!

Pillow Pets – Winnie The Pooh Folding Plush Pillow

Pillow Pets Tigger

Pillow Pets Eeyore Folding Plush Pillow

Disney Pooh's Hunny Spot Cushion
At AmazonUK

Disney Winnie The Pooh Blanket – Fleece Blanket
Awww. Eeyore gets a group hug

Northwest Company Winnie the Pooh "Sweet Summer" Fleece Blanket