I know. Dinosaurs aren't usually very snuggly, are they? But when you start talking dinosaur pillows and blankets, things can get super snuggly, super fast!
You'll find a range of designs here, although most fall in the "cute" category rather than realistic.
Dinosaur Blankets
While I have found a few others, most dinosaur blankets tend to be targeted to the baby-toddler age range. The ones that aren't tend to like big huge T-Rexes on them.

Signature Collection Queen Size Dinosaurs Mink Blanket
Super big and super scary

Green & Silver 'Dinosaurs Discover' Throw
At Zulilly.com

Weegoamigo Dino Herd Blanket
At BuyBuyBaby.com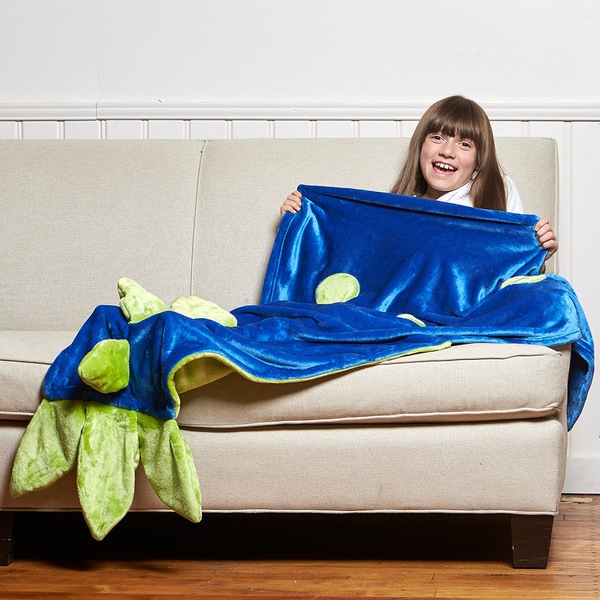 Berkshire Blanket Cuddly Buddies Dinosaur Footie Throw
At Overstock.com

Tadpoles By Sleeping Partners Tadpoles by Sleeping Partners Dinosaur Knit Baby Blanket
At BedBathBeyond.com

Bella Tunno Dinosaur Roar Favorite Blanket
At BedBathBeyond.com

Pillowfort Triassic Trails Plush Blanket
At Target.com
Dino footprints rather than actual dinosaurs

Dino Friends Big Kid Cotton Muslin Quilt
At Project Nursery
Choose from black or pink

Embroidosaurus Big Kid Cotton Muslin Quilt
At Project Nursery

Paleontologic Toddler Quilt
At Project Nursery

Cristina Bianco Design Cute Dinosaur Illustration Fleece Blanket
from: Wayfair

Dinosaur Skeletons Throw
At Amazon.com

American Kids Reversible Dinosaur Throw
At Amazon.com
I like the bright colors here!

ALAZA Dinosaur Skeleton Blanket
At Amazon.com
Almost looks like x-rays

Roar Dinosaur Blanket
At Amazon.com

T-Rex Fleece Throw
At Amazon.com

Blanket with Dinosaurs
At Amazon.com
Available in three sizes
Dinosaur Pillows
Most squares here with dinos scattered on them. The main exception being the bedrest from Kmart. Several of these partner up with bedding options, but mostly they're just stand alone pieces.

Glenna Jean Dino Throw Pillow
At BuyBuyBaby.com

Dino Throw Pillow – Pillowfort
At Target.com

Dinosaur Bedrest
At Kmart.com

Pied Piper Creative Chevron Dinosaur Square Throw Pillow
At BedBathBeyond.com

Rhode Island Novelty T-Rex Pillow
At Amazon.com
Kind of a strange coloring here

Decorative DINOSAURS Throw Pillow
At Amazon.com
Dinosaur-Shaped Pillows
Not sure if I find it surprising or not, but a large number of the dinosaur pillows out there are actually shaped like dinos rather than just featuring dinosaurs in the print. I have to admit they don't always do a fabulous job of making them look like dinosaurs, though. Many of these pair up with a bedding set. The ones from Crate & Barrel go with a set, which is good because they are creepy on their own.

Green Dinosaur Retro Reptile Throw Pillow from: CrateandBarrel.com

Orange Dinosaur Retro Reptile Throw Pillow from: CrateandBarrel.com

Dempsey Dino Shaped Pillow
At PotteryBarnKids.com

Olive Kids Dinosaur Land T-Rex Plush Pillow
At BedBathBeyond.com

Auvo Throw Pillow – Dinosaur
At Amazon.com

Dinosaur RAWR! Pillow Cover
At Project Nursery
Available in black or pink

Tyranasaur Rex Shaped Stuffed Throw Pillow
At Amazon.com
Could double as a cute dragon

Mainstays Kids' Decorative Pillow, Red Dinosaur
At Walmart.com

Better Homes and Gardens Kids Dinosaur Pillow
At Walmart.com
Dinosaur Pillow Pets

Blue Dinosaur Pillow Pet
At BuyBuyBaby.com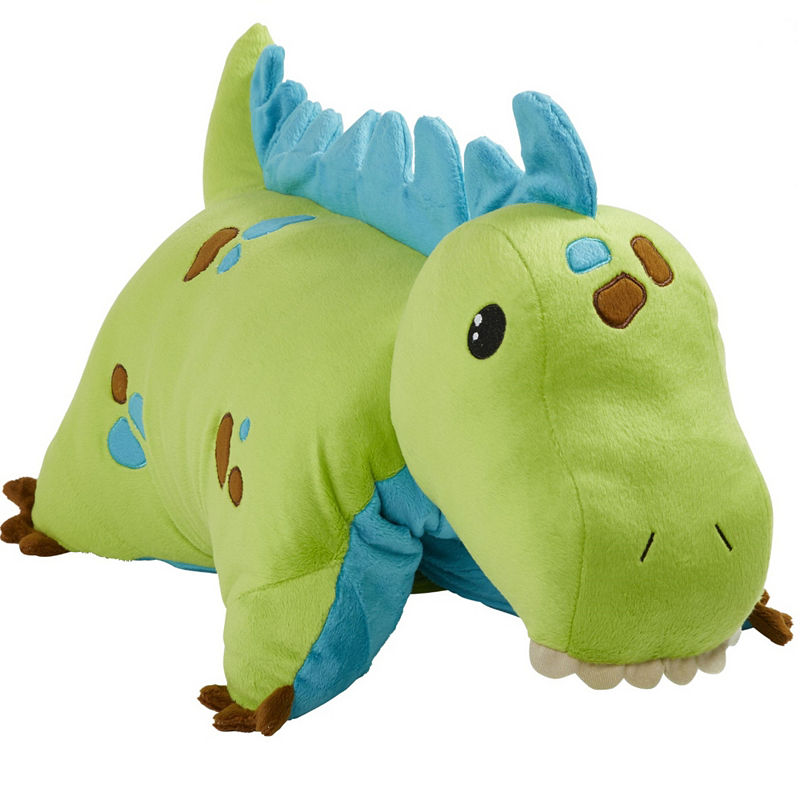 Dinosaur 18″ Plush Pillow Pet
At JCPenney.com

Dinosaur 18″ Plush Pillow Pet
At JCPenney.com

My Pillow Pets 18″ Dino T-Rex

My Pillow Pets 18″ Dino Triceratops – Green

My Pillow Pets 18″ Dino Triceratops – Blue

My Pillow Pets 18″ Dino Triceratops – Pink

My Pillow Pets 18″ Dino Pterodactyl