Skull Blankets and Pillows
Indulge your gothic side with a touch of bones with these skull blankets and pillows. I've tried to avoid the creepy in picking out items for this page, while still bringing the scary occasionally.
Skull Blankets
Tiny and large designs scattered around on all these in blacks and pinks both.

Jolly Roger Pirate Stadium Blanket

Skull and Cross Bones Blanket

Stadium Throw Blanket Pink Hearts and Skulls

la Lovie Skulls and Crossbones Cashmere Blanket

The Big One® Skull Patterned Plush Oversized Throw

Fleece Printed Red Skull and Bones on Black Print Throw Blanket 58 Inch By 72 Inch
Skull Pillows
This is one of those weird ones where I keep thinking I'd find a shaped pillow but never do. Tons of square in tons of styles, though.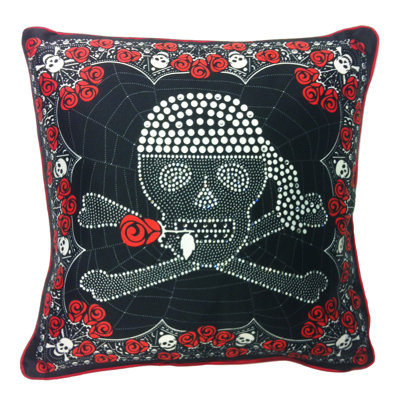 Skull and Crossbones Microfiber Pillow
from: Wayfair

Blue Skull Glasses Modern Art Decorative Lumbar Pillow Case Cushion Cover

Leather Skull Pillow

Decorbox Cotton Linen Square Throw Pillow Cover Angle Skull

Sourpuss Anatomical Skull Pillow

Lavievert Decorative Hemp Square Toss Pillow Cover – Blue Skull Pattern

Skull Rhinestone 100% Cotton Throw Pillow Cover Cushion Caseover Case 16 X 16″

Metal Skull Pillow

Purple Skulls soft Pillow Cover Cushion Case 18″