Brighten up their room with these car designs
Get some light on the road ahead with great car designs perfect for this bedroom theme. Your little boy will love the great table lamps or maybe a ceiling fan with models on the blades. No matter what you choose, it's sure to be the right finishing touch for a car lover's room.
I've collected not just designs with autos, but also ones that work with the theme like stop signals. While you might not think you could have too many vehicles in the room, there comes a time to work in other elements than just automobiles. Some of these are shaped designs like the night lite pictured here, which I happen to like best.
The ceiling fans have disappeared for the moment, although I did round up a couple of cute pull chains. I've tried to mostly stick with normal vehicles rather than racing ones, since that's a theme on its own.
Car Night Lights Keep Away the Dark at Night
A ton of vehicle shapes to be found here, as well as full images and a stop signal. Love that one! Most have adjustable bases to work with any outlet direction. I do wish they had more colors than red and blue, though.

Wall Glow Car Night Light

Oopsy Daisy Red Car Night Light

NoJo Car Night Light

Traffic Signal Night Light
Car Lamp Styles for the Table Top
A few of these will work well for reading in bed or working at a desk. But the signals are definitely just for accent use. When you move outside the racing world, the designs definitely become a bit more cartoony in nature, possibly more suited to a nursery or younger child's room. Unless you hit upon something with vintage vehicles, that is, like the last one.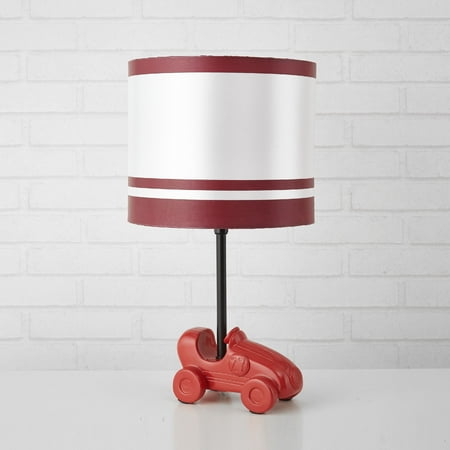 Mainstays Kids Rally Racer Car Lamp
At Walmart.com

Ferm Living Car Lamp
At AlexandAlexa.com

Transportation – Vintage Cars Sport Silver Lamp
Features the Vega along with a bunch of cars from around the world you might not have heard of
like the Alpine, Ghia, Simca and Bogward

Lamp-In-A-Box Vintage Race Cars Tripod Lamp
Traffic Lights
No cars here, but perfect for use with this particular theme. (Unless you're doing race cars. No lights there!)
There are plenty out there – many meant just for party use – so I tried to stick to ones that had good reviews.

Blinking Traffic Light

Wall-Mount Traffic Light

Traffic Light with Stand
Ceiling and Wall Choices

Hot Rod Cars Ceiling Fan

Elk 2-Light Race Car Pendant In Satin Nickel

Automotive Car Shaped Theme Single Switchplate

3dRose LLC Check Black and White Checkered Squares Single Toggle Switch

Niermann Standby Pendant Lamp, Racing Car