Add rah rah style to her room with cheerleader decor
Since cheerleader bedding is so hard to find, bring a little school spirit to your girl's bedroom with some decor instead to set the theme. Add just one piece to show off her favorite sport or go crazy with themed stuff galore.
And the decor items I've selected here make a nice way to bring a tiny touch into a different theme, especially the personalized ones. Not to mention great gift ideas for your spirit captain.
You'll see common elements like the megaphone in the ceiling fan pull pictured here, pom poms and uniforms. I'm actually surprised by how much pink there is here since I'm not sure I've ever seen a school team ever with that color. Implies to me they think younger girls who are on teams would be more likely to want those items since they don't have a school color combination set yet.
Cheerleader Wall Decals
Want to dress up your cheerleader's bedroom walls? Go loud and proud (as any good spirit squad member would) with some cool cheerleader wall decals and graphics. Customize with her name or school mascot and colors in some options or just pick a color that matches the rest of her room. It's easy to add some rah-rah appeal with stickers and borders.
There's a lot of purple and pink here when you don't get a choice of color – like with the megaphone graphic in the picture here. But so many of these give you a choice of up to 40 different shades so you can match to the current room color scheme or her school colors.

Cheerleader Sports Wall Decal
from: Wayfair

Harvell Cheerleader Mount Wall Decal Color: Black
from: Wayfair
Available in several colors

Sport Series Cheerleader Silhouette Wall Decal
At Amazon.com

Megaphone Cheerleader Wall Decal
At Amazon.com

Wall Stickers – Go Team
At Amazon.com

Fear The Bow Wall Decal
At Amazon.com

CHEER….WALL QUOTES SAYINGS WORDS LETTERING DECALS, BLACK
Cheerleader Decor

Bed Bath & Beyond Cheerleading 4-Inch x 6-Inch Picture Frame
At BedBathBeyond.com

Cheerleading Wood Picture Frame
At GiftsForYouNow.com

6×4 'Cheerleader #1'

Cheer White & Pink Rectangle Resin Frame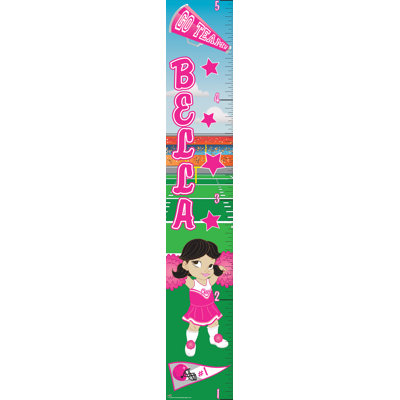 Cheerleader Growth Chart
from: Wayfair

Boyds Bears Resin Bailey The Cheerleader Sports Bearstone Pennant

Boyds Bears Resin Sissy Boom Bah Go Team Cheerleader Bearstone
Megaphones for Around the Room
A few ways for her to loudly proclaim her spirit with megaphones.
A Few Themed Wall Pieces
The sign that warns you'll be cut from the squad for violating the rules cracks me up.

Keep Calm and Cheer On Cheerleader Wood Sign Handpainted 16″ X 10.5″ X .5″ Wall

Reserved For Cheerleaders Only 8″ x 12″ Novelty Sign S379

CHEERLEADER Street Sign cheerleading dance dancer gift

CHEERLEADER ~Novelty Sign~ parking cheerleading gift

Cheer Leader Double Light Switch Plate Cover