No need to run away to join the fun!
Elephants, clowns, the big top – all the elements you need to turn your child's room into a great circus. It's a wonderful theme for a kid's space with all the animals and bright colors.
Bring in the elements of the circus with these great decor items I found below. Just a few of the elements I was looking for include the red and white striping of the tent, the pennant flags streaming around, balloons and clowns. Along with the other great things you'd find at the circus.
As you poke around, you'll notice some distinct styles working here. There are lots of bright, colorful, cartoony designs that work great for kids and give you plenty of colors to play with in the room. But there are also some retro, classic images taken from old posters that provide a more subtle palette and sophisticated look.
You could bring in a few more animal items to the room, along with big colorful balls, a chair and whip, black top hat, even red and white popcorn buckets or some fake cotton candy. All great elements you'd find at the show.
Circus Wall Art Selections

Primary Color Circus Theme Framed Wall Art: Matilda the Talking Goose
At The Well Appointed House

'Circus Tent Triptych' Painting Print on Wrapped Canvas
from: Wayfair

Silly Goose Gifts Fun Circus Children Wall Art Decor
At Amazon.com
Next here are pieces from Oopsy Daisy. I've only included a couple of different styles here as examples, but Oopsy Daisy has a ton of different options for circus art – many of which are also available as decals. Here, I've selected a bold and bright one, a pastel colored and a vintage design.

At OopsyDaisy.com

At OopsyDaisy.com

At OopsyDaisy.com
Colorful Circus Rugs

Lil' Momeni Classic Circus Collection Area Rug
at Hayneedle.com

Red Ball Kids Rug
at Wayfair.com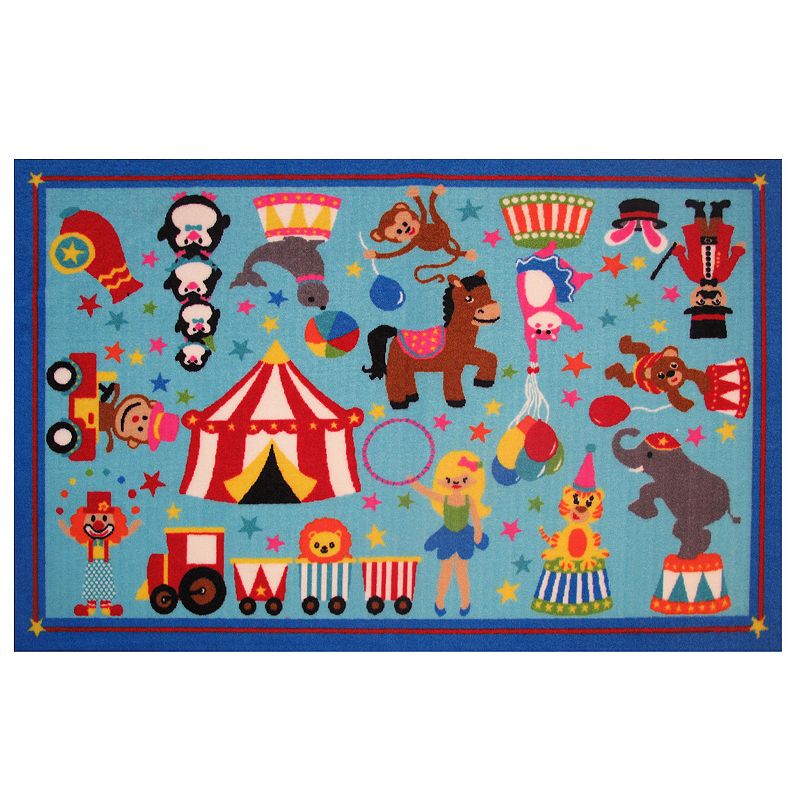 Fun Rugs Fun Time Circus Life Rug
At Kohls.com
Circus Decor Items

Circus Show Coin Bank
from: Frecklebox.com

Under The Big Top Coin Bank
from: Frecklebox.com

Niermann Standby Pendant Lamp, Circus Tent

Wind Up Musical Circus Train Picture Frame
from: Wayfair

Caroline's Treasures Circus Train Ceramic Night Light
At Amazon.com
Choose from 10 different circus-related designs

Circus Time Shade Plug-In Swag Chandelier
At Amazon.com
Same design comes in other lighting types as well

Splendid Music Box Co. Circus Theme Papier Musical Jewelry Box
At Amazon.com
Plays Swan Lake

Designer Red Circus Coat Rack
At Amazon.com
Circus-Themed Furniture

Ticket Booth Cardboard Stand Playhouse
At Amazon.com

Big Top Circus Beanbag Chair
At Little Circus

Lion Cage Toy Chest
at Wayfair.com

Whole House Worlds The Big Top Circus Animal Travel Trunk Chests
At Amazon.com
Circus Wall Decals
The animals! The clowns! The big top! So much going on at the circus, which makes it a great nursery or bedroom theme.
And you can add many of the elements with colorful wall decals and murals. Set the stage with decals of the animals or big shots of the big tent. No matter what you choose, wall decals are the easiest way to add just the right touch to the bedroom.

NoJo by Jill McDonald Large Wall Decal

Custom Name – Circus Balloons and Animals Wall Decal
At Amazon.com
Select your own custom color scheme

Cartoon Circus Animals Wall Decals
At Amazon.com

Circus Theme Wall Decal
At Amazon.com

Big Top Circus Wall Decals
At RoomMates

Pop and Lolli Cutesy Characters Circus Train Wall Stickers
At WallStickerShop.com

Big Top Circus XL Wall Mural 6′ x 10.5′
At RoomMates

Circus Tent
Prices start at $181 at MagicMurals
Three sizes to choose from or make it custom sized

The Circus Girl
Prices start at $75 at MagicMurals
Three sizes to choose from or make it custom sized
Customizable Circus Wall Murals
These come from Murals Your Wayand are customizable in several different ways. They'll add your child's name to the mural, add or remove sections to make it the exact size you need and even change some of the colors on some. Pretty cool. These are the circus designs they carry. Prices start at around $200 and go up depending on the size, material and amount of customization.

Let the Show Begin Circus Wall Mural

Greatest Show Circus Wall Mural