Decor you can dig for a construction bedroom
Need some great building blocks for a construction bedroom theme? Stock up here!
Construction trucks, cranes and signs to add just the right touch to your little boy's bedroom. Bright colors suitable for toddlers or more muted shades for the older boy. You'll also find the designs vary from cartoony trucks to more elegant images.
Choose your construction decor by color to coordinate with your bedding – whether construction-themed or not – or maybe by the kind of equipment. You might want to focus on bulldozers or cranes or dump trucks, depending on what your boy likes best. Thinking in terms of color or truck can be helpful in making choices between the numerous options out there. And keep in mind not everything in a construction-themed room has to be construction-themed! Patterns like plaids or fabrics like denim are great options in a room like this.
Construction Rugs
Featuring work trucks and construction sites
Wow. There are so many options for construction-themed rugs. So many. There are several meant as play mats with roads and construction sites your child can use to play with their trucks. Or designs that just include cute examples of construction equipment, many of which coordinate with specific bedding lines.

Construction Rug
At Pottery Barn Kids
Construction trucks move gravel and orange cones mark the path on this imaginative rug, perfect for a playroom
Hand-tufted from recycled plastic (PET) polyester
5′ wide x 8′ long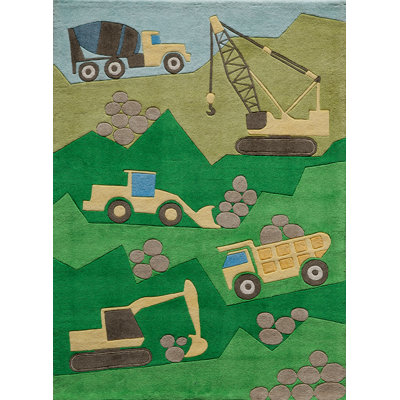 Bailey Hand-Tufted Site Green Area Rug Rug Size: Rectangle 4′ x 6′
from: Wayfair

LA Rug Under Construction Rug
19″x29″
Smaller version of the above with fewer trucks

Busy Builder Playmat
at Personal Creations
Personalize with any message, up to 20 characters

Tonka Truck Gravel Pit Game Rug
Bright colors and everyone's favorite toy truck brand
Actually comes with two trucks!

LA Rug Dump Truck Rug 31″x47″

Construction Rug
Construction Lamps and Lights
Shine a little light on your construction zone
These lights are so cute, I could see a little boy wanting them no matter what theme his room is. (Maybe a few big boys too!) Lots of yellow, blue and orange with a variety of designs of construction trucks all over them. Lamps, shades and night lights all fitting our theme!

Construction Table Lamp
Comes with matching night light

Construction Truck with Night Light – Kids Lamps
10.5″ x 7″ at base

Tonka Trucks 42″ Ceiling Fan
White blades with block-style vehicles

Mighty Tonka Construction Trucks 42″ Ceiling Fan
Yellow construction vehicles on a blue sky
Construction-Themed Night Lights

Oopsy Daisy Construction Night Light
Stretched canvas with 5w bulb
Comes in gift box
All of these next ones are LED lights, fully enclosed so there's no unsightly exposed bulb to be seen. Oh, and the plug can rotate to be used in outlets facing any direction. Nice!
 Backfiller Crawler-Excavator Dump Truck Bulldozer Dump Truck
Construction-Themed Art
Add color to the walls while sticking to the theme
Check out the choices! We have a few with cartoony style trucks great for a nursery or toddler room. Some personalized for when your son starts that "mine!" phase. And some really elegant art that could stick around until he leaves home.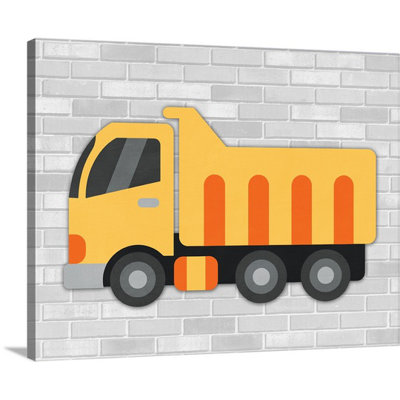 'Children's Art 'Construction IV' by Tamara Robinson Graphic Art Print
from: Wayfair

'Children's Art 'Construction I' by Tamara Robinson Graphic Art Print
from: Wayfair

'Children's Art 'Construction Quote' by Tamara Robinson Textual Art
from: Wayfair

'Giant Mighty Construction Machines' Graphic Art Print Multi-Piece Image on Wrapped Canvas
from: Wayfair

Under Construction Personalized Canvas Art
At aBaby.com
Gallery wrapped print
Collection by Vicky Barone
$49-$119 at Oopsy daisy
11.5″, 19″ or 26″ square sizes

Oopsy daisy Earthmover Canvas Wall Art by Max Grover
$49 at Oopsy daisy
10×10 size

Oopsy daisy Beep Beep – Construction Trucks Canvas Wall Art by Molly Bernarding
$139 at Oopsy daisy
Exclusive to their website

Oopsy daisy Construction Diggers Canvas Wall Art by Vicky Barone
$49-$119 at Oopsy daisy
10×10 or 21×21 sizes

Oopsy daisy Orange Scoop Canvas Wall Art by Tonya Kehoe
At Oopsy daisy
10×10 size

Green Frog Art 6X6 Canvas Gallery Wrapped Art, E.J.'s Dump Truck

Green Frog Art 6X6 Canvas Gallery Wrapped Art, E.J.'s Dozer

The Kids Room Oversized Wall Plaque, Yellow Dump Truck Road Repair

The Kids Room Yellow Dump Truck Blue Border Wall Plaque
Construction Decor
More great ways to add trucks and signs to the room

Instivo Nursery/Toddler/Kids Laundry Hamper (Digger)
At Amazon.com

Child to Cherish Construction Piggy Bank, Truck Room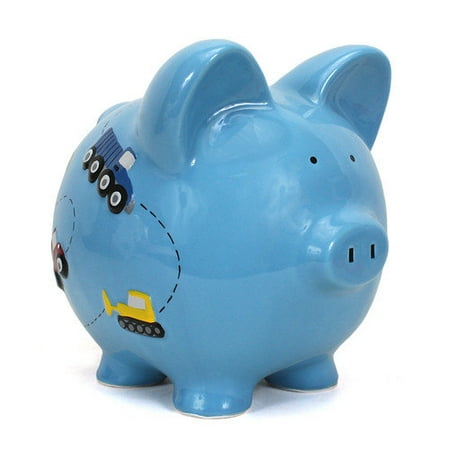 Child to Cherish Construction Piggy Bank, Construction Room
At Walmart.com

Bright Construction Personalized Fabric Bin
from: Wayfair
Construction Decor for the Wall
Hooks, shelfs and signs to carry out the them

DUMP TRUCK PARKING construction haul NEW sign
Construction Growth Charts
Dump Truck Growth Chart Wall Vinyl Sticker Decal 2ft – 5ft (Custom Color)
Construction-Themed Clocks

Rikki Knight Dump Truck Wall Clock

CRANE OPERATOR Wall Clock