What's hot and red all over? Decor for a fire truck bedroom!
From the ceiling to the floor, red engines galore! No really. Add a bit of fireman magic to your little boy's bedroom with engines on a ceiling fan or a piece of art to hang over his bed. Maybe you'd rather put them on the floor with a rug?
Whatever your need, there's an engine for that! Some of them are cute and cartoony like the bookends shown here. Others get more realistic and down-right elegant, especially when you start looking at the artwork. In all cases, keep in mind the colors (mostly red, obviously) and how many engines you'd actually want to include in the room. A few make great accents, way too many kills the theme a bit. Think in terms of how many items you'd see in real life. So hydrants and helmets would be a lot, trucks and ladders just a few.
In fact, I've found a few items that are based around hydrants, dalmatians, bells and other elements you'd find around a station house. Perfect for turning the room into a realistic looking one for your child.
Fire Truck Lights and Lamps
The lamps here would definitely be strong accents for the room, but the other items? Very nice small touches that don't overwhelm the theme at all. Plus, a couple of these are hydrants and dalmatians, so great elements that work with the theme without being overly obvious.

Firetruck Complete Lamp
At PotteryBarnKids.com

Cal Lighting Fire Truck Table Light
Seriously cute and cartoony. You could go with a different type of shade if the white doesn't work with the rest of your color scheme.

Fire Truck Lamp
At Amazon.com

Oopsy Daisy Night Light
Swivel base allows it to work with any outlet
Canvas wrapped art
Bulb included
Comes in gift box

Eric Carle's Fire Engine Night Light
At OopsyDaisy.com
Fire Truck Rugs

Hook and Ladder Rug
at aBaby
Engines, ladders, dalmatians and helmets
Available in red, green or blue (shown)
Three sizes to choose from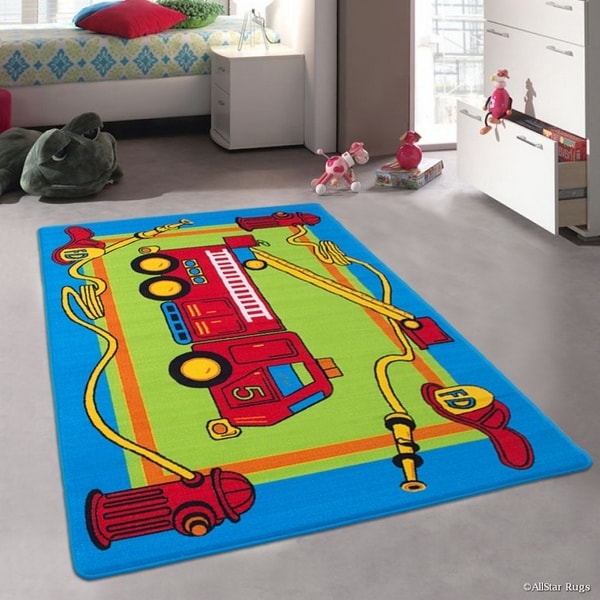 Allstar Kids Fire Truck Rug
At Overstock.com

LA Rug Fire Engine Rug 25″x39″
Fire Truck Decor
Lots of engines to choose from here, as well as coordinated theme items like hydrants and dalmatian images.

Red Fire Truck Bookend Set
At Amazon.com

Red Fire Truck Frame
At Amazon.com
Holds four photos

Mod Fire Truck Coin Bank
from: Frecklebox.com
Red Hydrant All Purpose Storage Container
One of my favorite items for this particular theme
Really it's a dog food storage piece, but works just as well in a bedroom
Check out the ones listed below this one after you click through for some other similar designs

6″ Solid Brass Bell with Knotted Lanyard
Not only goes with the theme, but has the added benefit of being a great way to get them up in the morning!
Easily mounted on wall or ceiling, although screws to do so aren't included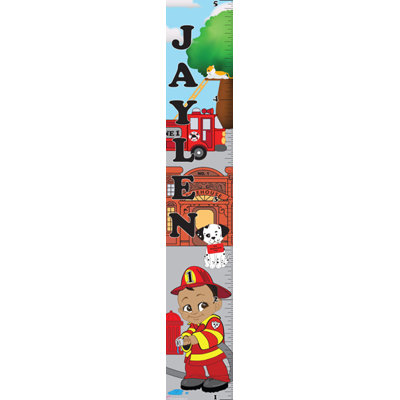 Fireman Boy Growth Chart 
from: Wayfair
Customize skin, eye and hair color
Fire Truck Clock Designs
Elements found at the station as well as at an emergency scene. I'm partial to the bell one, myself. Nice element to add to the theme.

Fire Truck Wall Clock
from: Wayfair

Allen Designs Big Red Firetruck Clock
At Amazon.com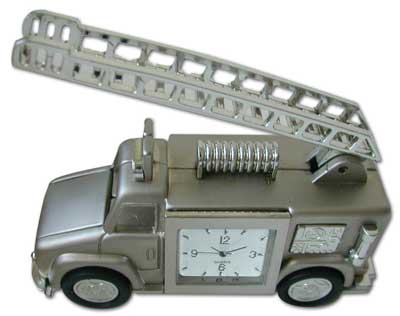 Ruda Overseas Metal Clock
at Unbeatable Sale
Batteries included
Fire Truck Artwork
Non-personalized options here that range widely in price. The really inexpensive ones are more like posters, which you could hang as is or frame for more durability. The real artwork typically is painted canvas and would be something you'd want as an heirloom type piece.

Fancy Firetruck Children's Art Print
from: Minted

Cute Firetruck Self-Launch Children's Art Print
from: Minted

Fierce Firetruck Self-Launch Children's Art Print
from: Minted

Dalmatian Fire Truck Dog Self-Launch Children's Art Print
from: Minted

Fire Truck Grey -1 Self-Launch Children's Art Print
from: Minted

The Kids Room Fire Truck with Bucket Wall Plaque

Firetruck Art Print
from: Frecklebox.com
Available in two sizes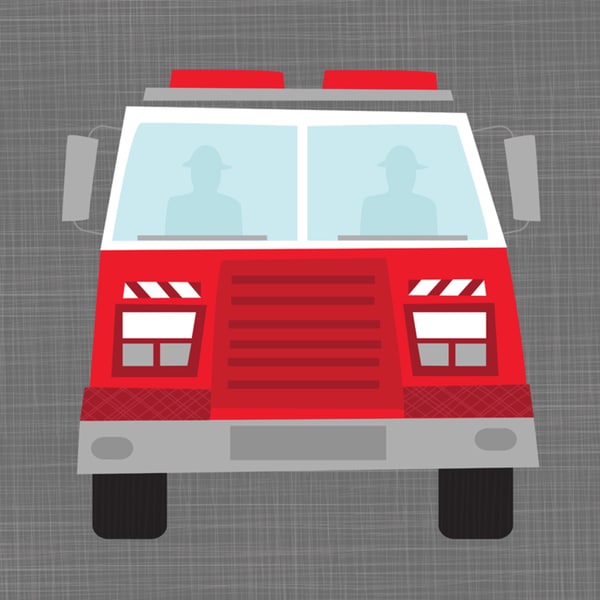 Oopsy Daisy Fire Truck Ways to Wheel Canvas Wall Art
At OopsyDaisy.com

Oopsy Daisy Stretched Canvas Wall Art
Hand-stretched artist quality canvas
Includes sawtooth hanger and artist bio