Leap to the challenge with these cute ideas
Add touches of frogs to your boy's bedroom decor with lamps, figurines and art. It's all the amphibians you'll ever need to build a bedroom sure to please your little boy. And many of them are practical as well – hampers for clothes, chalkboard for notes, night lights for bedtime comfort.
You'll run into two different styles in this particular theme – really cartoony and cute like the bookcase pictured here or realistic and natural. The first group definitely pairs well with bedding sets targeted for nurseries and younger children. But an older kid who loves frogs might want more of the bright, colorful examples found in nature like in tropical rain forests. Which unfortunately, is a little harder to find in items I would consider nice quality design. (I'm picky!)
Clock Designs
Pretty much just wall clocks to be had here, although I could have sworn I'd seen an animal sound alarm clock before. Hmmm. And I've focused more on cute designs than ones with pictures of real frogs. Was so excited to see the one of the orange frog since it would work right into a tree frog room!

Frog Wall Clock

Children's Frog Clock, Ziggy by Infinity Instruments
Frog Lights and Lamps

Tree Frog Night Light

Oopsy Daisy Fine Art for Kids NL8074AS Friendly Frogs Night Light

Frogs Switch Plate – Single Rocker – 4.5″ x 6.75″

Leap Frog Kids Childrens Lamp Shade by Sweet Jojo Designs
Ceiling Fans and Pulls
Most of the fan designs here come in 42″ and 52″ sizes, and you can choose to get just the blades so you can just change an existing fan.

Ceiling Fan Designers New TROPICAL RAINFOREST FROGS FROG Ceiling Fan 42

Green Tree Frog Fan Pull
Cute Frog Decor Items for Around the Room

RoomCraft Sweet Frog Prince Wall Canvases
At Amazon.com

Mary Meyer Baby Cheery Cheeks Bank, Hop Hop Frog

Flensted Mobiles Nursery Mobiles, Happy Frog, Mobile

Animal Shape Wall Hook(set of 2)- Frog

Green Frog Piggy Bank

Puddle Mirror with Six Splash Mirrors 45cm x 42cm
Not frogs, exactly, but perfect to go with a frog theme
Frog Storage and Hamper Ideas

Little Boutique Double Decker Storage Bin – Frog

Starting Small Frog Novelty Hamper – Green
Frog Rugs
Designs to hop across under foot
Add a few hopping frogs to the floor of your child's nursery or bedroom. Cute images woven in or shaped rugs add just the right touch to finish off your design. Most involve blue and green colors – water and lily pads, of course – but you can find a few other colors as well.
If you already have enough hopping amphibians in the room, consider a solid blue rug to mimic water – maybe a big rectangle – or a green one to mimic a lily pad. Otherwise, go for a great design that can serve as a focal point to the room and a start to the theme.

Harriet Bee Johansson Frog Cream/Basil Area Rug
At Wayfair.com

Bed Bath & Beyond C&F Home 2′ x 3′ By the Pond Accent Rug
At BedBathBeyond.com

Flagship Carpets Frogs Educational Rug
Super big with a pond in the middle.

Froggie & Friends Rug by Jellybean
Think he's pondering how yummy those bugs will taste?

Naomi Frog Luxury Home Rugs
Frog Wall Decals
Looking for some realistic tree frogs for the walls? What about cute cartoony ones for a nursery? Either way, these stickers are a great way to add a theme easily and without the need to be an artist.
The realistic ones are definitely not my favorite, but if we're talking a child who's on their way to being a herpetologist, then by all means, as many photo images as possible. But for most of us, the cute colorful images like in the picture here are more likely the way we want to go.

Frogs Printed Wall Decals
At Amazon

Wallies Tree Frogs Wallpaper Mural
Wallpaper-style tree frog mural with vivid colors and realistic details
3 frogs, largest measures 24 by 15-1/4 inches; 11 leaves at 7-1/2 by 6-1/2 inches
Mostly cute cartoon style images here, perfect for the nursery or a toddler room.

Leap Frog Baby and Childrens Wall Border by Sweet Jojo Designs

Frog Pond Bolder Borders
Frog Wall Murals

Flying Frog
Prices start at $192 at MagicMurals
Three sizes to choose from or make it custom sized

Whimsical Frogs
Prices start at $174 at MagicMurals
Three sizes to choose from or make it custom sized

F stands for Frog
Prices start at $87 at MagicMurals
Three sizes to choose from or make it custom sized
These come from Murals Your Way and are customizable in several different ways. They'll add your child's name to the mural, add or remove sections to make it the exact size you need and even change some of the colors on some. Pretty cool. These are a few of the frog designs they carry. Prices start at around $200 and go up depending on the size, material and amount of customization.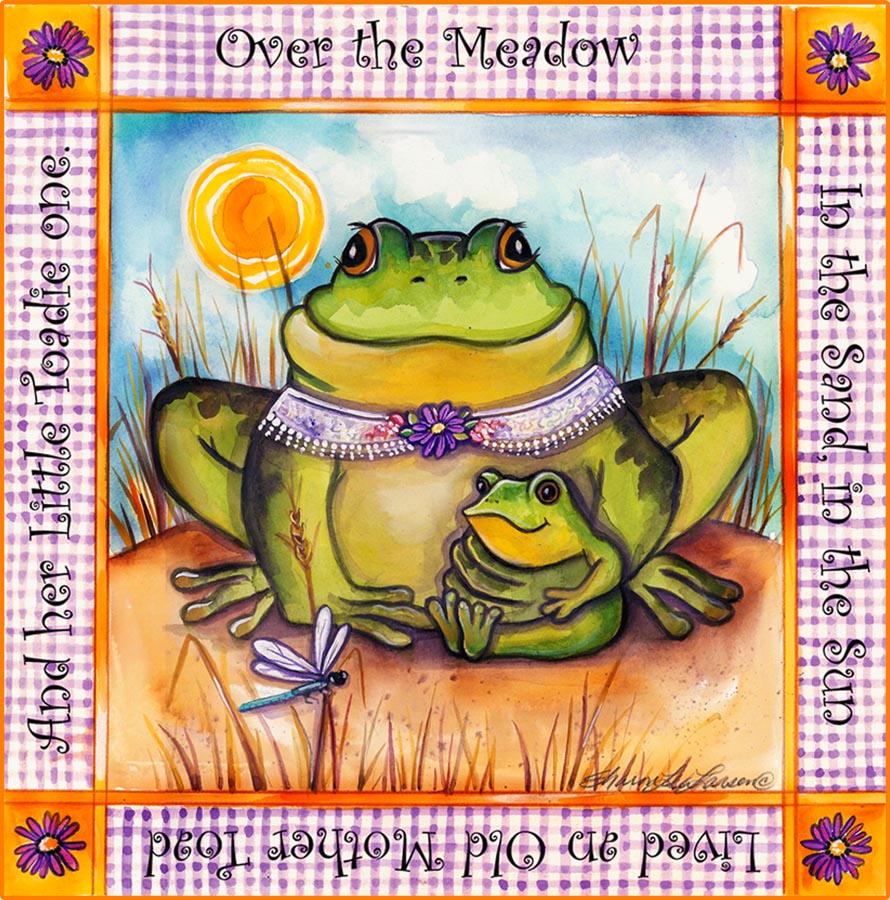 Toadie Vinyl Mural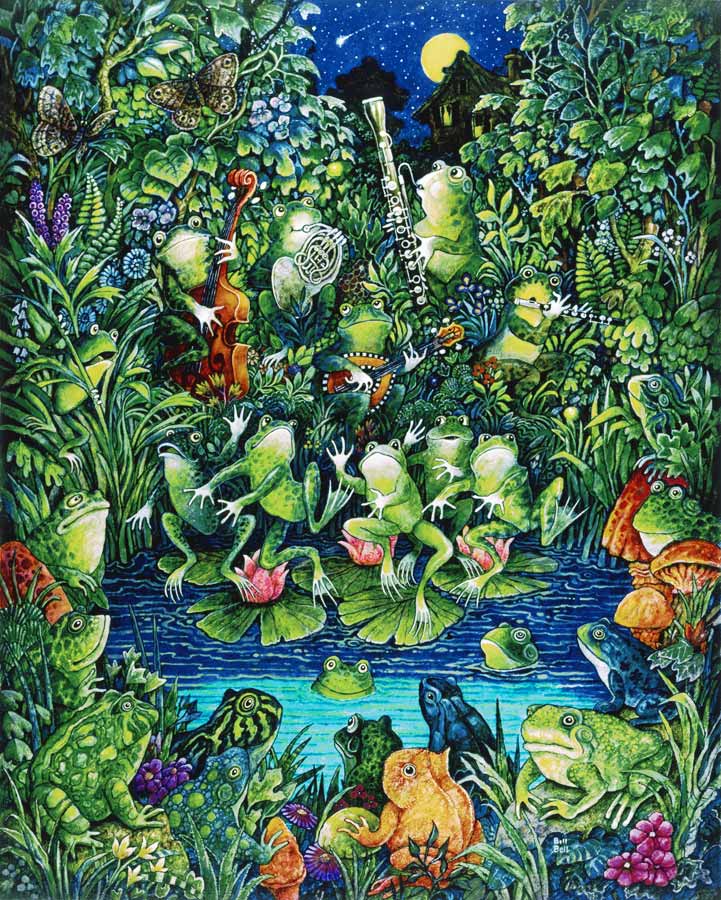 A Little Night Music Vinyl Mural
Froggie Furniture
Hey, look! Something other than green here. Several designs that pull in blues, which makes sense since we tend to think of frogs as being out on the water, right?

Teamson Design Time Out Frog Chair
At Walmart.com

Room Magic Desk Chair, Frog

Teamson Kids Wooden Step Stool with Storage – Froggy Collection