Red hearts, pink hearts. Blue hearts, green hearts. Whatever color you go with, it's easy to spread a few around to decorate your bedroom with these great decor items.
Add them to the wall with beautiful art pieces like the one pictured here, to the floor with plush rugs, to the shelves with cute knick-knacks. There're plenty of love to go around!
The nice thing with most of these is that they can be worked into any kind of bedroom theme, not just a heart-oriented one. It's a suitably girly image that appeals to tweens and teens and doesn't have to be the theme of the room for them to want to add a few. Just pair them up by style and color with the current theme and you're good.
Heart Lights and Lamps
Well, our hearts get all warm and glowy when we're in love, right? So it's only appropriate to start with the lighting choices out there!

Heart Marquee Wall Light
At PBTeen.com

Glitter Heart Paper Heart Nightlight
At PotteryBarnKids.com

cloud island LED Light Box Heart
At Target.com

NoJo® Lamp & Shade
At Target.com

Cameron Shades Acrylic Heart Lamp
At PotteryBarnKids.com

Semi-flush Ceiling Light Fixture
A bit more permanent addition to the room.
Heart Decor for Around the Room
Hang them on the wall, put them on the shelf – it's easy to add a love touch!

Gracie Oaks Elsworth Heart Wall Accent Shelf
At jossandmain.com

Gracie Oaks Donna Heart Galvanized Metal Wall Shelf
At jossandmain.com

Heart-Shaped Memo Board
At TheCompanyStore.com

Wall Hook Hanger in Wrought Iron
Heart Rugs
Pink, red, gray even – hearts come in all colors in room decor and the ones on the heart rugs here are no exception. Which makes them great to finish out a bedroom theme or to blend in with just about any other theme for a girls bedroom. Go with a small shaped design or big and bold with a style that will fill the floor. Lots of choices!

Heart to Heart Rug
Exclusively At CrateandBarrel.com

Heart Dot Rug
At PotteryBarnKids.com

Premium Heart Rug
At PotteryBarnKids.com

Night Flash Glow-In-The-Dark

NXT-GEN Hearts Medallion Olefin Area Rug
at Walmart.com

Red Flowered Kids Area Style
at Wayfair.com

Fantasia Red Shaped Design
at Wayfair.com

LA Rug Pink Rug

Safavieh Kids Heart 7-Foot x 8-Foot Area Rug
At BedBathBeyond.com

Puffy Love Rug
At Project Nursery
blush colored heart cushion stitched on

Faux Sheepskin Heart Area Rug
At Project Nursery
Choose from pink, white, lavender and vintage pink
Heart Furniture Selections

Lavender Rainbow Heart Anywhere Chair
At PotteryBarnKids.com

Heart Nod Chair
At CrateandBarrel.com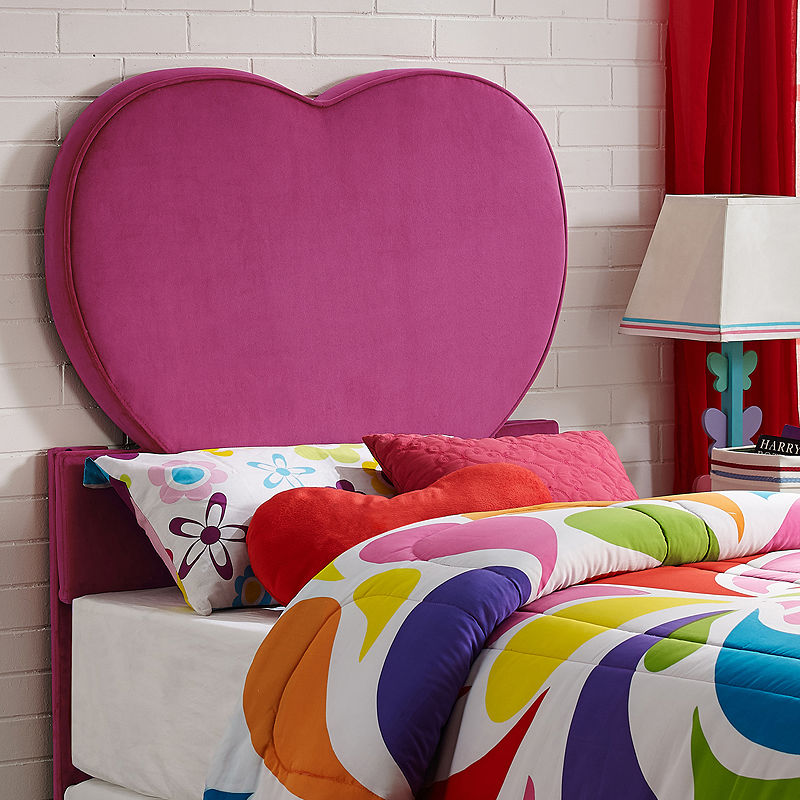 Heart Youth Twin Headboard
At JCPenney.com
Gorgeous Heart Artwork

Puzzled Heart Wall Art
At Project Nursery

Water Color Heart Art Print
from: Frecklebox.com
Available in two sizes