Perfect hockey touches for a sports bedroom
Granted, your hockey player might decorate his own room by flinging his gear all over the place. But if you're looking for more truly decorative touches, check out the hockey decor below.
Most hockey decor – that isn't team-based, that is – revolves around the various gear you need to play the game. So we have clocks made to look like pucks, shelves made out of hockey sticks and artwork featuring jerseys. Be sure to keep an eye out for items that can be personalized with your boy's name, like the artwork shown here.
From artwork for the walls to lights for the desk, lots of great ways to bring in a hockey theme. There's even a bed with built-in speakers!
Hockey Wall Decor
It's kind of cool how creative they get in applying a hockey theme to decor. Sure, a plaque with the word hockey. But a puck clock? A stick peg board? Nice! These all make great touches to a sports-lovers room.

Hockey Sticks Hanger
At PBTeen.com
can be hung horizontally or vertically

Hockey Magnet Wall Organization
At PBTeen.com

Jones Hockey Player 3 Hook Coat Rack
from: Wayfair

Hockey Player Wall Hk S
Single hook version of the above

ICE HOCKEY Non-Ticking Wooden Wall Clock
At Amazon.com

Hockey Player Parking Only Sign
At Amazon.com

Name Engraved Hockey Puck
at aBaby.com
Available with and without pegs
Scroll down the page to find the hockey version

3dRose LLC Hockey Player, Double Toggle Switch

Hockey Single Light Switch Plate Cover
Laser cut from 18 gauge steel with a black powder coat

Keep Calm and Score a Goal Hockey Poster
Love how the background looks like the ice
Hockey Wall Art
Dramatic and cool designs to deck the walls

Yosemite Home Decor Hockey Hero Mixed Media Wood Wall Art
At BedBathBeyond.com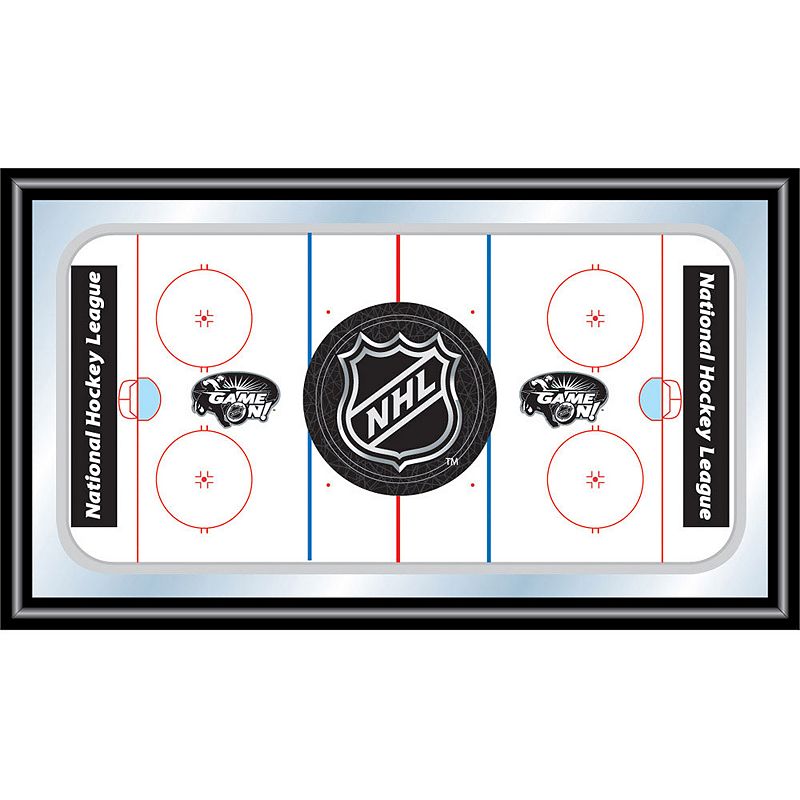 NHL Framed Hockey Rink Wall Art
At Kohls.com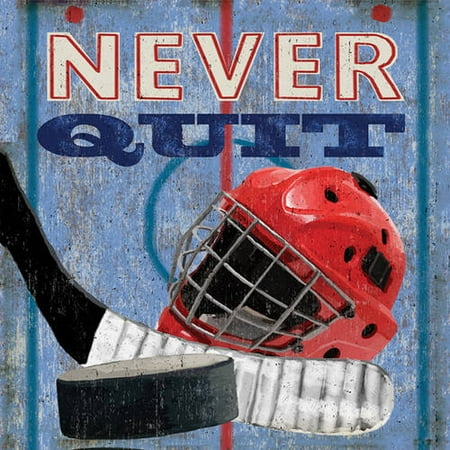 Oopsy Daisy's Never Quit, Hockey Canvas Wall Art
At Walmart.com

Wood-Framed Hockey Puck Patent Drawing Metal Sign
At Amazon.com

'Hobbies Eat Sleep Repeat Hockey by Kate Lillyson Textual Art
from: Wayfair

Oopsy Daisy Hockey Locker Wall Art
At Amazon

Shoots & Scores! – Hockey-Themed Wall Art
At Amazon.com
Hockey Lights & Lamps
Every kid needs a little extra light to shine on their homework, comic books, piles of laundry. It's easy to find them in a great themed design, like these hockey ones. My favorite is definitely the pendant that looks like a hockey rink.

3DLightFX Hockey Puck Light
At Amazon.com

Hockey Mask 3D Deco Light
At Amazon.com
Cordless, battery operated

Lamp-In-A-Box Hockey Heritage Silver Tripod Lamp
At Amazon.com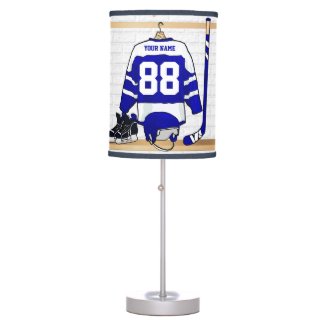 Personalized Blue and White Ice Hockey Jersey Table Lamp
At Zazzle.com

Light Pendant In A Hockey Motif
At Amazon
Replace their central light or add as a spot over a desk area
Hockey Night Lights

Hockey Skates Night Light
At Amazon.com

NHL The Goal Light Night Light
At Amazon.com
Hockey Decor
Well, the frames are a pretty obvious choice. After all, if your child plays hockey, there are no end to the team and individual photos they'll collect over the years. One of these is a great place to keep those and display the most recent version.

Personalized Hockey Wood Picture Frame
At GiftsForYouNow.com

Hockey Player 3X5 Horizontal Picture Frame
Free-standing and glassless

Fun Rugs On The Ice 1-Foot 7-Inch x 2-Foot 5-Inch Hockey Rug
At BedBathBeyond.com
Hockey Furniture and Storage
Kind of surprises me there aren't a lot more hockey furniture choices. Yes, there are chairs if you want a specific team, but not quite so many options otherwise. If you want to skip these and get something else, black (or maybe espresso) would be good colors to fit with the hockey theme.

Personalized Ice Hockey Espresso Toy Box Bench
At Amazon.com