Tie your room up with a pretty pink (or red!) bow
Minnie Mouse is coming on strong and looking good for her age. This Disney character is grabbing more of the spotlight these days, getting attention from girls all over who aren't necessarily into the princess thing.
If your girl is into Minnie and her polka dots, check out the different ways you can add a touch of her Disney magic to the bedroom. From small decorative items to large wall posters to big chairs – you have lots of options.
One of the choices falls to color. While Minnie started out wearing blue, most of us remember her in red with white polka dots. These days, you're more likely to see her in pink or purple. Part of that is from the CGI show she stars in on Disney Channel and some of it is just what appeals to little girls. Me – I'm definitely a red girl!
Minnie Mouse Lights and Lamps

Minnie Mouse® Night Light
At Target.com

Minnie Mouse Table Lamp with Lightbulb
At Target.com

Disney Minnie Mouse Marque Light
At Target.com

Disney Minnie Mouse EVA Table Lamp
At Walmart.com

Disney Minnie Mouse Bow Lamp
At Target.com

Uncle Milton Minnie Mouse Talking Room Light
Push a button and she lights up and talks
High/low brightness setting and auto shut-off

Disney Table Lamp
At Walmart.com

SoftPals Minnie Nightlight
At Amazon.com

Minnie Mouse Clubhouse Night Light
At Amazon.com

Minnie Mouse Clubhouse Night Light

At Amazon.com
Minnie Mouse Decor
Lots of dots in lots of colors

Ethan Allen | Disney I See Minnie Mouse Rug
At Amazon.com

Ethan Allen | Disney Braided Minnie Mouse Rug
At Amazon.com
Comes in Mickey colors as well, so you can get red

Large Pink Minnie Mouse Rug
At Amazon.com
Has a non-slip backing

Disney Minnie Mouse Rug w/ Figaro Cat 
At Amazon.com

Minnie Mouse Coin Bank
At Target.com

Minnie Mouse® Pink Balloon Ceramic Bank
At Target.com

Minnie Mouse Glitter Embellished Canvas 2-Pack
At Target.com

Disney I Am Minnie Mouse Ears Photo Frame
At shopDisney.com

Disney Minnie Mouse One Size Bed Canopy
At Target.com

Minnie Mouse® Accent Rug
At Target.com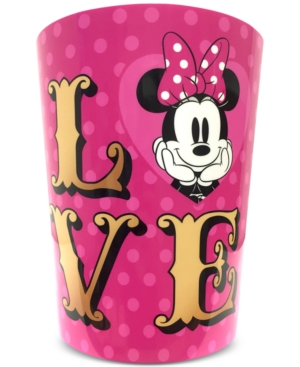 Jay Franco Minnie Xoxo Wastebasket
At Macys.com

eKids Minnie Mouse Dual Alarm Clock and 30-Pin iPod Speaker Dock, by iHome – DM-H22

Night Glow Alarm Clock, Minnie Mouse

eKids Minnie Mouse Rechargeable Character Speaker, by iHome

eKids Minnie Mouse Dual Alarm Clock Speaker System, by iHome

Minnie Rechargeable Mini Stereo Speakers for iPods, Laptops and iPhones, by iHome

eKids Minnie Mouse Stereo Speaker for all MP3 Players, by iHome

Enchanting Disney Minnie Mouse Glass Clock
At AmazonUK

Minnie Mouse Mini Twin Bell Alarm Clock
At AmazonUK

Enchanting Disney Minnie Mouse Memo Board
At AmazonUK
Minnie Mouse Wall Decal Designs

Fashionista Wall Decals
At RoommatesDecor.com

Rocks the Dot Peel and Stick Giant Wall Decals
At RoommatesDecor.com

Minnie Rocks the Dots Peel and Stick Wall Decals
At RoommatesDecor.com

Minnie Mouse Perfume Peel and Stick Wall Decals
At RoommatesDecor.com

Minnie Mouse Peel and Stick Wall Decals with Glitter
At RoommatesDecor.com

Minnie Floral Giant Wall Graphic
At RoommatesDecor.com

Happy Helpers Peel and Stick Wall Decals
At RoommatesDecor.com
Set includes 3D embellishments

Heart Confetti Peel and Stick Giant Wall Decals with Glitter
At RoommatesDecor.com

Minnie Loves Pink Wall Decals
at RoomMates

Minnie Loves to Shop Wall Decals
at RoomMates

Bow-tique Giant Wall Decal
at RoomMates

Minnie Mouse Giant Wall Decal
at RoomMates
Assembled Minnie 24″ x 40.25″

Bow-tique Wall Decals
at RoomMates

Minnie Mouse Personalized Vinyl Decal
At Amazon.com
Text in Disney font
22″ tall
Choice fo 25 colors

Minnie with Bow Personalized Name Wall Decal
At Amazon.com
46″x42″
Your choice of 15 colors

Minnie Fashionista Mural 6′ x 10.5′ – Ultra-strippable
At RoomMatesDecor.com