Hooty cute owl decor for the bedroom
Whooooo has the cutest bedroom? Anyone using owl decor, of course! This bird is a hot design trend these days, and these pieces are a great way to add just a few around the room.
A clock for the wall, a nightlight in the corner or a figurines for the shelf – there are lots of ways to add owls to the bedroom. They can be bright and cartoony or more elegant and grown-up.
As is common with the bedding choices, there's a lot of pink to be found here. If you're already using pink in the bedding or other items, consider bringing in other colors here with the decor or sticking with neutrals. Something like the bookend here goes with just about any color scheme.
Owl Decor: Great Artwork Designs
One of the easiest and classiest ways to use decor in a theme is with artwork. Again, there's quite the range here so keep in mind the style you're incorporating into the rest of the room. I love the modern style prints, but I'm not sure the kids would as much.

wisdom art print
Available in midnight (shown), soft green or dusk
Choose from seven sizes

Owl Artwork
at aBaby.com
Matching ribbon included for hanging
Made of solid hardwood

O Is for Owl" 8×8 Cute Animal Art Prints By Harbick, Set of 4
Owl Night Lights and Lamps

The Peanut Shell Owl Grey Arrows Lamp
At BuyBuyBaby.com

Wooden Owl Night Light
from: CrateandBarrel.com

Streamline Woodland Twilight Owl Night Light
At jossandmain.com

Red Barrel Studio Malito Hoot Ceramic 20.5 Table Lamp
At jossandmain.com

Ceramic Owl Nightlight – Ceramic Owl Nightlight
from: CrateandBarrel.com

Lambs & Ivy Night Owl Lamp Base and Shade
At BedBathBeyond.com

Owl Nightlight
At Jonathan Adler

Retro Pink Owls Decorative Night Light

5 Lights Minimalist Modern Green Owl Fabric Ceiling Pendant

Oopsy Daisy Mod Owl on Orange Night Light

Oopsy Daisy Hootie Owl Night Light

Retro Owls Decorative Night Light

Turquoise and Lime Hooty Owl Lamp Shade by Sweet Jojo Designs
Cool Owl Clocks

Trend Lab Kids Olive Owl Wall Clock
At Pier1.com

Teamson Enchanted Woodland Children's Wall Clock
At BedBathBeyond.com

Owl Clock
At Perpetual Kid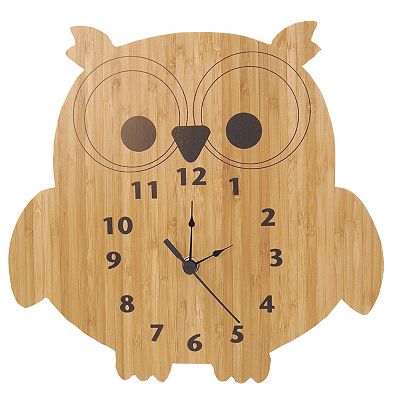 Trend Lab Northwoods Owl Wall Clock
At Kohls.com
Owl Growth Charts
Whoooo Is that in the branch of that tree?
Owls can fly high up in the trees, and you can hang a few to see how high your child is getting. These cute growth charts run from pink to blue to neutral, so there's sure to be an option that fits with your kid's bedroom theme.
Pair these up with other themed bedroom decor items or just let them stand on their own. Many of these designs can be personalized, which just adds to the long-term memory value for you. I've separated them out a bit by material – mostly canvas, decals and wood, although there are a couple of fabric options as well.

Oopsy Daisy Three Little Owls Growth Chart by Patchi Cancado

Oopsy daisy Little Owls Growth Chart by Rachel Taylor

Colorful Owl Growth Chart

Hoot!Hoot! With Butteflies Canvas
Available in pink or blue sky

Hoot!Hoot! With Dragonflies Canvas
Available in day or night blue sky

Owl Personalized Fabric Growth Chart

Growth Stick with Owl
Knick-Knacks and Owl Decor

Reed & Barton Hazelnut Hollow Owl Frame
At Bloomingdales.com

Lolli Living Bookend Friends – Gio Owl

Malden International Designs Picture Frame, Owl
Says "mommy's little night owl" across the bottom

Malden International Designs Picture Frame, Who Love Ya Baby, 4″ x 6″
Momma and baby owl on a tree branch
Says "whooooo loves you baby?" across the bottom

Trend Lab Olive Owl Wall Shelf
At Kohls.com

Reed & Barton Hazelnut Hollow Owl Bookends
At BedBathBeyond.com

Flensted Mobiles Nursery Mobiles, The Wisest Owls

Child to Cherish Piggy Bank, Owl, Large

Owl Baby Piggy Money Bank Hootie Cutie
Blue and pink versions

Allure Home Creations Awesome Owls Printed Plastic Wastebasket

Bed Bath & Beyond Owl Fabric Storage Box in Brown (Set of 3)
At BedBathBeyond.com
Owl Furniture
Boy, but owls are just everywhere these days! It's easy to quickly add a few with decor or bedding items, but if you really want to commit, consider a few of these cute owl furniture selections. Bean bag chairs, storage units – lots to choose from!

Sweet Seats Plush Owl Chair
At BedBathBeyond.com

3 Sprouts Owl 24 Book Display
At jossandmain.com

Glenna Jean Lil Hoot Owl Pouf Ottoman
At BuyBuyBaby.com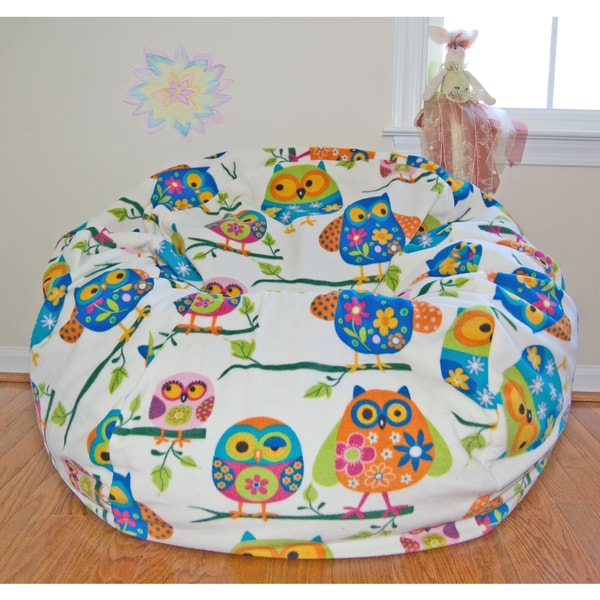 Pretty Owls Fleece Washable Bean Bag Chair
At Overstock.com