Welcome the whole gang to your room!
What child wouldn't love to have Elmo, Cookie Monster or Oscar come hang in their room? And they can do it literally with wall art and canvases and growth charts featuring their smiling faces thanks to the tons of options in Sesame Street decor.
Check out the cool personalized options like the storage caddy pictured here or the floor mats and clocks down below. Great options in bright colors sure to please any toddler!
There's a bit of a mix in the items I've gathered here in terms of characters. A lot of them are for just one character – Elmo, Abby Cadabby and Cookie Monster being the most common choices, although Big Bird and Oscar show up occasionally. As much as possible, though, I've looked for things that incorporate a lot of characters. One because it's about the entire street, not just one character, and two because they give you a full range of color choices to use throughout the room.
Sesame Street Decor

Sesame Street Big Bird Piggy Bank
from: CrateandBarrel.com

Sesame Street Big Bird Storage Bin
from: CrateandBarrel.com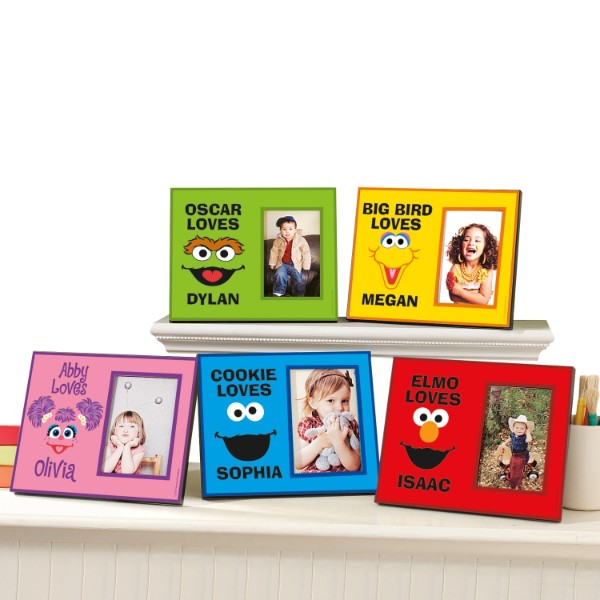 Personalized Sesame Street Big Face Frames
At Personal Creations

Sesame Street Oscar the Grouch Hamper with Lid
from: CrateandBarrel.com

Sesame Street Cookie Monster Piggy Bank
from: CrateandBarrel.com

Sesame Street Furry Cookie Monster Storage Bin
from: CrateandBarrel.com

Sesame Street Elmo Piggy Bank
from: CrateandBarrel.com

Sesame Street Floor Bin
from: CrateandBarrel.com

Sesame street "Patchwork" Acrylic Wastebasket
Sesame Street Lights

42″Ceiling Fan w/Light Kit & Blades-Sesame St

Sesame St Night Light, Elmo

Sesame Street Friends Accent Light
At PersonalCreations.com
Character Clocks

Sesame Street Cookie Monster Alarm Clock
from: CrateandBarrel.com

Sesame Street Elmo Alarm Clock
from: CrateandBarrel.com

Sesame Street Abby Cadabby Alarm Clock
from: CrateandBarrel.com

Sesame Street Wall Clock
At Amazon.com

Sesame Street Borderless Frameless Wall Clock
At Amazon.com
I like this one because it includes Rosita
Sesame Street Wall Decor

Sesame Street Sign with Wall Hooks
from: CrateandBarrel.com

Sesame Street Elmo Circle Shelf
from: CrateandBarrel.com
Also available in Abby Cadabby design

Sesame Street Minimalist Growth Chart
from: CrateandBarrel.com

Sesame Street Sign Growth Chart
from: CrateandBarrel.com

Sesame Street Vintage Wall Art
from: CrateandBarrel.com

Sesame Street Sketched Wall Art
from: CrateandBarrel.com

Sesame Street Elmo Canvas Wall Art
from: TV's Toy Box
Available in two sizes

Sesame Street Cookie Monster Canvas Wall Art
from: TV's Toy Box
Available in two sizes

Sesame Street Big Bird Canvas Wall Art
from: TV's Toy Box
Available in two sizes

Sesame Street Elmo Heart Chalkboard Canvas Wall Art
from: TV's Toy Box
Available in two sizes

Sesame Street Elmo Swirl Chalkboard Canvas Wall Art
from: TV's Toy Box
Available in two sizes

Sesame Street 1st Birthday Growth Chart
Sesame Street Rugs

Sesame Street Neighborhood Rug
from: CrateandBarrel.com

Sesame Street Hopscotch Rug
from: CrateandBarrel.com

Sesame Street Elmo – Large 6ft x 4ft AREA RUG – Kids Room Floor Accent