Clear the way for ollies!
Art, lights, rugs and more – all with a skateboarding theme. Just the thing to add to a bedroom for a teen looking for that theme.
Choose from signs with attitude or photographs of awesome moves or even shaped lights. There's something sure to work with the design you have planned.
The colors and designs here definitely lean toward teen appropriate and are fairly masculine. Doesn't mean you can't use them for a girl, just that you'll be hard pressed to pair much here with pink. And even if the colors work, your girl might not want signs with a boy, like the one in the picture here.
Cool Skateboard Wall Art
As you'd expect, a lot of these pieces of art are off a grunge or urban style. Definitely appealing to teen boys with most of these both in style and colors. And the fact that they all have boys. Sheesh.

The Skateboard Encyclopedic Print
At UncommonGoods.com

M.A. Allen Retro Tin Sign Skatepark

"Skateboard 2001" by Cole Borders Graphic Art on Wrapped Canvas
from: Wayfair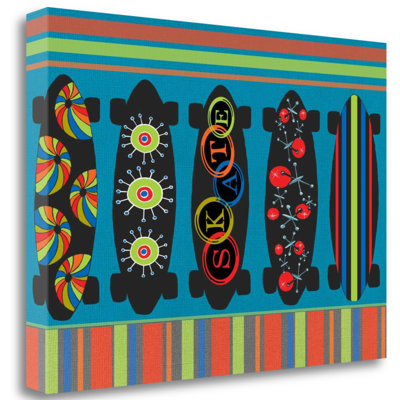 'Skateboard III' Graphic Art Print on Wrapped Canvas
from: Wayfair

'Skateboard' Print on Canvas
from: Wayfair

'Skateboard' Drawing Print on Wrapped Canvas
from: Wayfair

'Skateboard Truck' Drawing Print on Wrapped Canvas
from: Wayfair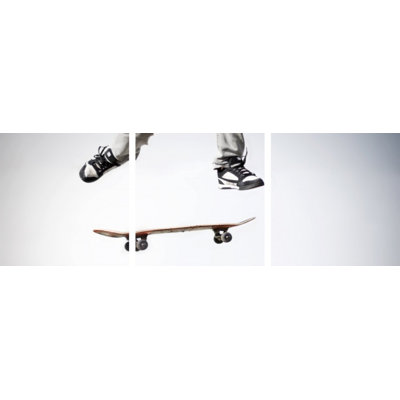 'Skateboard' Photographic Print Multi-Piece Image
from: Wayfair

Sunset Skateboarder Framed Art
At PBTeen.com
Skateboard Decor

Skateboard Wall Hook
At UncommonGoods.com

Zoomie Kids Skater Boy Distressed Metal Accent Mirror
At JossandMain.com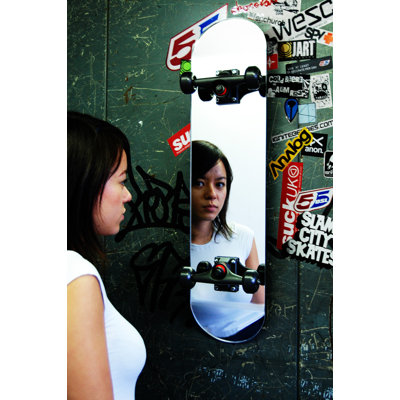 Skateboard Wall Mirror
from: Wayfair

Chill Out Phone Holder, Skateboard
At PBTeen.com

SKATER Wall Clock

Skaters Only Skull and Cross Boards Decorative High Gloss Ceramic Drawer Knob
Skateboard Rugs For The Floor

Momeni Lil' Mo Hipster Concrete Novelty Kids Rug
Starting at $62 at Bellacor
Six sizes available

Skateboarding Fun Area Rug
At Walmart.com

Fun RugsTM Gnarly Boards 1-Foot 7-Inch x 2-Foot 5-Inch Accent Rug
At BedBathBeyond.com

Fun Rugs Board Flip 1-Foot 7-Inch x 2-Foot 5-Inch Area Rug
At BedBathBeyond.com
Skateboard Furniture

Oak Grove Collection Tony Skateboard Chest
At Target.com
Handles are skateboard wheels
Includes the extra drawer front for an additional pop

Oak Grove Collection Tony Skateboard Dresser
At Target.com

Oak Grove Collection Tony Skateboard Nightstand
At Target.com
Skateboard Lights

Polyresin Skateboard Lamp
At Amazon.com

Radical Skateboards Ceiling Fans
42" and 52" fans or get just the blades

Cool Skateboards Decorative Night Light

Skateboard Flyer Decorative Night Light
(Amazing! It's a girl.)