Got a wave lover? Looking to give them the surfing bedroom theme of their dreams? Add in a few decor touches with surfboards, sand, waves, palm trees and more. Everything you need to set up a room that brings the beach and surf home. Surfboard designs for the walls, around the shelves, even furniture choices.
Surfboard Lights and Lamps

Stainless Steel Table Lamp – Surfboard Beach
At Amazon.com

Lamp-In-A-Box Bus with Surfboard Tripod Lamp
At Amazon.com

Surfboard On Tropical Beach Auto Sensor LED Night Light
At Amazon.com

Surfboard Time Giclee Swag Style Plug-In Chandelier
At Amazon.com

Ceiling Fan Designers Ceiling Fan, Hawaiian Surfboards
At Amazon.com

Radical Waves Ceiling Fans
42" and 52" fans or get just the blades
Surf Decor

Oopsy daisy Surf Growth Chart

Surfboard-Shaped Growth Chart in Bamboo

Gone Surfing Tin Sign

Big Kahuna Vintage Metal Sign Surfing Surf Beach
18 X 12 Steel Not Tin

Tropical Surfboard Wall Hooks
At Amazon.com

Surf Board Decor
At PotteryBarnKids.com

Personalized Surfboard Plaque
At PotteryBarnKids.com

3-D Surfboard Art
At PBteen.com

Bollo Regalo Blue Woody Photo Frame

Pillowfort Surf Board Wall Shelf
At Target.com

Ride The Wave Wire Wall Décor
At Target.com

Surf Fin Hook • PBteen

Pier 1 Imports Surf Van Figurine Fan
At Pier1.com

Keep Calm and Catch a Wave Surfing Poster

Keep Calm and Surf On Poster

Classic Green Wood Panel Surfer Station Wagon Wall Hook Coat Rack
Surf Clocks

Bed Bath & Beyond Red Horse Arts Surfboards 15-Inch Wall Clock
At BedBathBeyond.com
Surf Wall Art
Adorn the walls with a surfing theme
Add the finishing touch to your surfing bedroom with some great wall art. Personalized canvases with your child's name, pieces featuring surfboards and woodies, or maybe a scene of the waves crashing.
Lots of great choices, so you're sure to find an option that will fit with your surf decor whether as simple as a poster or as long-lasting as a painted canvas.

Surf Hut Gallery Wrapped Canvas Giclee
At Bellacor.com

Oopsy daisy Surf Shacks Canvas Wall Art by Vicky Barone, 30 by 20-Inch

Americanflat "Honolulu" Surf Framed Wall Art
At Kohls.com

Americanflat "Summer Lovin" Framed Wall Art
At Kohls.com

Americanflat "Surf Boards" Framed Wall Art
At Kohls.com

Kelly Slater Bamboo Panel Planked Art and Set
At PBteen.com

Americanflat "Big Kahuna" Framed Wall Art
At Kohls.com

Americanflat "Endless Summer" Framed Wall Art
At Kohls.com

Americanflat "Hawaii" Surf Framed Wall Art
At Kohls.com

Americanflat "Aloha" Surf Framed Wall Art
At Kohls.com

Americanflat "Surf Time" Framed Wall Art
At Kohls.com

Americanflat "Symphony" Surf Framed Wall Art
At Kohls.com

All the Surfboards in CA
at UncommonGoods.com

The Surfboard Encyclopedic Print
At UncommonGoods.com

Old Surfboards Never Die, Maui, Hawaii
by Bernard Fickert – Hawaiian Art Poster Print, 12″ X 18″

iCanvas Surf Black & White by Amanda Greenwood 
At Gilt.com

Pillowfort Ride the Wave Wall Art
At Target.com

Bed Bath & Beyond "Beach Surfboards" 15-Inch x 20-Inch Wood Wall Art
At BedBathBeyond.com

VW Kombi Surfboard – Volkswagen 24″x36″ Art Print Poster

Lighthouse Surf Board Vintage Woody Beach Print
Rugs for a Surfing Bedroom Theme
Wind in your hair and the waves underfoot – perfect for a surfing themed bedroom, huh? Well add the waves or just a touch of the theme to your bedroom with these great surf rugs.
There are rugs with surfboards and others shaped like a board or scope out one that looks like the waves itself. Then just a few like the one pictured here showing the actual action on the waves. My favorites are definitely the brightly colored ones shaped like a board, although they're narrow and might not cover much of the floor. But I love the bright designs! Just choose wisely when working one of those into the room.

Surf Time Wavy Ocean Oval Kids Rug
At Wayfair.com
The dots make me think of sandy beaches

Surf Time Newport Oval Kids Rug
At Wayfair.com
Looks a little like fish scales!

Surf Time Laguna Oval Kids Rug
At Wayfair.com
Similar to the above, but with a sun motif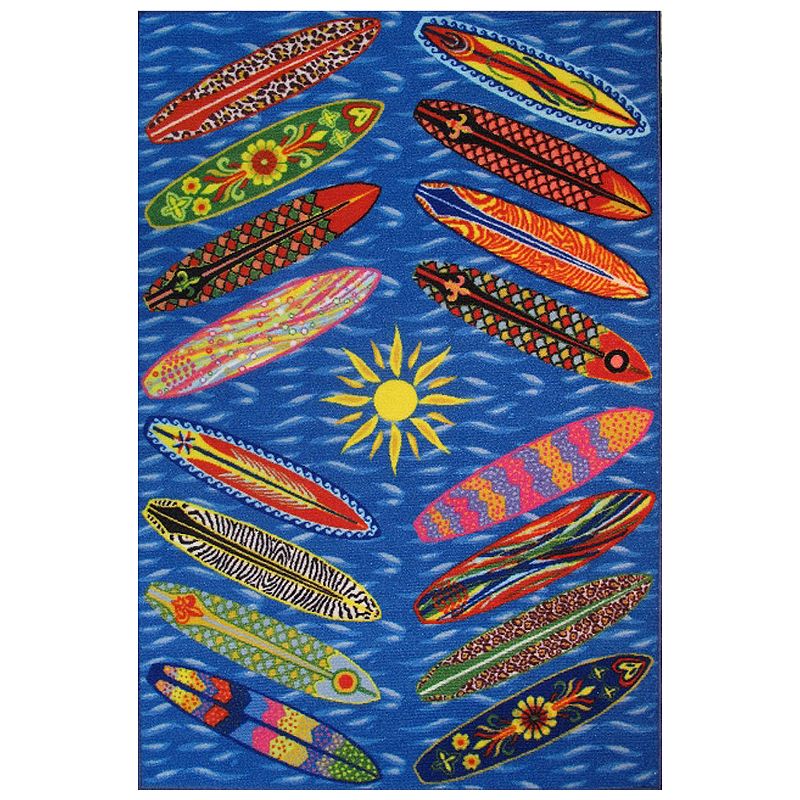 Fun Rugs Surf Time Go Surfing Rug
At Kohls.com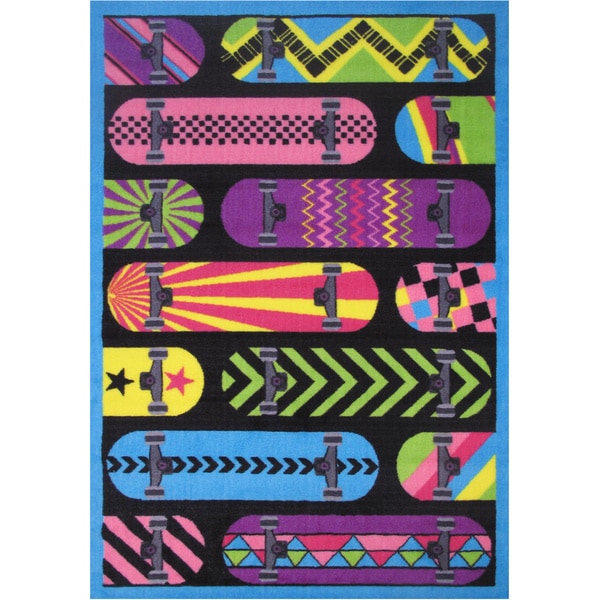 Gnarly Surf Boards Black Accent Rug
At Overstock.com

Trans Ocean Trans-Ocean 20-Inch x 30-Inch Tiki Hut Accent Rug
At BedBathBeyond.com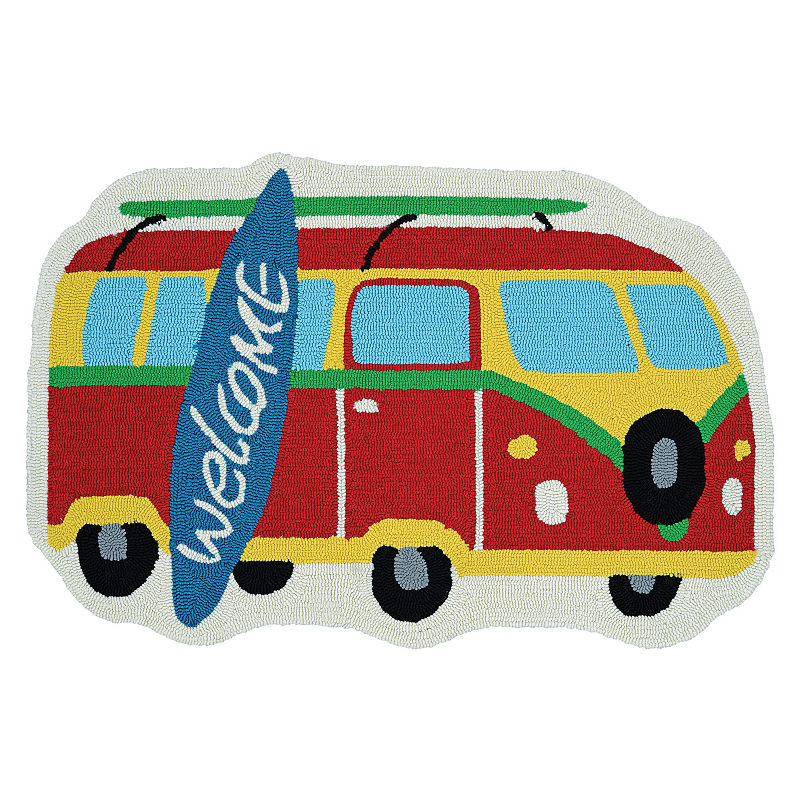 Couristan Surf's Up Hooked Rectangle Accent Rug
At JCPenney.com

Surfs R Us Rectangle Kids Rug
At Wayfair.com

Happy More Custom Vintage Surfing Surfboards Area Rug
At Amazon.com

Surf Board Hooked Rug
At Amazon.com
Surf Furniture

Surfs Up Step Stool
at aBaby.com

Surfs Up Girls' Step Stool

Surfs Up Toy Box
at aBaby.com

Surfs Up Table and Chair Set
at aBaby.com