Fire Trucks and Houses to Set the Theme
Can't be a firefighter without a fire truck, right? And that firetruck needs a place to stay when there isn't any fire to fight. So bring on the fire truck furniture in bright reds and yellows to make your fireman bedroom complete.
If you're doing a fireman bedroom, you might want to pick one thing to be the truck and one thing to be the house, then build the rest of the room around those. Toy boxes and beds are good choices just due to their size, but you might want to go more novelty with pieces you're more likely to change often and  stick with classics that will last a child's lifetime for the big items.
Fire Truck Beds

Fola Collection Fire House Twin Loft Bed
at Walmart.com

Fire Engine Twin Over Twin Bunk Bed
from: Wayfair

KidKraft FireTruck Toddler Bed
at Amazon
Finished in a bright, cheerful red, with ladder cut-outs on the sides that double as a bed rail. Complete with silk-screened fire truck details, and a special storage compartment in the front. Mattress sold separately.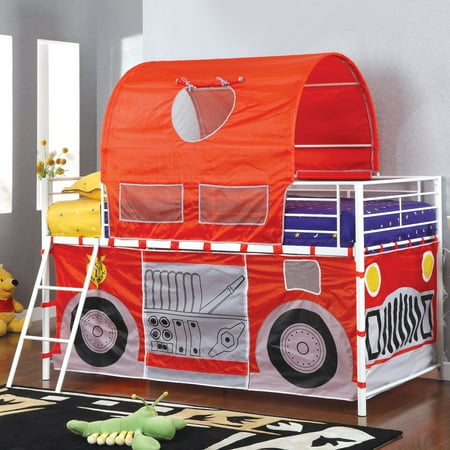 Tanner Fire Truck Inspired Twin Loft Bed with Red Tent
At Walmart.com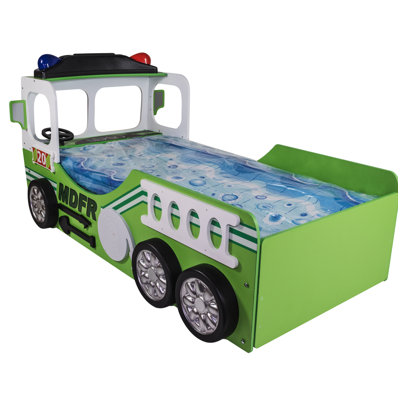 Henegar Toddler Fire Truck Bed
from: Wayfair
Not sure about the green color. I like the variation, but it won't match anything else.

Fire Truck Toddler Bunk Bed
from: Wayfair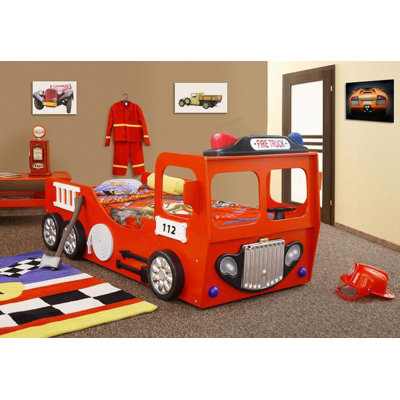 Fire Truck Toddler Car Bed
from: Wayfair

Fire Engine Twin Car Bed
from: Wayfair

Fire Engine Twin Bed
at aBaby.com
Footboard is the front engine of the fire truck and the headboard has the fireman and dalmation
Personalize with your child's name
Custom colors available

Fire Truck Toddler Bed
at aBaby.com
Fire Truck Tables, Chairs and Stools
Cute table includes a little firehouse on it with a working bell to drive your fire trucks into for the night. Includes two buildings and two fire trucks as well as two stools.

Fantasy Fields – Little Fire Fighters Table and Set of 2 Chairs
At Walmart.com

Fantasy Fields – Little Fire Fighters Step Stool
At Walmart.com

Firetruck Patchwork Rocker
At ABaby.com

KidKraft Firetruck Toddler Table

KidKraft Firetruck Step N Store
Fire Truck Storage

Fantasy Fields Fire Station Kids Bookcase
At Target.com

Teamson Kids Fire Engine Toy Storage Box
At BuyBuyBaby.com

Levels of Discovery Firefighter Toy Box Bench
So much detail on this toy box that also serves as a bench. Painted to look like a firehouse with hydrant finials, working bell and ladder design arms. Tiny firefighter and trusty Dalmatian pup slide up and down the two fire poles. Large sliding door so fire trucks and other vehicles can "drive" right up the ramp and into the fire station!

Kidkraft Firehouse Bookcase

Global Decor Children's Storage Container/Stool, Fire Truck

KidKraft Firetruck Clothespole