Butterflies make for a popular girl's bedroom theme and are nice touches to add to any outdoor scheme. Include them in your decor quickly and easily with great butterfly wall decals!
The styles here run from cartoony to classic to realistic to modern. A few of these are big, bold and single butterflies, but a lot of involve a collection of small images you can place wherever you please. I've got them divided into styles that come with lots of tints in them and others that come in a single hue. Most of those allow you to choose your own shade and sometimes even give you an option to pick a size that will work with the space you want to use it in. Go for small and subtle or big and dramatic.
I can never decide what my favorite styles are, but I probably lean toward the big, modern and dramatic ones. They might not always be the right thing in a nursery decor, but a teen bedroom is definitely feeling it.
Multi-Colored Butterfly Wall Decals
Solitary insects or swarming groups
Wow. So many choices if you like bright and vibrant around your space. The sizes vary a lot and most of the time, the hues vary within each image. When they come with a swarm of insects, it's easy to work them all around the area. Consider putting them in places like furniture fronts, closet doors or on the headboard. Big graphics could even be used as the headboard.

Butterfly Garden Wall Decals
At CrateandBarrel.com

WallPops!® Flutterby Butterflies Wall Art Kit – Multicolor
At Target.com

Butterfly Arbor Wall Decal
At aBaby.com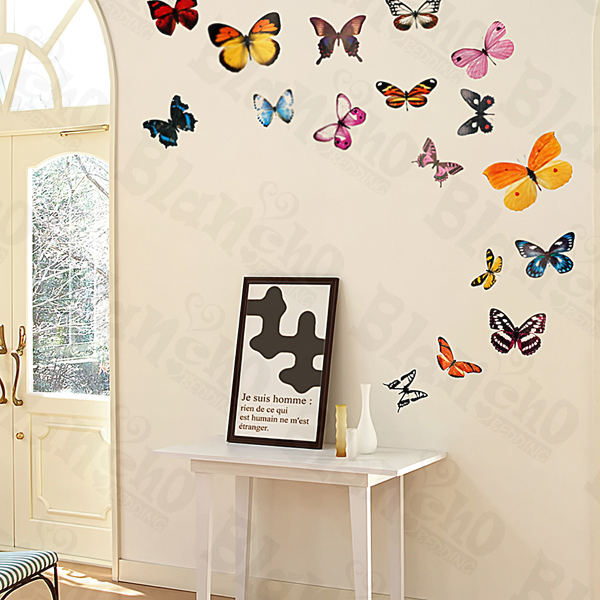 Butterflies Appliques
at Blancho Bedding
Photorealistic images with the wide range of shades
you'll find in nature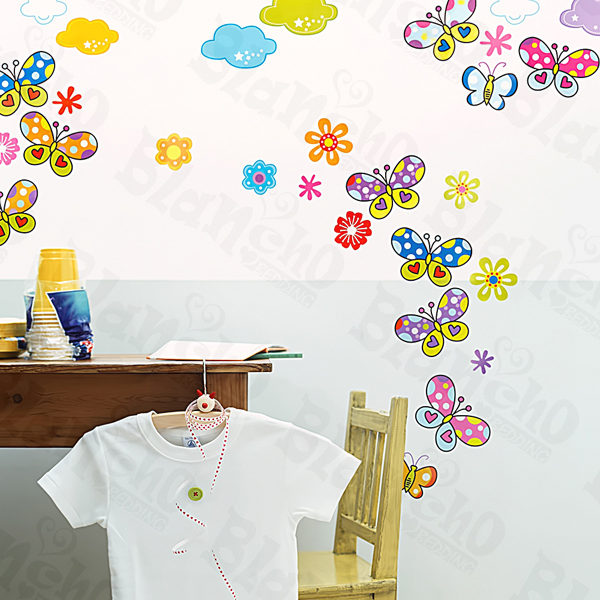 Bright Sky Stickers
at Blancho Bedding
Lots of vibrant flowers and clouds to coordinate
Designs include polka dots and hearts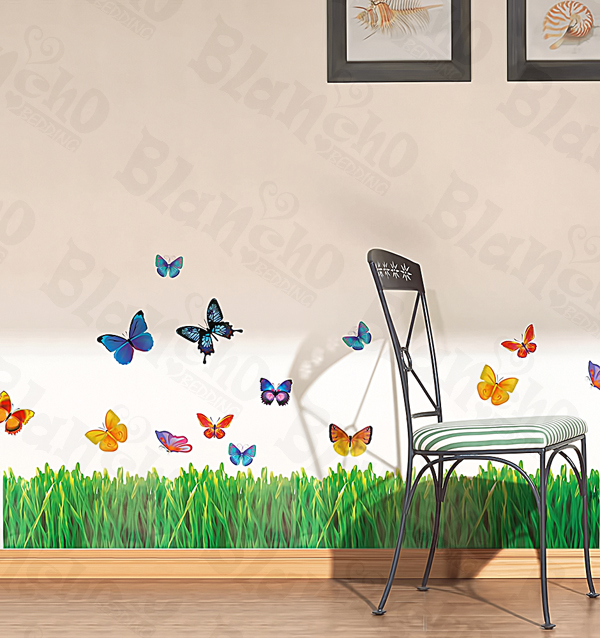 Flying Butterflies
at Blancho Bedding
Nine brightly-hued insects and grass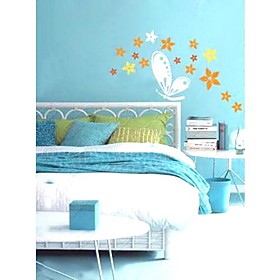 Butterfly Sticker
at LightInTheBox
White insect paired with lots of orange flowers
Single-Colored Butterfly Wall Decals
Great as accent piece
Some of these involve more than one butterfly, others huge single images. And along with that, you can often pick your shade and sizes to get them coordinated with the rest of the room. Many of these designs are quite modern in style – there's one I would love to have myself – but could still work in a space full of traditional ruffles and lace.

Flocked Pink Butterfly Wall Decals
At RoomMates
10 stickers total
Sizes range from 13.5″ x 7.5″ to 8 x 5″

Birch Lane Kids Butterflies Wall Decal
At jossandmain.com
Personalized Butterfly Wall Decals
Lovely graphics here that give you a unique look by combining a name with a butterfly emblem. Most of these allow you to choose your hue as well as a size that works for your space. There's also a choice in styles that use a swarm vs. just one insect in them, which then relates to how prominent the name is in the design.

Personalized Name and Butterflies Removable Vinyl Wall Decal

Butterfly vinyl decal with child's name
Specialty Butterfly Wall Decals
Glowing, mirrored and chalkboard
I especially like the clocks, although using a decal set as a clock makes it a wee bit more difficult to move it around the room if you want to. The mirrors and chalkboards are also cool designs to use in special places. Don't expect the glowing ones to provide a whole lot of light – they won't be bright enough to replace a night light for example – but they're pretty darned cute.

Butterfly Peel & Stick Mirror
At RoomMates

Peel & Stick Mirrors (4 Pack)
At RoomMates

Wallies Peel and Stick Chalkboard Decals
Eligible to ship free at Amazon
Butterfly Wallpaper and Wall Border Choices

Graham & Brown Butterfly Wallpaper
At 2Modern.com

Meadow Border

JP London uStrip Peel and Stick Mural Butterfly Clouds
8.5 feet high by 1.5 feet wide
Do as a single border, hang from floor to ceiling or stack like in the picture
Butterfly Wall Murals

Rainbow Butterfly Tree
Prices start at $100 at MagicMurals
Three sizes to choose from or make it custom sized

Butterfly Path
Prices start at $87 at MagicMurals
Three sizes to choose from or make it custom sized

Waiting
Prices start at $174 at MagicMurals
Three sizes to choose from or make it custom sized
Customizable Butterfly Wall Murals
These come from Murals Your Way and are customizable in several different ways. They'll add your child's name to the mural, add or remove sections to make it the exact size you need and even change some of the colors on some. Pretty cool. These are just a few of the butterfly designs they carry (which is actually a pretty slim collection). Prices start around $170 and go up depending on the size, material and amount of customization.

Butterfly Waterfall Vinyl Mural

Butterfly Journey Mural