Hey – combine the practical with the beautiful with chalkboard wall decals! The distinctive shapes can work with the theme of the room, while the chalkboard surface serves as a great place to play or leave reminders. (Feed the fish!)
It seems every day like there are more of these designs out there from great trendy images like the moustaches here to some to work with specific themes. There are many sure to please a boy – trucks, sports, space ships – and just as many for a girl – hearts, cupcakes.
And don't be so quick to assume it's going to be black as the color or even the green you might remember from your school days. There are many that I've included just because I like the colors even if they are just squares and rectangles. But they're blue and purple squares and rectangles!
Chalkboard Wall Decals for Any Theme

ABC Chalkboard Sticker
at WallStickerShop.com
9″ x 25″
Comes with chalk

WallCandy Big Chalkboard Circles Wall Stickers
from: Pokkadots & ModernNursery
Talking Chalkboard Wall Decals
Well, at least once you put some words on them

Chalkboard Quote Wall Stickers
at WallStickerShop.com
7″ x 5¾"

Thought Bubble Chalkboard Wall Decal
from: Wayfair

Word Bubble Chalkboard Wall Decal
from: Wayfair

Heimbach Chalkboard Word Bubble Wall Decal
from: Wayfair
Colored Rectangle Chalkboard Wall Decals
When I was a kid, chalkboards only came in black or green – depending on what paint the principal could get that year. But those aren't the only colors you can get these days!

Wallies Peel and Stick Blueprint Blue Chalkboard
at WallStickerShop.com

Wallies Peel and Stick Schoolhouse Green Chalkboard
at WallStickerShop.com
Cute Shaped Chalkboard Wall Decals

Cupcake Chalkboard
from: Pokkadots & ModernNursery

Chalkboard Ice Cream Cone
from: Pokkadots & ModernNursery

Baby Elephant Chalkboard Wall Sticker
from: Pokkadots & ModernNursery

3 Piece Moustache Chalkboard Wall Decal Set
from: Wayfair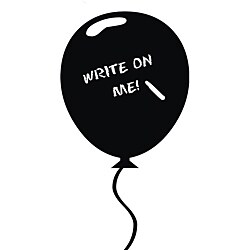 At Overstock.com

Fast Cars Chalkboard Wall Stickers
from: Pokkadots & ModernNursery

Planes & Clouds Chalkboard Wall Stickers
from: Pokkadots & ModernNursery

Goshen Butterfly Chalkboard Wall Decal
from: Wayfair