Dinosaur Wall Decals
Add some decals to complete the look of any Jurrasic-themed space. Combine elements from various sets to create a look all your own – like in this picture where they peek out around the furniture.
There's a nice range – well, really a huge range – of style and design choices here. I've started with some cartoony looking drawings that would work well for a nursery or younger kids, moving on to huge realistic looking dinos that scare the pants off me, but an older child would probably love. I have a paleontologist friend who would have wanted them all over as a teen. (And would probably want them in his office now!)
Walls of the Wild Designs
These are among my favorites. Realistic designs, but not necessarily scary. They're just the individual dinos, not a scene or mural, so you'll need to have a plan for how you want to use them so they don't look lost on the walls. These are the smaller ones offered by Walls of the Wild, so they're pretty inexpensive. All are available at Amazon.
Cartoony Dinosaur Wall Decals
Bright colors and coloring book style art make these work great for little children. Look for a style you like, then decorate the rest of the nursery in those colors or go the other way to find colors to work with the bedding you've already chosen.
There's a lot of green and brown used, if only for all the trees, but orange, yellow and blue make their appearances.

Babysaurus Decals
At RoomMates
42 stickers total
Includes trees, grass, sun and clouds

Custom Name Colorful Dinosaurs Wall Decal
At Amazon.com
Choose your own color combination

Sunny Decals Adorable Dinosaur Fabric Wall Decal
At Walmart.com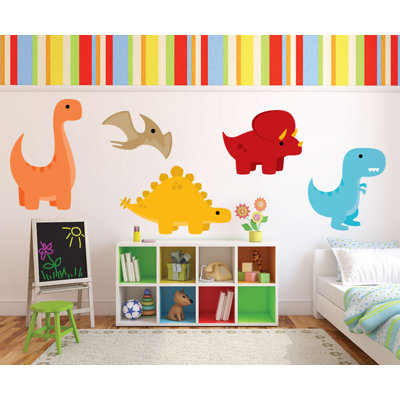 Hiott Dinosaur Wall Decal
from: Wayfair

Bedtime Originals Roar Dinosaur Wall Appliques
At Amazon.com

Brewster Spirit Peel & Stick Dinosaurs European Wall Decals

Baby Dinosaurs
Realistic and Roaring Dinosaur Wall Decals
Don't know about you, but some of these designs just flat out scare me. There is no way I could sleep with that raptor roaming around. Still, these are pretty darned cool, in part because of the art style, in part because of the huge sizes some of them come in.
A few of these are large collections featuring several different breeds, while others allow you to pick your favorite to feature. Pay attention to the sizing when you click through to purchase; you want to make sure you have the space to put up some of the big guys.
Lots of brown and green through here, which isn't surprising given the way we typically draw these guys. The stegosaurus has a touch of orange in him, but that's all the color you get.

EMIRACLEZE 3d Dinosaur Removable Mural
At Amazon.com

Zooarts Dinosaur Cracked Wall Removable Vinyl Mural
At Amazon.com

Dinosaur Decals
At RoomMates

Dinosaurs Giant Scene Peel and Stick Wall Graphic
At RoommatesDecor.com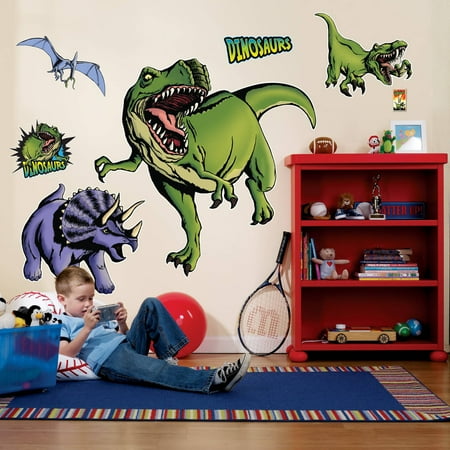 Dinosaurs Giant Wall Decals
At Walmart.com
Decals are made of vinyl and measure approximately 54″ wide x 44″ high. Includes three sizes of dinosaur, 1 "Dinosaurs" phrase and 1 light switch cover.
Comes with 3″ yellow squeegee.

Dinosaur Decals
At RoomMates
25 stickers total
Small sizes make them great for unusual places like lamp shades

Fathead Collection 2
T-rex, euoplocephalus and triceratops
Dinosaur Wallpaper and Borders

Dinosaur Peel & Stick Wallpaper
At PotteryBarnKids.com

Imagine Fun Dino Doodles Multi Wallpaper
At BedBathBeyond.com

Tempaper Dinosaurs Individual Stripe Removable Wallpaper
At 2Modern.com

Dotty Dinosaurs Wallpaper
At Domino.com

Harlequin Jolly Jurassic Children's Wallpaper
at JohnLewis.com

Harlequin Wallpaper, Jolly Jurassic
at JohnLewis.com

Dinosaur Peel & Stick Border
At RoomMates

Chesapeake Dino Mighties Dinosaur Toss Wallpaper Border
At Amazon.com

Dinosaur World Wallpaper Border
At Amazon.com
Massive Dinosaur Murals

Dinosaur Vinyl Mural Stickers
at WallStickerShop.com
48 x 42½"

Pre-pasted Mural
Available at Amazon

Dinosaur Doodles
Prices start at $174 at MagicMurals
Three sizes to choose from or make it custom sized

Cute Dinosaurs
Prices start at $75 at MagicMurals
Three sizes to choose from or make it custom sized

T-Rex Dinosaur
Prices start at $137 at MagicMurals
Three sizes to choose from or make it custom sized

Dinosaur Landscape
Prices start at $175 at MagicMurals
Three sizes to choose from or make it custom sized
Customizable Dinosaur Murals
These come from Murals Your Way and are customizable in several different ways. They'll add your child's name to the mural, add or remove sections to make it the exact size you need and even change some of the colors on some. Pretty cool. These are just a few of the dinosaur designs they carry. Prices start at around $170 and go up depending on the size, material and amount of customization.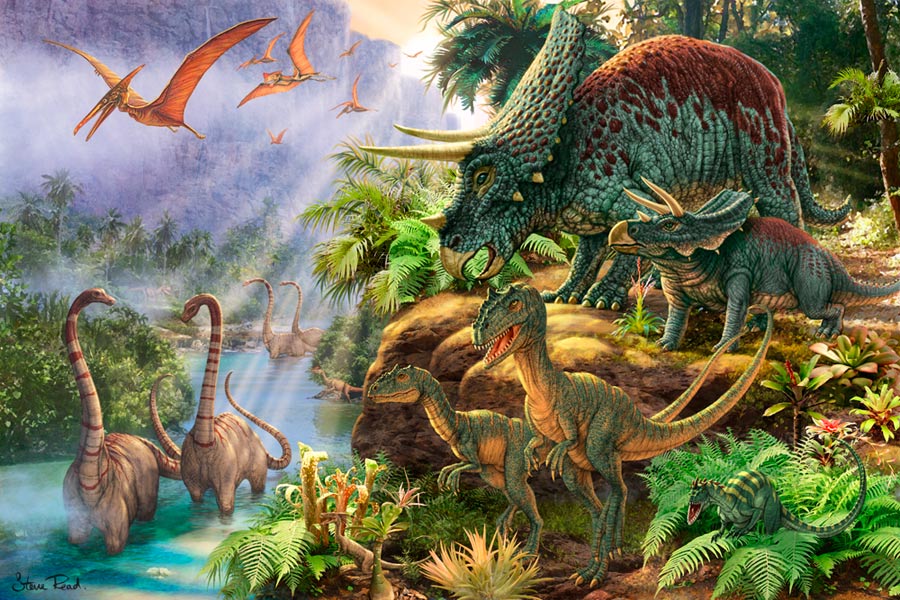 Dinosaur Valley Vinyl Mural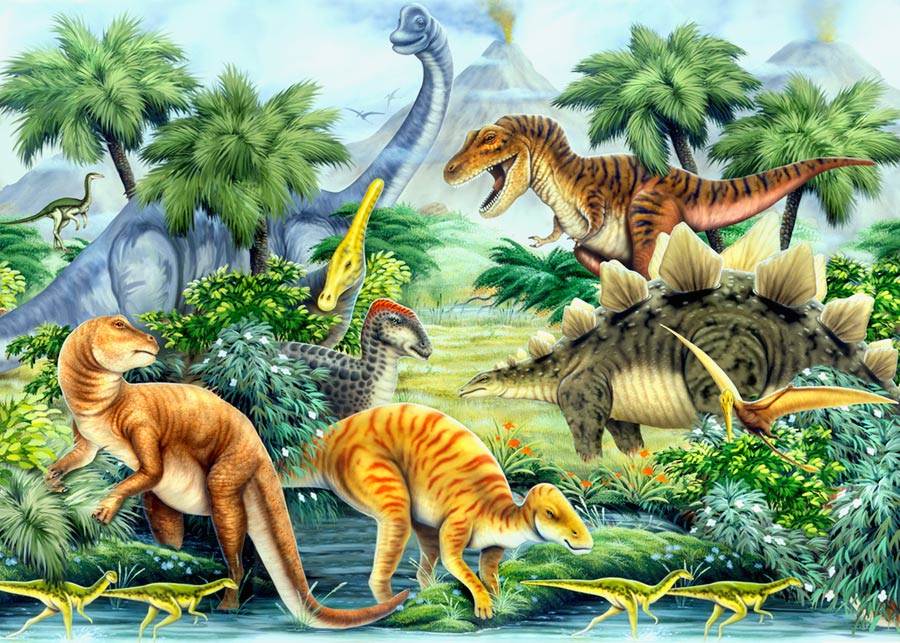 Dino Valley Landscape Vinyl Mural