Headboard Wall Decals
Add a fake headboard with these cool decals
Now this is a novel idea! If you live in a small space, don't have the money to invest in furniture or just can't make up your mind what style to buy, a headboard wall decal might be just the thing.
No worries about banging against the wall or investing a fortune in something you won't like in five years. These decals go up easily and come down just as easily when it's time to move or change your style. They give your bed presence without taking up a lot of space.
Pay close attention to sizes with these to ensure you get the correct width for your bed.
Kinda-Girly Headboard Wall Decals

Juliette Giant Headboard Wall Decals
At RoomMates

Scroll Headboard Giant Wall Decal
At RoomMates

Wallies Peel and Stick Headboard, Pink Canopy
Iron Bed Headboard Wall Decals

Vinyl Wall Decal Sticker Bed Frame

Wrought Iron Rub On Mural Transfer Wall Tattoo

Queen Sized Headboard – Vinyl Wall Art Decal Stickers Decor Graphics

Vinyl Wall Decal Sticker Bed Frame
Wood Bed Headboard Wall Decals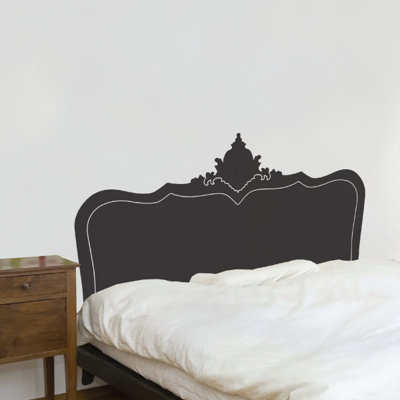 ADZif Cama Baroque Headboard Wall Decal – $46.00
from: Wayfair

Picket Fence Vinyl Wall Art Decal with Heart Cutout and 2 Posts

Vinyl Wall Decal Sticker Bed Frame

Vinyl Wall Decal Sticker Bed Frame
Whimsical Headboard Wall Decals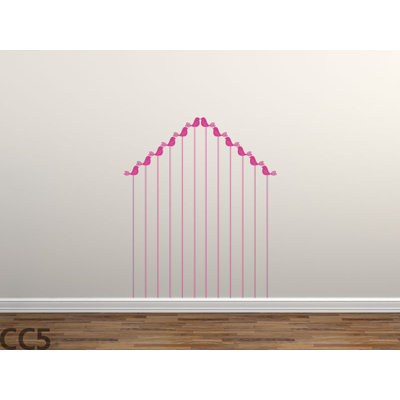 LittleLion Studio Functional Birds Headboard Wall Decal – $71.99
from: Wayfair
comes in black, pink, white, yellow and other colors
twin and king widths

CAMA by ADzif Kosterhavet Black Wall Decal Color Print

CAMA by ADzif Malm Teal Wall Decal Color Print
Fabric and Colored Headboard Wall Decals

Sweetums Signatures Button Headboard Vinyl Wall Decal
At Amazon
Choose your width and color

Lime Green Tufted Repositionable Peel and Stick Wall Decal

Pink Tufted Twin Wall Decal Headboard

Zebra Tufted Twin Headboard Wall Decal