Spell out their name or just give them a head start with their ABCs – letter wall decals are a fun way to go! And with all the colors and styles available (like the fruit design pictured here), these graphics can go with just about any kids bedroom theme you can think of.
One of the first decisions you'll have to make when choosing letters for the wall is whether you want a bright colorful collection or a single color set. Then there's the choice of secondary design like fruit or animals. (Lots of animal choices!) One nice thing about an ABC set is there are lots of small images about the same size, so you can arrange them in a line to make a border or group them all in one spot for a nice focal point.
Animals and Letter Wall Decals
A is for Alligator through Z is for Zebra
This is a very natural pairing given the way we tend to teach letters in the US. Depending on the set you choose, these could be worked in to a zoo, safari or jungle theme quite easily. Less easily maybe in a farm setting since those don't usually feature elephants or crocodiles! The styles vary widely, as well as the color choices, making them ideal in a playroom as well as a bedroom.

Classic Appliques
At RoomMates
This artistically-rendered peel and stick alphabet features all letters – caps and small.
Upper case paired with an animal, lower case stand alone
73 stickers total

Animal Collection
At RoomMates
107 stickers total
Lots of polka dots involved in the design textures

Outgeek 1 Set Alphabet Decal Creative Cute Cartoon Animals Pattern
At Walmart.com

WallPops!® Alphabet Zoo Wall Art Kit
At BedBathBeyond.com
Single Color Letter Wall Decals
The first two sets here are designed for a younger nursery, which is why they come in blue and pink. But the second two both allow for your choice of color, making them a nice choice for older kids who are likely to be using some other color palette.

Trendy Peas Alphabet Wall Decal
At domino.com

Trendy Peas Alphabet Wall Decal
At domino.com

Pink Letters Peel and Stick Appliques
At RoomMates
Subtle polka dot pattern
73 stickers total
Each image is 2.75″ tall
All caps

Lot 26 Studio ADD-HERES Typewriter Keys Wall Stickers
Multiple Color Letter Wall Decals
While each set does come with many colors, most of them still have a limited range within the palette. So you see a set with pink, purple, yellow, green and another with red, white and blue, making them work with just a few specific decors.

Boho Alphabet Wall Graphics
At RoomMates
Each is designed with a pattern like flowers or polka dots
110 total stickers include upper and lower case letters and punctuation

Fun To See Pastel ABC Sticker Kit
All upper case letters in plaids, ginghams and other patterns

Colorful Letters Peel and Stick Appliques
At RoomMates
Solid colored and bright
73 stickers total

Purple & Teal Blocks Repositionable Peel Stick Decals
Flowers, polka dots, paisleys and plaid patterns behind the letters
Each alphabet rectangle is 4 1/2″ x 5 1/2″.
If you use this as a border with 1 inch between the letters the border will be about 12 feet long!
ABC Wallpaper Border Designs
I love the one that looks like a line of building blocks. Perfect design for a nursery!

York Wallcoverings Peek-A-Boo Animal Border
Off White/Red/Orange/Medium Green/Teal/Deep Blue
Also available in green/blue and pink/purple
Alphabet Murals

Alphabet Poster
Prices start at $87 at MagicMurals
Three sizes to choose from or make it custom sized

Alphabetical Order
Prices start at $132 at MagicMurals
Three sizes to choose from or make it custom sized

Typographer's Alphabet Soup
Prices start at $150 at MagicMurals
Three sizes to choose from or make it custom sized

JP London 6-Feet High by 6-Feet Wide Removable My Little Eye Book-Splosion Collage Wall Mural
Customizable Alphabet Murals
These come from Murals Your Way and are customizable in several different ways. They'll add your child's name to the mural, add or remove sections to make it the exact size you need and even change some of the colors on some. Pretty cool. These are a few alphabet designs they carry. Prices start at around $200 and go up depending on the size, material and amount of customization.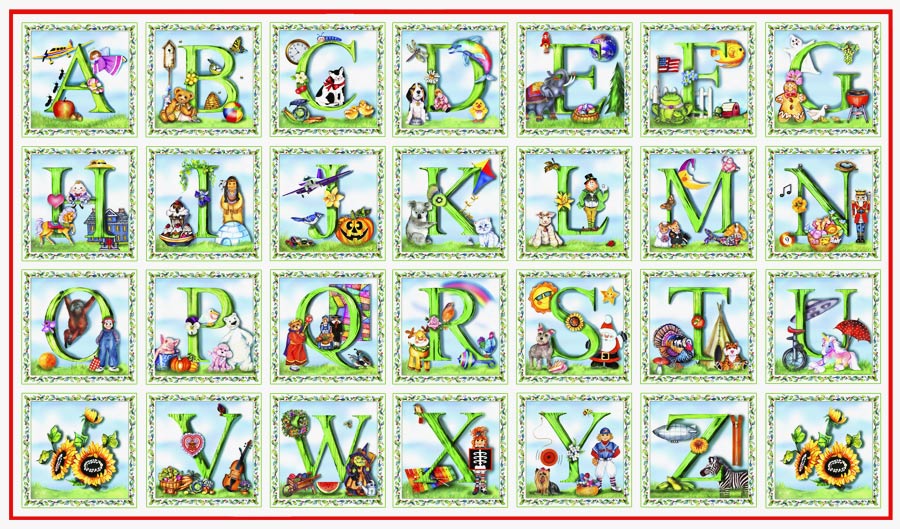 Alphabet Mural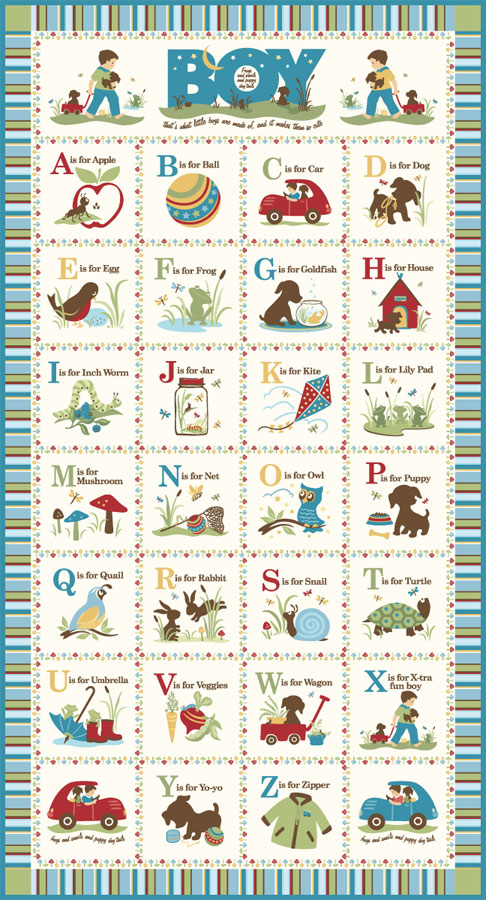 Alphabet Chart – Boy Mural
Also available in pink for girls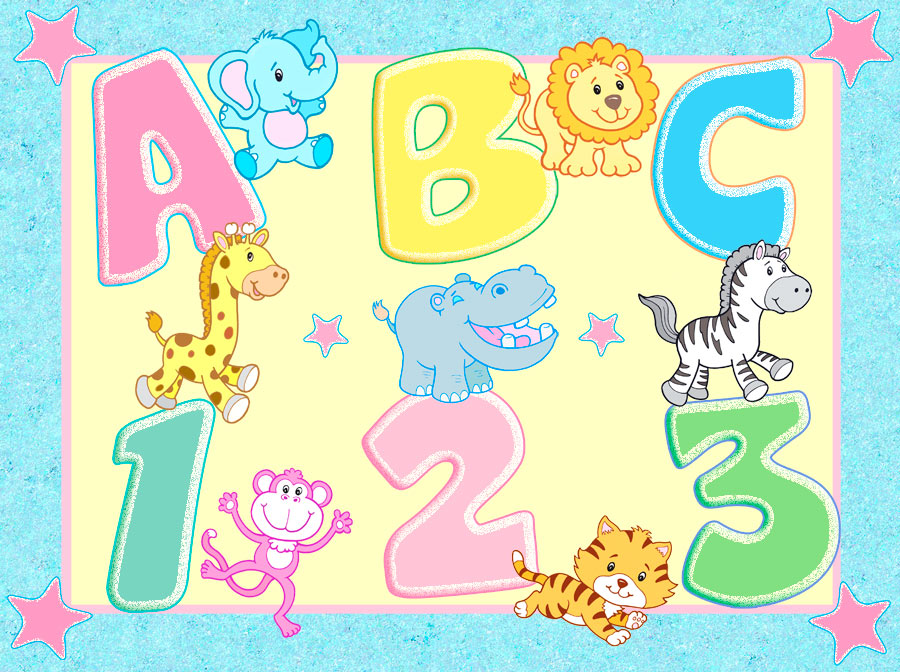 ABC Mural